FSU School of Social Work, Cumberland County Schools join forces to expand mental health services, train school-based mental health professionals
Alliance for Leading and Learning initiative aims to grow, diversify pool of mental health providers
Date: April 13, 2023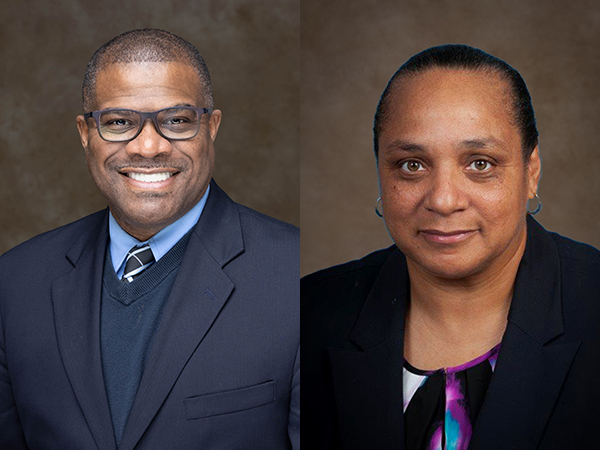 Pictured Left to Right: Dr. Quienton L. Nichols and Dr. Beverly Edwards
---
Fayetteville, N.C. (April 13, 2023) — Fayetteville State University (FSU) and its School of Social Work are partnering with Cumberland County Schools (CCS), the University of North Carolina at Pembroke (UNCP) and RTI International to address shortages in school-based mental health care services by training more providers in Cumberland County.
The new Alliance for Leading and Learning (ALL) initiative in CCS seeks to develop a pipeline to advance school-based mental health professionals (SBMH) in its schools and diversify the pool of providers. The program will help CCS expand its capacity to meet the needs of its approximately 50,000 students in prekindergarten through grade 12.
ALL is made possible by a grant of just over $5 million to Cumberland County Schools' Student Services Department from the Mental Health Service Professional Demonstration Grant Program sponsored by the U.S. Department of Education's Office of Safe and Supportive Schools. This program provides competitive grants to support and demonstrate innovative partnerships to train school-based mental health service providers for employment in schools and local educational agencies. ALL was one of 67 proposals selected for funding from more than 185 applications.
"We are extremely excited to work with our colleagues at CCS, UNCP and RTI to strengthen and grow school-based mental health services in our communities and prepare future mental health providers for this critical work," said Quienton L. Nichols, M.S.W., Ph.D., associate dean and associate professor in the FSU School of Social Work. "We know that mental as well as physical health and wellbeing are crucial for student success, retention and persistence to and through high school and beyond."
ALL will place graduate students from the master's programs in social work at FSU and UNCP and those from UNCP's master's program in school counseling in CCS locations to provide mental health care while earning important experience and credit hours in a supervised environment. Ultimately, ALL anticipates an increase in SBMH professionals from diverse backgrounds or from surrounding areas working in high-need schools in Cumberland County.
"CCS believes strongly in removing barriers and creating opportunities to promote academic success. Schools are in a unique role to detect mental health concerns and connect students to the support they need to thrive regardless of circumstances," said Natasha Scott, M.S.W., Ed.D., CCS executive director of student services. "Our partnership with FSU, UNCP and RTI International will continue our work to reimagine Student Services by developing a mental and behavioral health framework in our schools as we bring more well prepared, school-based mental health professionals into the work force."
ALL also promotes inclusivity by infusing inclusive practices into both the coursework of the graduate students and into their internship experience. Developing the knowledge, skills and dispositions of SBMH professionals to apply practices that promote inclusivity and remove unconscious bias enhances mental health services and ensures all students receive the support they need.
"FSU's Master of Social Work (MSW) program is keenly focused on equipping its graduates with the knowledge, skills and social work values to alleviate oppression, poverty and discrimination in a multicultural society," said Beverly Edwards, M.S.W., Ph.D., associate professor and M.S.W. program director in FSU's School of Social Work. "The ALL initiative gives our students real-world, immersive experience to make them the best possible practitioners while also having a significant impact in our schools. It's an incredible opportunity and we are proud to be a part of it."
School counseling and social work students interested in applying to the ALL program must be in their last year or concentration year of their master's program. Selected interns will complete all academic and field/internship requirements as outlined by their university. The ALL internship requires 650 hours, which includes the required hours for field placement/internship of the respective program. Selected students will complete an interdisciplinary, school-based mental health certification program to be administered by the school district.
ALL program participants receive the CCS School-Based Mental Health Certification; preferred hiring status at CCS; reimbursement for professional testing exam fees, initial licensure fees, and mileage for work-related travel; an opportunity for a stipend or tuition reimbursement; and mock interviews.
"It is always inspiring to see great collaborations like the ALL initiative between FSU, our institutional partners and our community to make a difference in people's lives," said Monica T. Leach, Ed.D., FSU provost and senior vice chancellor for academic affairs. "We are proud to join this effort and look forward to seeing the positive impact it promises to create for our CCS schools and our respective graduate programs."