FSU's Dr. Daniel Montoya Appointed to Semester at Sea Program
Date: November 16, 2023
Fayetteville, N.C. – Fayetteville State University is excited to announce Daniel Montoya, Ph.D., has been appointed to The Institute for Shipboard Education's Spring 2024 Voyage of Semester at Sea.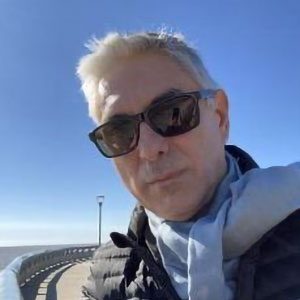 "We are thrilled to welcome Dr. Daniel Montoya to teach on the Semester at Sea Spring 2024 voyage," said Mary Vogl, Chief Academic Officer for Semester at Sea. "Our faculty are selected from among a very competitive pool. Those who sail are top-notch professors with a global mindset and an enthusiasm for introducing students to their discipline and the world."
Montoya, an associate professor in psychology, begins his expedition on Jan. 5, 2024, in Bangkok, Thailand and finish on April 20 in Bremerhaven, Germany after visiting nine other ports.
"His participation in this opportunity offers a unique and specialized training experience that cannot occur through conventional means. The knowledge and skills gained will only enhance his expertise and contribute to the psychology department, as well as the FSU institution. Investing in this faculty developmental activities aligns with our institution's mission to provide high-quality education to our students," said Psychology Department Interim Chair Valeria Russ, Ph.D.
Montoya earned his Ph.D. in Psychology from the National University of Cordoba in Argentina. He formerly served as a Postdoctoral Research Fellow at Duke University and Wake Forest University. His main research interests are cognition, consciousness, and their relationship with Artificial Intelligence. During his semester-long role on the Semester at Sea, he will teach Mind, Brain & Behavior and Psychopathology, tailoring his courses to the context of the global landscape for students who will travel to 10 countries in Europe, Africa and Asia.
"I am honored to join the Semester at Sea community," expressed Dr. Montoya. "This program has a long-standing reputation for fostering global citizenship, and I am excited to contribute to that legacy. Together, we will engage students in meaningful dialogues, broaden their perspectives, and empower them to become agents of positive change in an increasingly interconnected world."
Montoya is one of three faculty members who will represent HBCU institutions during the spring voyage. His involvement brings awareness to FSU students as the Semester at Sea looks to increase HBCU student participation.
For more information about Semester at Sea and its academic faculty, please visit semesteratsea.org.
---
About Semester at Sea
The Institute for Shipboard Education (ISE) is a 501c3 nonprofit based in Fort Collins, Colorado that administers the Semester at Sea study abroad program in conjunction with Colorado State University.
With the world as our campus, our programs integrate multiple-country study, interdisciplinary coursework, and experiential learning for meaningful engagement in the global community.
ISE is an internationally recognized leader in educating global citizens who engage in comparative learning experiences and positively impact our interdependent world. Since 1963, more than 73,000 individuals from 1,700 institutions have traveled to over 60 countries on Semester at Sea and its predecessor programs.
Semester at Sea is committed to fostering academic excellence and promoting global understanding. Our program continues to provide students with a unique and transformative educational experience.
---
About Fayetteville State University
Founded in 1867, Fayetteville State University is a constituent institution of The University of North Carolina System and the second-oldest public institution of higher education in the state. FSU is a historically black university offering degrees at the baccalaureate, master's, and doctoral levels. With nearly 7,000 students, Fayetteville State University is among the most diverse institutions in the nation. To learn more about Fayetteville State University, visit www.uncfsu.edu.