FSU Senior James Godbolt Scores Internship With The New England Patriots
Fayetteville State University Senior James Godbolt '23 Scores Internship With The New England Patriots
Date: July 19, 2022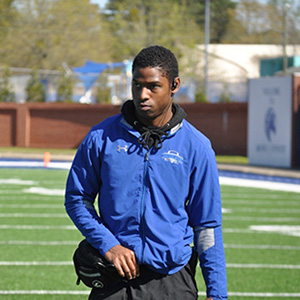 By Janet Gibson
James Godbolt '23 is embarking on the chance of a lifetime – and he's ready to take full advantage of the opportunity that could seal his future.
He's headed for the New England Patriots. Not as a player. Not in any type of coaching role, either. But in a position where he can help the team and employ the skills he has honed while working since 2019 as an athletic trainer for the 11 sponsored sports teams at Fayetteville State University.
Godbolt, a senior, has scored a paid internship as an athletic trainer for the NFL and six-time Super Bowl champion New England Patriots.
"I still don't think it's sunk in yet," said Godbolt, a 23-year-old sports management major, who began his internship on July 18 at Patriots training camp in Foxborough, Massachusetts.
Godbolt, fresh from two television interviews, seems comfortable in the spotlight. He exudes equal parts enthusiasm and confidence. As the middle of five boys who grew up with a single mom in Durham, North Carolina, he excelled in football and basketball at Riverside High School. As the first in his family to earn a college degree, Godbolt said he knows his story may inspire others who have a dream – and the will to work hard to become the very best in their field.
"Be phenomenal or be forgotten," he said, sharing his favorite quote and life motto from motivational speaker Eric Thomas.
Godbolt, who cuts an impressive figure at 6 feet, 4 inches tall, said athletic trainers do whatever it takes to help their team run smoothly. Keeping coolers filled and towels ready are just the beginning. Injury prevention and quick response times top athletic trainers' priorities, which also include building keen assessment and administrative skills.
Godbolt applauds Fayetteville State Athletics for guiding and nurturing his passion for sports medicine, which began while he was still in high school.
"At some point, I knew the ball would stop dribbling, and I wouldn't make any more tough catches on the field," Godbolt said. "I questioned what I could do to benefit those guys in between the lines once I'm side-lined, then my athletic trainer at the time brought me into her world, and that's when it began."
Godbolt is quick to credit one person, in particular, for making the phone call to the Patriots organization: Kenneth Lassiter, Fayetteville State's director of sports medicine and head athletic trainer.
Under the direction of Lassiter and his staff, Godbolt said he has learned invaluable professional skills, such as injury and illness prevention, injury evaluation, complaint resolution, taping/bracing, hydration, and rehabilitation of injuries and medical conditions.
"From the time James came to me in 2019 looking for an opportunity, he's always been eager to learn and showcase what he's learned from me and my staff, including Assistant Athletic Trainers Cameron Barfield and Brionna Allen," Lassiter said.
"James has evolved into someone who is confident and assertive – and takes the initiative in the training room, team practices, and at home or away games. He focuses on the medical care of every athlete he attends to. He has created a family bond with the staff and every athlete he encounters. He will be phenomenal and is ready for this national spotlight." Godbolt said he learned the power of networking through Lassiter, his team and all the coaches. He is also grateful for the many experiences he's been afforded to meet people from other universities and colleges while traveling with FSU's sports teams.
Godbolt, who calls himself a "Pats fan," will train under nationally acclaimed New England Patriots Head Athletic Trainer Jim Whalen during his time in Foxborough. After he graduates from FSU in May 2023 with his bachelor's degree in sports management, he plans to pursue a master's in athletic training at another UNC System school that offers the program, such as Greensboro, Wilmington or Charlotte.
In the meantime, he said his family is excited about his immediate future. "My mom is loving it!" he said. "My family is behind me 100 percent."
Godbolt is thrilled to be staying near Gillette Stadium during his internship. His new clinical experience will span training camp, practices and preseason games. He's not sure at this point how long the internship will last, but it could be a few to several months, he said.
"I'm one person," he promised, "that they won't forget.