Office of Online Education Welcomes New Leadership
Dr. Kizito Mukuni will serve as Director of Online Education and Tristan Daniels will serve as the Online Navigator for the Office of Online Education
Date: September 07, 2023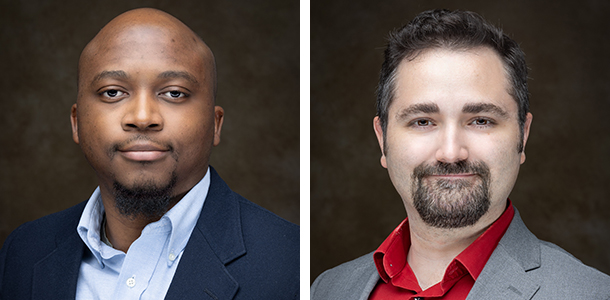 ---
Fayetteville, NC (September 7, 2023) – Fayetteville State University (FSU) is excited to announce the addition of two professionals to the Office of Online Education. Dr. Kizito Mukuni has been appointed as the Director of Online Education, while Tristan Daniels will serve as the Online Navigator.
Dr. Mukuni brings a wealth of experience to FSU, having served as an instructional designer at two public universities. He holds a Ph.D. in Instructional Design and Technology from Virginia Tech and is passionate about online education and breaking down barriers in learning. As the Director of Online Education, Dr. Mukuni will oversee online professional development programs, support, and services to faculty and students, ensuring that these initiatives align with FSU's mission and purpose. He will also expand existing programs, support, and services, identify gaps and trends, and propose new solutions and initiatives. Additionally, Dr. Mukuni's role will ensure the effective implementation and use of instructional technology to support online students.
Tristan Daniels, the Online Navigator, brings a decade of experience in higher education to FSU. He has served as an instructor, an administrator, and a librarian, and he has led various programs, from English and business to emerging technologies and Diversity, Equality and Inclusion initiatives. In his new role, he will focus on guiding FSU's online learners in navigating their virtual environments through technical support, training, and instructional materials. He will also support faculty who teach online through the development and delivery of targeted programming and instructional resources.
"It is our commitment here at FSU to provide high-quality online education to our students, and the addition of Dr. Mukuni and Mr. Daniels will enhance the university's efforts in this regard," said Monica T. Leach, Ed.D., provost and senior vice chancellor for academic affairs. "I'm confident the expertise and experience of these two colleagues will help FSU continue to innovate and improve its online education offerings."