Fayetteville State University Announces New Observatory Schedule
Date: June 26, 2018
The schedule for the Fayetteville State University (FSU) Observatory public observing sessions has been changed. The July public observing session has been cancelled.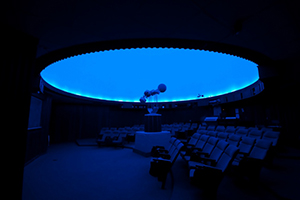 The sessions for August through November have been changed from the first Saturday of the month to the third. The observing schedule for 2018 is as follows:
August 18, 2018
September 15, 2018
October 20, 2018
November 17, 2018
Starting with the August observing session, visitors will be able to see Jupiter, Saturn, Mars and the moon in the Fayetteville sky. Other objects that can be viewed in late summer/early fall include the Andromeda Galaxy, the Ring Nebula, the Hercules Cluster and the Perseus Double Cluster. All observing sessions will be held on the practice soccer field off Langdon Street in the northeast corner of the campus. Learn more at: https://www.uncfsu.edu/community/planetarium.
Fayetteville State University is a constituent institution of The University of North Carolina and the second-oldest public institution of higher education in the state, having been founded in 1867. FSU offers degrees at the baccalaureate, master's, and doctoral levels. With more than 6,200 students, Fayetteville State University is among the most diverse institutions in the nation. Chancellor James A. Anderson is the 11th chief executive officer.
For more information, call the FSU Planetarium at 910-672-1759 or 910-672-1926.