Special Intelligence Expert Joyce Adams Appointed to Fayetteville State University Board of Trustees
Date: January 20, 2023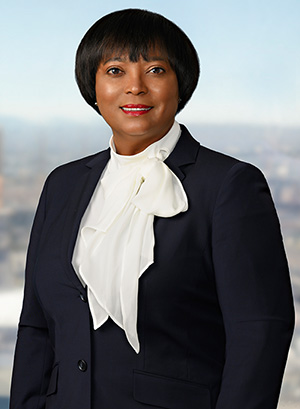 Fayetteville, N.C. (January 20, 2023) — The University of North Carolina Board of Governors named Joyce A. Adams to the Fayetteville State University (FSU) Board of Trustees (BOT) at its January 19, 2023, meeting. Adams will serve through June 2023, completing the term of former board member Valencia Applewhite, who stepped down to begin her term of service in the Senate of the North Carolina General Assembly.
Adams currently serves as vice president of strategic plans and programs for Fayetteville-based AEVEX AEROSPACE, a leader in full-spectrum airborne intelligence solutions. As a subject matter expert on government and intelligence-related programs in the U.S. Department of Defense, Adams supports and advises the CEO, elite special operations forces, and 500 employees and business units globally.
"We are delighted to welcome Mrs. Adams to FSU's Board of Trustees," said BOT Chair Glenn Adams. "She brings another level of depth, experience and influence to the board that will help further advance its initiatives. Her leadership and expertise in high-level intelligence, her special connections and insight within the military community, particularly Fort Bragg and beyond, underscore her ability to immediately and significantly contribute to the board's mission and the university community."
Prior to joining AEVEX, Adams spent more than three decades as a civilian with our nation's elite special operations forces. She has served with the Department of the Army, Joint Special Operations Command and Joint Special Operations Command Intelligence. Adams also served as an intelligence operations specialist and counter-intelligence special agent for the United States Army Special Operations Command, including six deployments to combat theaters.
"I am honored to be chosen to serve on FSU's Board of Trustees and appreciate the confidence the North Carolina Board of Governors has placed in me to help sustain and grow the University's momentum," Joyce Adams said. "I look forward to working closely with the board and the University to create opportunities for our students to succeed and the community to thrive."
Adams earned a bachelor's degree in psychology from Capella University and has completed advanced leadership and organizational certification programs at Harvard University, UNC-Chapel Hill's Kenan-Flagler Business School, North Carolina State University and the University of Louisville. She holds numerous specialized certifications and has been recognized for her exemplary service and achievements throughout her storied career.