University of North Carolina Board of Governors Appoints Four to Fayetteville State University Board of Trustees
The Board welcomes one new, three returning members
Date: May 25, 2023
Fayetteville, N.C. (May 25, 2023) — The University of North Carolina Board of Governors (BOG) made four appointments to the Fayetteville State University (FSU) Board of Trustees (BOT) at its May 25, 2023, meeting. Their terms are from July 1, 2023, to June 30, 2027. Donald D. Moore, Ed.D., an FSU Class of 1993 graduate, joins the board for his first term. Returning board members include current Chair Glenn B. Adams, J.D., Joyce A. Adams and John McFadyen.
"I am delighted to welcome Dr. Moore to our Board of Trustees and to welcome back our returning members as we continue the vital work of this university for our students, our community, the Sandhills region and beyond," said FSU Chancellor Darrell T. Allison, J.D. "Dr. Moore, a proud FSU alumnus, brings another level of depth, experience and influence to the board that will help further advance its initiatives. I am equally thrilled to continue working alongside Mr. Glenn Adams, Mrs. Joyce Adams, and Mr. John McFadyen. Their collective wisdom, leadership and service have been invaluable to me and our leadership team as we strive to provide greater opportunities and build brighter futures for tomorrow's leaders."
Meet the newly appointed FSU BOT members: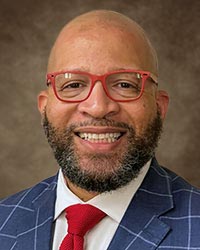 Donald D. Moore, Ed.D. '93 joins the FSU BOT for his first term. With over 30 years of experience, Moore is recognized as a strategic, collaborative leader with a track record of results across various industries and organizations including education, healthcare, ministry, and community development. He is currently the Senior Pastor at the historic Mount Carmel Baptist Church (MCBC) in West Philadelphia. In addition to his daily responsibilities, Moore provides strategic leadership for numerous entities including Campbell Commons, a 48-unit low-to moderate-income apartment complex; the reading program at Barry Elementary School; the annual STEAM six-week summer camp; MCBC's partnership with Haiti schools and medical clinics; the church's Credit Union; and the non-profit Human Development Corporation which focuses on delivering community and human services programming.
Prior to becoming a pastor, Moore held many other positions in healthcare and higher education. He worked for 23 years as a clinical speech pathologist in voice and swallowing disorders in hospitals and rehabilitation centers throughout Pennsylvania and New Jersey. Moore currently teaches undergraduate courses in anatomy & physiology at LaSalle University and graduate courses in anatomy & physiology, neurological motor speech disorders and voice disorders at Widener University.
Moore currently co-chairs FSU's inaugural Board of Visitors. He earned his Bachelor of Arts in Speech Communication from Fayetteville State University. He also earned a Master of Education in Speech/Language Pathology from North Carolina Central University with thesis research completed at the Adams School of Dentistry at UNC-Chapel Hill; a Master of Divinity from Palmer Theological Seminary; and a Doctor of Education in Organizational Leadership from Wilmington University.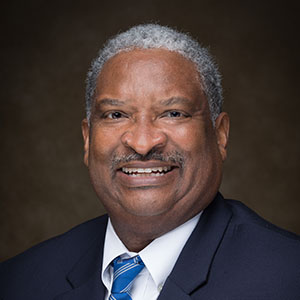 Glenn B. Adams returns to the FSU BOT, having served as chair for 2022-2023. Adams is a Senior Partner with Adams, Burge and Boughman, P.L.L.C. He has served as the Director of Recruitment and Placements at the North Carolina Central University (NCCU) School of Law and Clerk for the Honorable Clifton Johnson, N.C. Court of Appeals. Adams has been involved in various professional and civic organizations throughout his career, including his election to the Cumberland County Board of Commissioners as a District 1 representative in 2014. He has also served as chair of the Board of Commissioners.
He earned his Juris Doctorate from NCCU School of Law, his Bachelor of Arts from N. C. State University, and attended Oxford University, Oxford, England, in the summer of 1978. He is a member of the Cumberland County Bar Association and served as the Cumberland County Bar Association President from 2001 to 2002. Additionally, he is a member of the North Carolina Bar Association, the North Carolina State Bar, the North Carolina Advocates for Justice, and Fayetteville Area Minority Lawyers Association.
Adams is the recipient of numerous professional and public awards, including the Order of the Long Leaf Pine, Lawyer of the Year - North Carolina Black Lawyers Association, Boss of the Year - Legal Support Staff of Cumberland County, Strathmore Who's Who, Smith Chapel FWB Church Man of the Year and the Fayetteville Observer Readers' Choice Award for Best Attorney. He was honored as an alumnus of the N. C. Historically Back College and University and named a "Living Legend". In 2018, Adams was a recipient of the North Carolina Bar Association's Legal Legends of Color Award.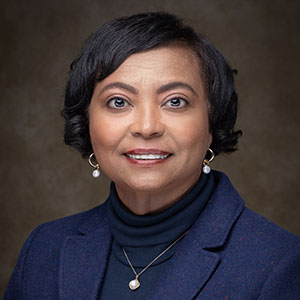 Joyce A. Adams returns to the BOT, having joined its service in January 2023. Adams is the Vice President of Strategic Plans and Programs of AEVEX Aerospace in Fayetteville, North Carolina. Prior to joining AEVEX, she served as a Federal Government Civilian for 34 years, most of her tenure as part of our nation's most elite Special Operations forces. Since 2009, Adams has served with the Department of the Army, Joint Special Operations Command, Joint Special Operations Command Intelligence Brigade (JIB). Before assuming duties at the JIB, Adams served as an Intelligence Operations Specialist and Counterintelligence Special Agent for United States Army Special Operations Command, including six deployments to combat theaters leading the most elite forces in combat missions. Adams currently serves on the advisory board of FSU's Center for Defense and Homeland Security.
Adams holds a Bachelor of Science from Capella University and is pursuing a Master of Arts in Industrial Organizational Psychology. Additionally, she has completed advanced leadership and organizational certification programs at Harvard University, UNC-Chapel Hill's Kenan-Flagler Business School, North Carolina State University, and the University of Louisville.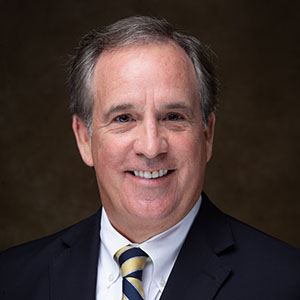 John McFadyen returns to the FSU BOT for a second term. His experience working in the banking industry spans over 30 years. Currently, he is the Senior Vice President for the Select Bank & Trust in Fayetteville, North Carolina. Prior to this, McFadyen served as Vice President for First Citizens Bank and the State Bank of Fayetteville from 1988 to 2003. McFadyen serves as a board member in the Sandhills Chapter of the Red Cross. His previous board experience includes Care Clinic, Methodist University Board of Visitors, Fayetteville Chamber of Commerce, and the First Presbyterian Church.
---
About The UNC Board of Governors
The University of North Carolina System is governed by the Board of Governors, which, under Chapter 116 of the North Carolina General Statutes, has responsibility for the planning, development, and overall governance of the UNC System. The Board elects the president of the UNC System.