Advanced Systems Group
The primary goal of the project titled Planning for Increasing Research and Education in Advanced Systems (PIREAS) awarded to Fayetteville State University (FSU) by NASA's Minority University Research and Education Project (MUREP) Space Technology Artemis Research, or M-STAR Planning Grant, was to create the Advanced Systems Group (ASG) which now serves as a structure to increase FSU capabilities to respond to NASA grant opportunities. The NASA award was announced here. The ASG is comprised of a rapid response team to review and communicate NASA opportunities to faculty, researchers whose interests align with Space Technology Mission Directorate (STMD) priorities, and students working on projects and research that focus on STMD topics. As part of the M-STAR Planning Grant, the initial team identified faculty research interests that align with STMD topics and developed co-curricular programs that supports those topics. The FSU planetarium is now designated as a NASA Informal Education Community Anchor site. After the planning phase FSU won the M-STAR Implementation Grant titled Active and On-demand Multi Robot Perception (AOMRP). See NASA announcement page and FSU news article. The Intelligent Systems Lab hosts the activities of AOMRP.
The organization chart of the opportunity response team, called the Advanced Systems Group (ASG) is shown in Figure 1. The ASG was established as part of the activities supported by PIREAS.
Figure 1: The organization chart of the Advanced Systems Group (ASG). The superscript numbers correspond to members identified in the ASG shown in Table 1.

---
ASG Member List
The list of members of the Advanced Systems Group (ASG). The superscript numbers correspond to membership categories in the organization chart of Figure 1.


NEWS
Students win Prized Internship and Graduate School / PhD offers from Research 1 universities
A key objective of the NASA M-STAR funded grants is to engage FSU students in research related to the Artemis mission. The outcomes for the students as envisioned by the grant are internships and jobs, and admission to graduate school.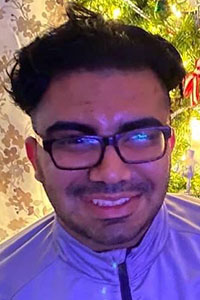 Computer Science major Jonathan Soltren is working on a Spring 2022 internship with the group from the Jet Propulsion Lab (JPL) of NASA which works on the Cooperative Autonomous Distributed Robotic Exploration (CADRE) project. Jonathan is taking courses at FSU while working on this internship remotely. As per Jonathan: "Being part of the Intelligent Systems Lab (ISL) has given me many opportunities to expand and practice my education in Computer Science. I was very excited when the internship at JPL was offered to me. Being part of the CADRE project has been a wonderful experience. The goal of the project is to make a cooperative network of autonomous robots to explore the surface of the moon. This type of robotic network would be the first of its kind in space. Being able to be part of a team that is making history is something that I could never have imagined I could be a part of, but now they are." According to his research advisor and ASG director, Dr. Bhattacharya this internship will be an "out of the world" experience for Jonathan because of two reasons. He is working on the CADRE robotic system which will be deployed on the moon in a few years by NASA as part of the Artemis mission and other extra-terrestrial locations like Mars in a decade or more. JPL is NASA's premier lab which is managed by the nearby California Institute of Technology (Caltech) and an internship at JPL is a coveted opportunity for students from all universities.
The NASA related research is increasing student interest in graduate school. This past summer in 2021, Sasha Richardson was admitted to the Graduate Data Science program at New York University. She was supported during the M-STAR planning grant phase. Grace Vincent is the next Computer Science Senior who is getting ready for graduate school. She is being supported by both phases of M-STAR: the planning and the implementation. Grace will graduate from FSU in May 2022 and she has already received a full-ride (tuition and scholarship) offer from the pathway to PhD in both Computer Science and Electrical Engineering at North Carolina State University. Grace is waiting on decisions from other PhD programs she has applied for before making up her mind on which university to join.