Celebrating Chancellor Darrell T. Allison's First 365 Days
A Year in Review
Fayetteville Observer Opinion Editorial
Written by: Chancellor Darrell T. Allison
3/14/2022

My first day on the job, March 15, 2021, I vividly recall my state of mind. When asked how I felt about this new chapter in my career, I simply stated: "I am incredibly proud and honored to have the opportunity to serve as Chancellor of Fayetteville State University." Now, just one year later, I can truly say my sentiments remain steadfast.
Fayetteville State University's motto - Res Non Verba (Deeds not Words) have been the words I have lived by. These past 365 days have not merely been spoken, but we have worked tirelessly to carry out its true meaning. I have shared that the vision for FSU must never be a "me" vision but a "we" vision and so the need to work collaboratively - within the campus and beyond its borders to include our city, county and state was necessary. I believed then, as I do now, that FSU must build upon our strong academic programs while also striving to keep the cost of tuition and education at the lowest levels possible.
I pledged to focus our work on educating military-affiliated students as it was a desire to be a strong leader in the UNC System among military-connected students. We are now ranked the strongest among all 100 HBCUs in the nation for serving military-connected students. We made a commitment to invest in the university's Career Services department to create robust paid internship opportunities for our students, which ultimately establishes stronger pipelines between retention, graduation and students who graduate receiving higher-paying jobs.
Additionally, I promised to help leverage one of the strongest Division II athletic programs in the state, believing that we had all the necessary elements to more effectively integrate a strong athletic program and world-class academic program. We were fortunate to claim four CIAA Conference Championships this academic year.
In essence, my goal was to push forward and secure the necessary resources that would make FSU the affordable choice for a high-quality education, not only in the Sandhills region, but in our nation.
All of this had to be done with a sincere spirit of collaboration, and though we have not reached the mountain-top by any stretch of the imagination - we are moving in the right direction. While we still have much more to do, I truly hope that our FSU stakeholders (faculty, students, staff, and alumni) and our numerous city, county and state leaders take heed to our list of accomplishments this past year with real Bronco Pride. Together, we are well on our way of building a better and stronger Fayetteville State University for students, citizens, and leaders of North Carolina.
Thank you for allowing me this opportunity to serve as the 12th Chancellor at Fayetteville State University.
Res Non Verba. Deeds not Words. Our work continues.
Under Chancellor Darrell T. Allison's leadership, FSU has been able to accomplish the following within the past year:
#1 $164 million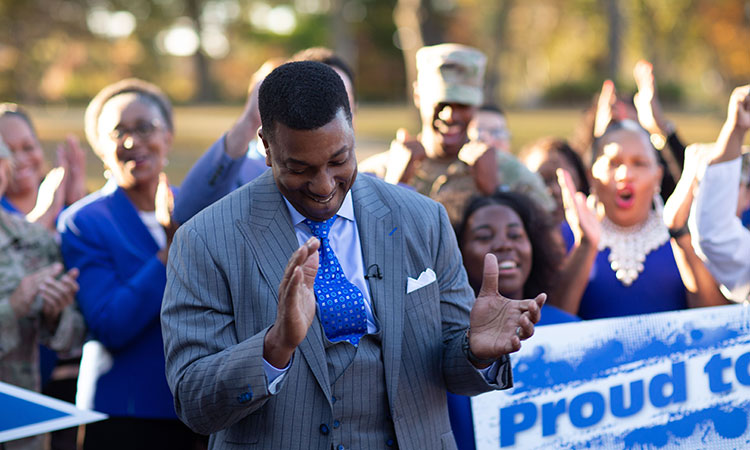 Fayetteville State University received $164 million from the state budget in November 2021 that will include funding for new capital construction projects on campus repairs – a new College of Education, new residential hall, and new parking deck – and pay for much needed repairs and renovations, as well as allow the University to become an NC Promise school. This was the largest amount the university has ever received from the NC General Assembly.
#2 CIAA CHAMPS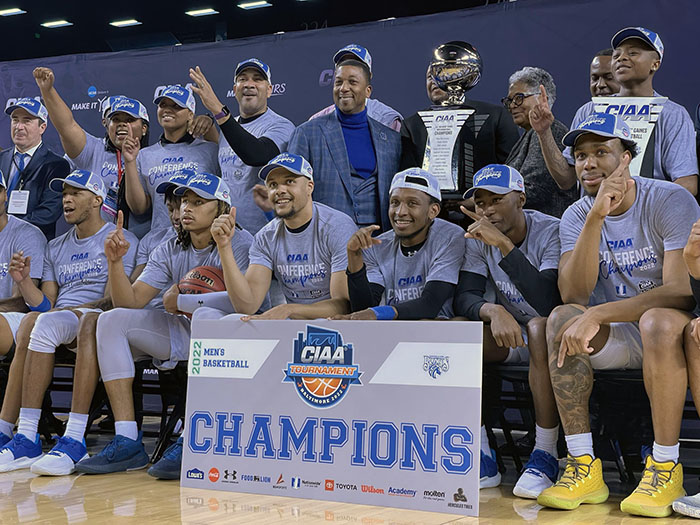 FSU athletic teams claimed the victory this season and secured four CIAA Conference Championships, which included Cross-Country, Women's Track, Women's Volleyball and Men's Basketball.
#3 Residence halls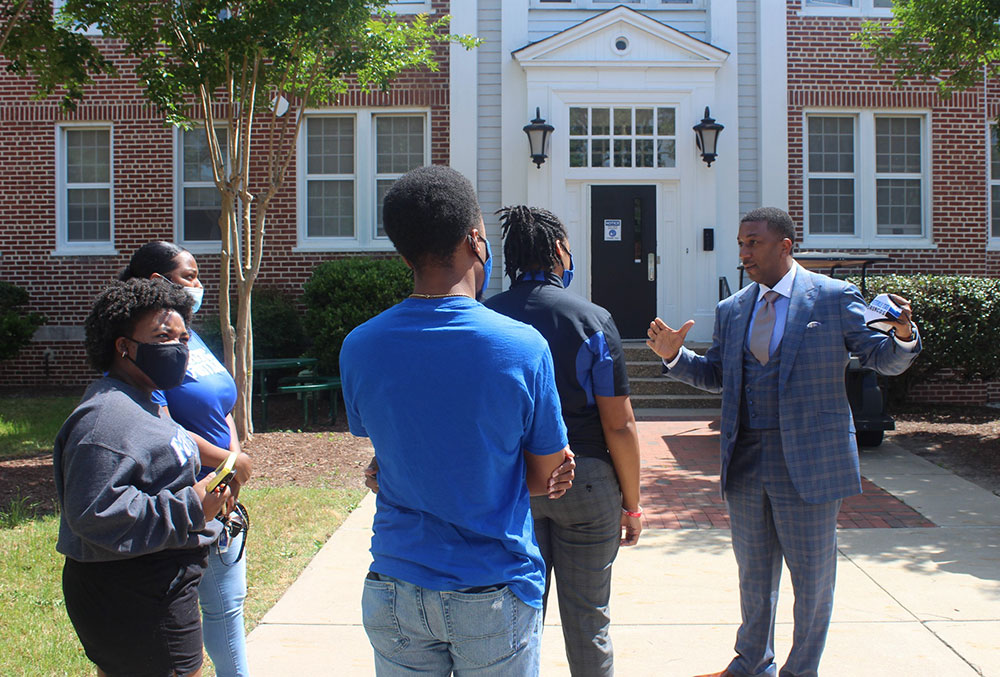 Approved the Demolition of Vance and Bryan Residence Halls along with replacing with a new dormitory (Vance) and erecting the first-ever University Health and Wellness Center at the other (Bryant).
#4 New retention initiative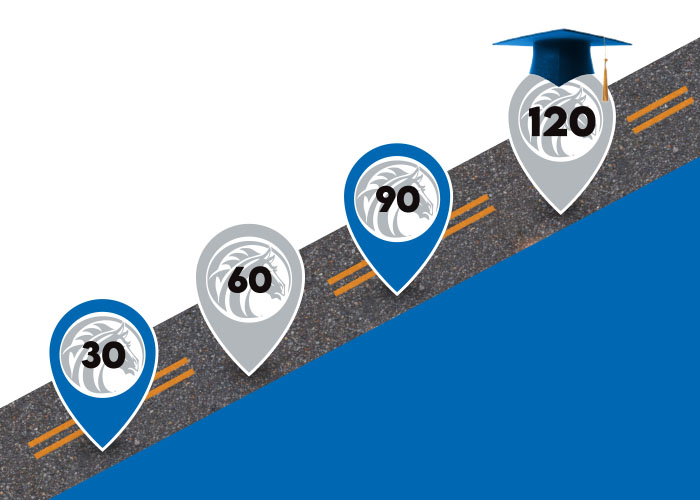 Chancellor launched the 30-60-90 Summer School, a new retention initiative. The full-paid scholarship program served nearly 1,300 FSU students in spring 2021.
#5 Clear past-due balances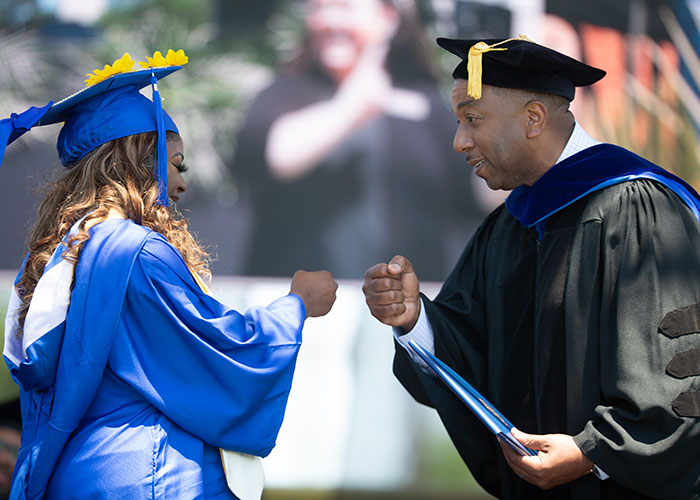 FSU cleared the past-due balances of students. Students attending the FSU from fall 2019 to spring 2021 now have zero balances. As a result, 1442 FSU students entered fall 2021, completely university debt-free. FSU paid $1,653,959 to delete all past-due debt of students.
#6 Bronco One Stop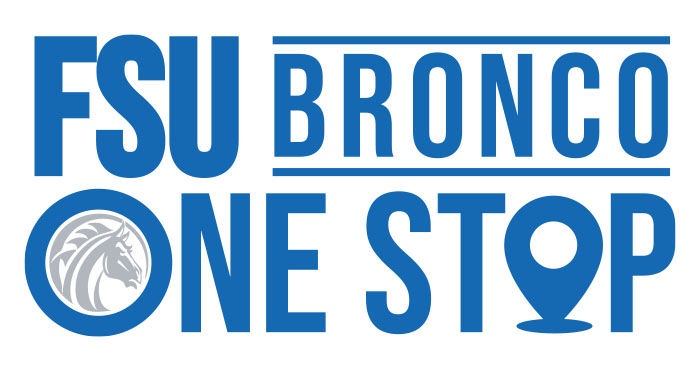 Established the Bronco One Stop – a centralized location for students to receive all essential services and academic advising: $3M investment increasing academic advisors from 16 to 31 for students.
#7 Career Services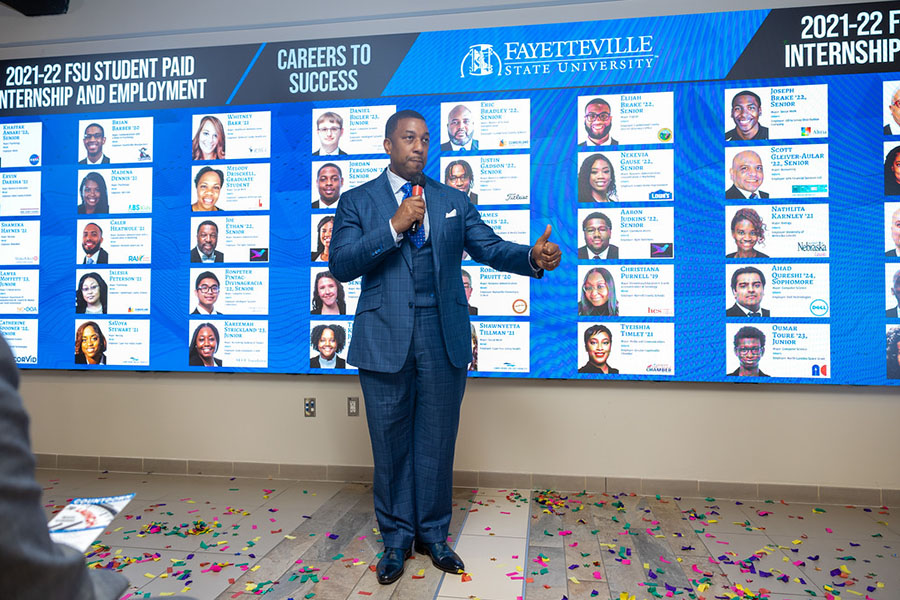 Chancellor Allison invested in a 21st century model for Career Services projecting FSU students with over 750 paid internships 2021-2024 on in their academic journey providing them with the resources that will better prepare them for the workforce.
#8 Board of Visitors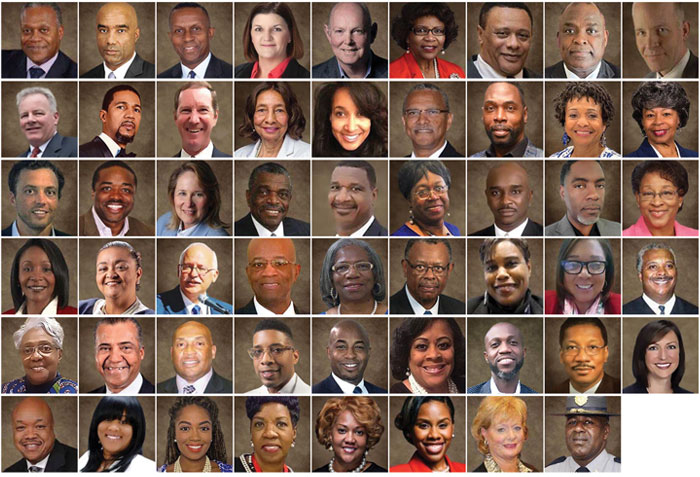 Established an inaugural FSU Board of Visitors, 55 members made up of industry professionals, community leaders, business owners, and dedicated alumni, serving as advocates and ambassadors for FSU.
#9 Acquisition of "Bronco Square"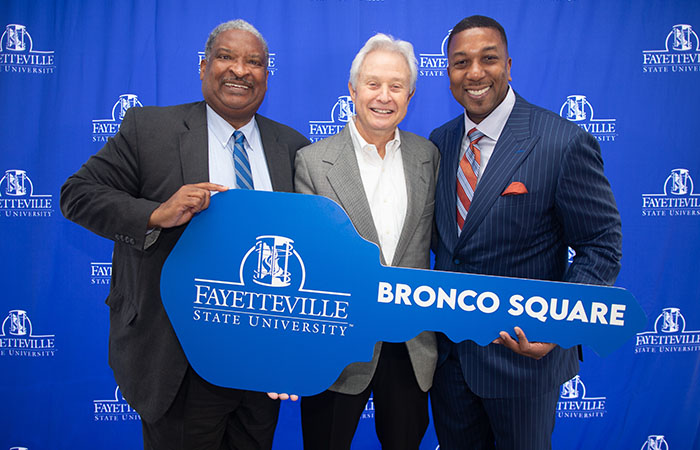 Directed the $5 Million, 100% debt free acquisition of "Bronco Square" representing over 30,000 square foot retail shopping mall area, while designating 6,500 square foot unit as the Entrepreneur Innovation HUB for Fayetteville and Cumberland small business and entrepreneurial engagement.
#10 Enhance social life for students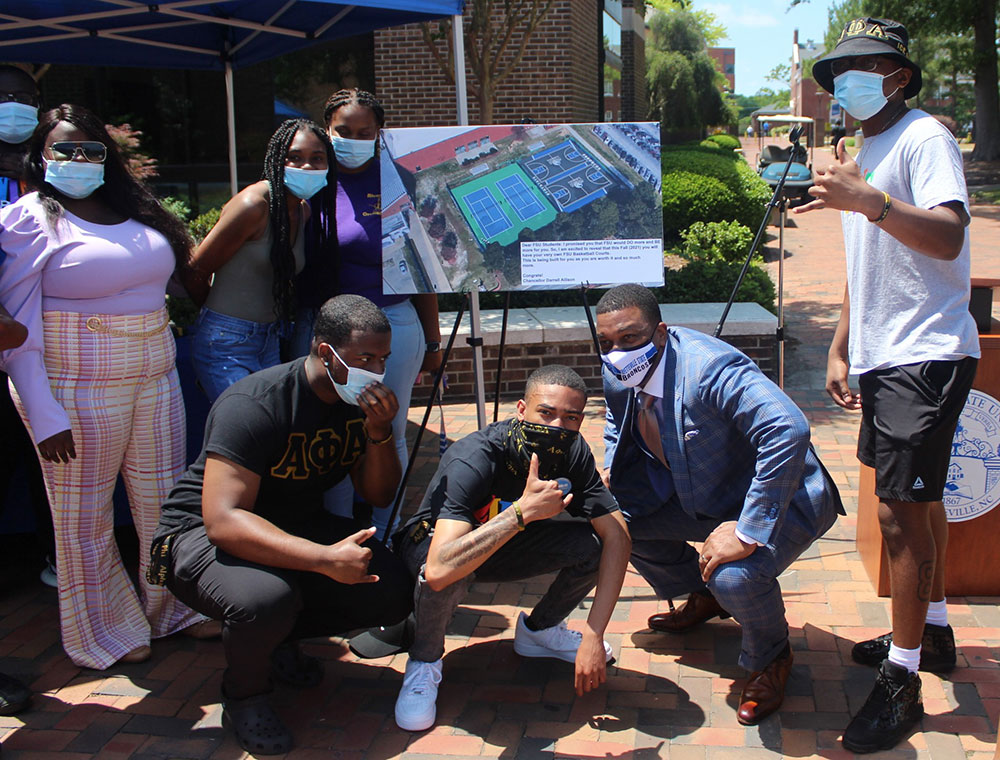 To enhance social life for students, FSU constructed two outdoor basketball courts, and revitalized an area of campus that officially became Greek Plaza, which pays homage to the Divine 9 fraternities and sororities.
#11 Purple Heart University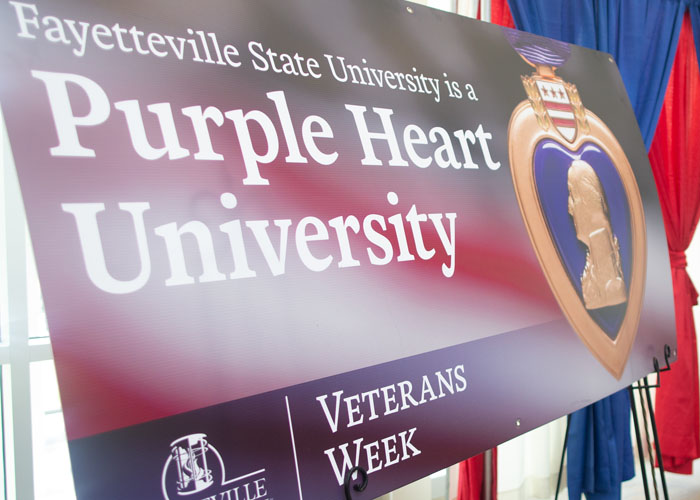 : The Military Order of the Purple Heart has designated Fayetteville State University a Purple Heart University, making FSU the first university in the University of North Carolina System to receive the honor. The Purple Heart University designation is in recognition of FSU's history of supporting veterans and their families.
#12 William Pearson Tolley Champion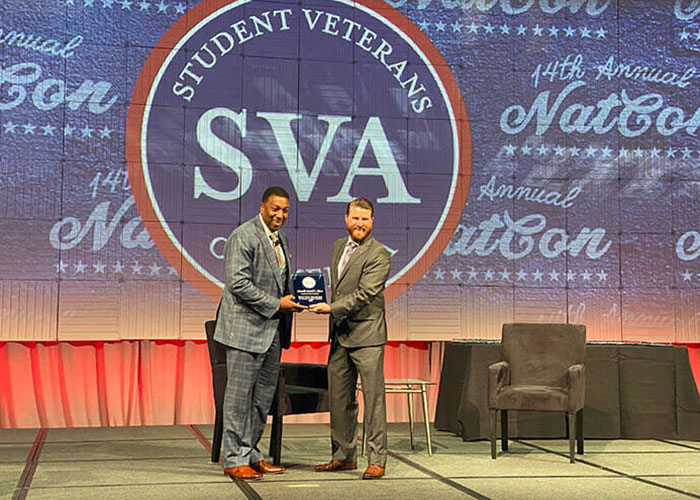 Chancellor Allison was named the William Pearson Tolley Champion for Veterans in Higher education award winner by Student Veterans of America (SVA). The annual award is given to university leaders across the country who excels in providing innovative and creative management strategies, demonstrates excellence in leadership in supporting military and veteran students.
#13 New York Stock Exchange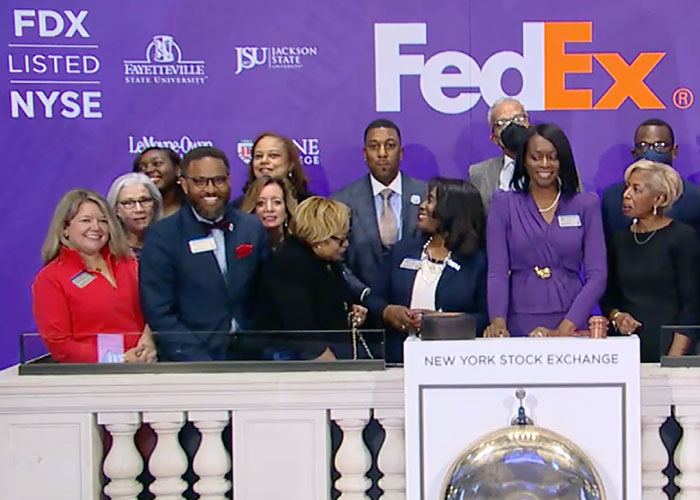 Chancellor Allison joined FedEx leaders, school presidents, and student program participants during the ringing of The Closing Bell® at the New York Stock Exchange (NYSE) on February 1 commemorating the launch of the program and a nationwide celebration of Black History and awarded $250,000 from FedEx.
#14 E-Lab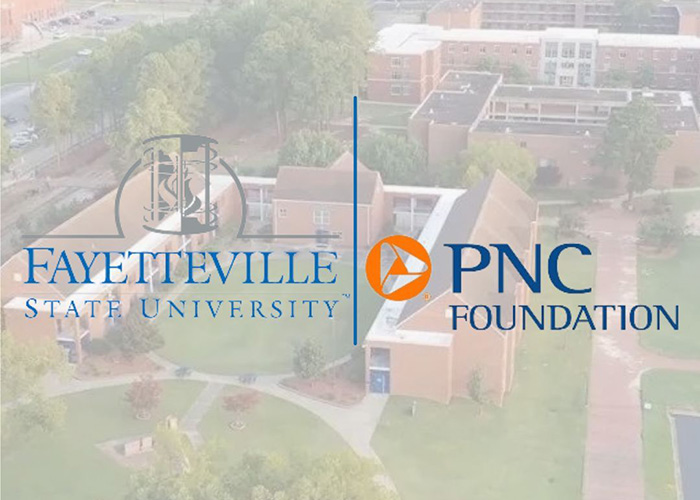 With an investment of $282,000 from PNC, the FSU E-Lab was established to develop the entrepreneurs and change agents of tomorrow.
#15 Scholarships for Military-Connected Students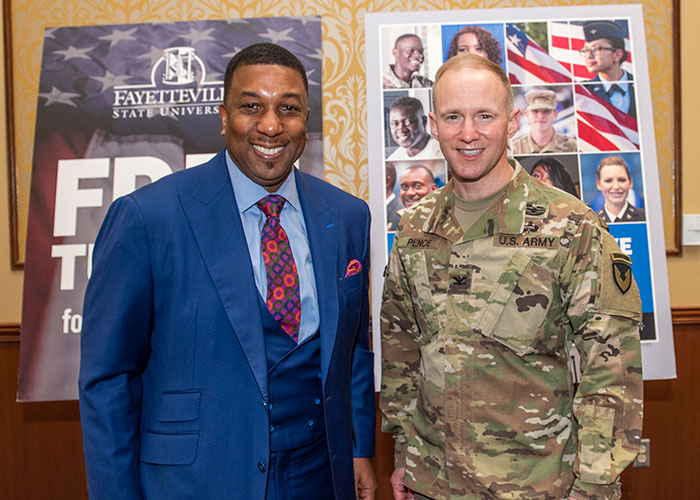 FSU announced free tuition-free scholarships for military-connected students.
#16 #1 HBCU for military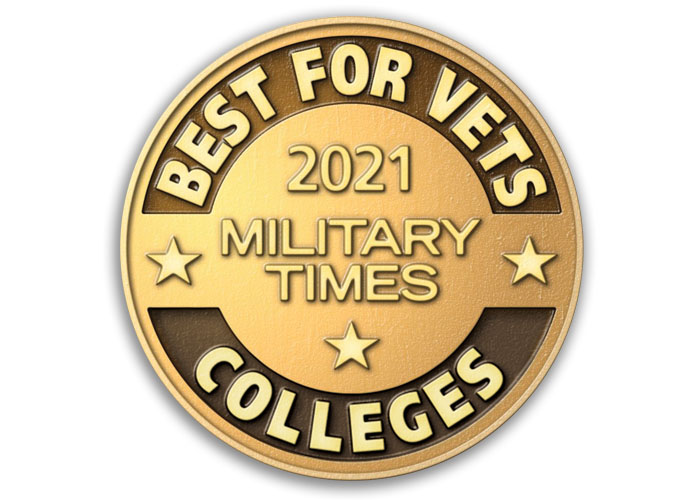 The university recently published a national report recognizing FSU as the is number one HBCU in the nation educating the most military-connected students.
#17 FTCC & FSU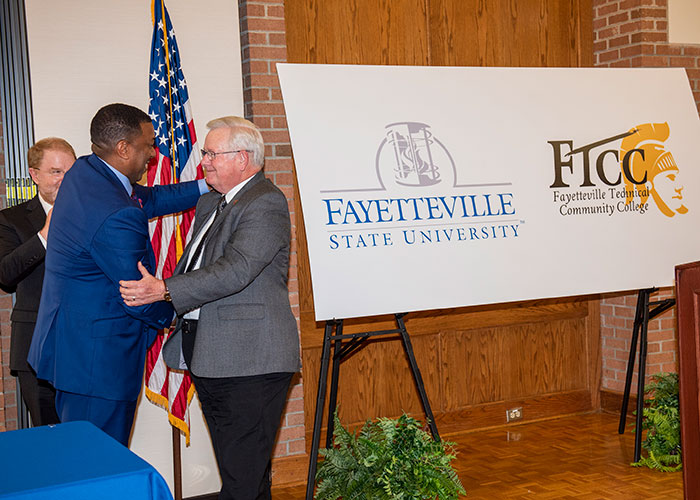 FSU announced a major scholarship for students at Fayetteville Technical Community College. The scholarship will provide two years of free tuition at FSU to students who earn an associate degree at FTCC and who meet other criteria, beginning Fall 2022.
#18 Increase in fundraising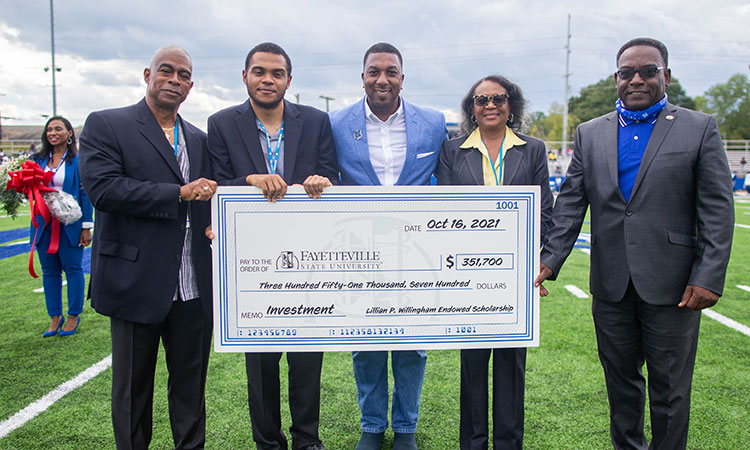 As of February 2022, FSU has successfully raised $2 million since March 2021. This increase in fundraising represents $527,000 more than this time last year.