Darrell T. Allison installed as 12th chancellor of Fayetteville State University
Date: September 23, 2022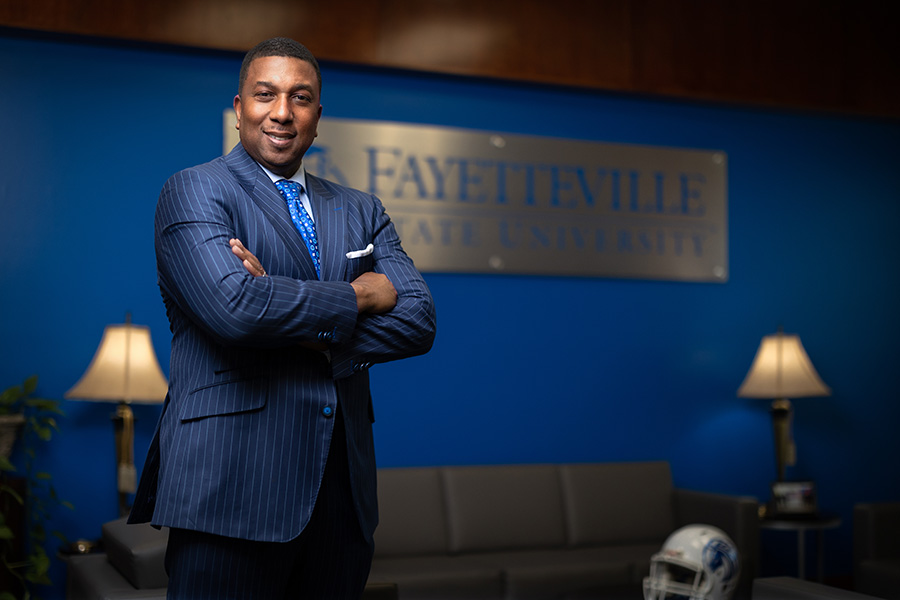 Fayetteville, N.C. (September 23, 2022) — Darrell T. Allison, J.D., was officially installed as the 12th chancellor and chief executive officer of Fayetteville State University on Friday, September 23, 2022, at 10:00 a.m. at the Felton J. Capel Arena on the FSU campus. Named to the post by the UNC Board of Governors on February 18, 2021, Allison took office on March 15, 2021.
UNC System President Peter Hans presided over the ceremony and The Honorable Judge Toni King administered the Oath of Office. Allison's family accompanied him and his wife, La Nica, held the Bible for the swearing in. Honored guests included members of the University of North Carolina Board of Governors, the FSU Board of Trustees, the FSU National Alumni Association, the Cumberland County Board of Commissioners, representatives of FSU's military partners, City of Fayetteville Mayor Mitch Colvin, federal, state and local elected officials along with faculty, staff and student representatives.
Since taking office, Allison and his leadership team have developed and pursued a bold and transformative strategic plan to improve college access and affordability aimed at maximizing student success; boosting institutional resources for campus improvements and programs; and building stakeholder engagement and deepening FSU's community impact.
"I am deeply humbled and honored to lead one of the nation's best HBCUs and the second-oldest institution of higher learning in the UNC System," Allison said. "Fayetteville State University has a long and proud tradition of opening doors of opportunity to deserving students across the state and nation, regardless of their circumstances. We've come a long way towards realizing some of our highest priorities, and we are committed to providing an extraordinary academic experience to our students as they prepare for a promising future after graduation."
Key accomplishments thus far during Allison's tenure include:
Securing FSU's participation in the NC Promise Tuition Plan, which leverages state dollars to subsidize the cost of tuition for all enrolled students and reduce college costs.
Applying COVID relief funding in 2021-22 to clear more than $3.2 million in student debt amassed during the pandemic for 2,367 students. · Launching the 30-60-90 Free Summer School Program to provide free summer school classes to undergraduates with the goal of optimizing their on-time graduation.
Fayetteville State University (FSU) announced a Military Tuition Scholarship which will provide free tuition to all military-affiliated students beginning Fall 2022.
Fayetteville State University (FSU) scholarship for students at Fayetteville Technical Community College. The scholarship provides two years of free tuition at FSU for students who earn an associate degree at FTCC and who meet other criteria.
Directing the $5 million, 100% debt-free acquisition of "Bronco Square" and designating a 6,500-square-foot unit as the Fayetteville-Cumberland Regional Entrepreneur and Business Hub serving Fayetteville and Cumberland County as well as neighboring counties to build small business and entrepreneurial engagement.
Securing an historic $175 million state budget appropriation in 2022 to strengthen infrastructure and programs and rejuvenate the FSU campus. Campus revitalization/improvement efforts include:

repairs and renovations campus-wide;
new construction of residence halls, a College of Education building and a parking deck;
establishing the Bronco One Stop, which centralizes student services in one convenient on-campus location in the Charles W. Chestnutt Library;
partnering with industry leaders Apogee and Adobe to provide stronger and more reliable internet services for students in the residence halls and boost digital literacy campus-wide by providing the Adobe Creative Suite to the Bronco community;

Other campus revitalization efforts include moving the University Health and Wellness Center to campus.
Securing approximately $8 million in private philanthropic support from key university stakeholders, including a transformative gift of $5.8 million from Anonymous Trust, to support initiatives that foster student success with a focus on students from Eastern North Carolina.
Establishing an inaugural FSU Board of Visitors, 55 members made up of industry professionals, community leaders, business owners, and dedicated alumni, serving as advocates and ambassadors for FSU.
Support for FSU athletic teams who won four CIAA Conference Championships last year, including Cross-Country, Women's Track, Women's Volleyball and Men's Basketball.
The Military Order of the Purple Heart designated Fayetteville State University a Purple Heart University, making FSU the first in the University of North Carolina System to receive the honor for supporting veterans and their families.
Allison received the William Pearson Tolley Champion for Veterans in Higher Education award from Student Veterans of America (SVA) for providing innovative and creative management strategies and demonstrating excellence in leadership in supporting military and veteran students.
Invested in a 21st-century model for Career Services, with a goal of FSU students securing more than 750 paid internships by 2024 and providing them with the resources that will better prepare them for the workforce.
Allison joined FedEx leaders, school presidents, and student program participants during the ringing of The Closing Bell® at the New York Stock Exchange (NYSE) on February 1 commemorating the launch of the Career Services support program and a nationwide celebration of Black History along with $250,000 from FedEx.
With an investment of $282,000 from PNC, the FSU E-Lab was established to develop the entrepreneurs and change agents of tomorrow.
The university recently published a national report, Deeds, Not Words: FSU's Call to Serve, recognizing Fayetteville State University as the nation's number one HBCU for educating the most military-affiliated students.
Allison's decades-long career as a leader in education includes advocacy for historically underserved students across our state and nationally. Prior to becoming chancellor, he was vice president for governmental affairs and state teams at the American Federation for Children. He served on the UNC Board of Governors and sat on several committees, most notably chairing its inaugural Historically Minority-Serving Institutions Committee advocating for more equitable funding for HMSIs as well as programming and research dollars for these schools.
Allison holds a Juris Doctor from UNC-Chapel Hill and a bachelor's degree from NCCU. He and his wife, La Nica, have two daughters.
Additional events scheduled for installation weekend include:
September 23
Installation Ball — Cape Fear Botanical Garden
September 24
FSU football versus Virginia Union — Military Appreciation game Luther Nick Jeralds Stadium
September 25
FSU Day at Lewis Chapel Missionary Baptist Church — A Night of Laughter Comedy Show