Fayetteville State Leaders Named American Council on Education Fellows
Drs. Nicole Lucas and Hector Molina to participate in immersive leadership program
Date: March 08, 2023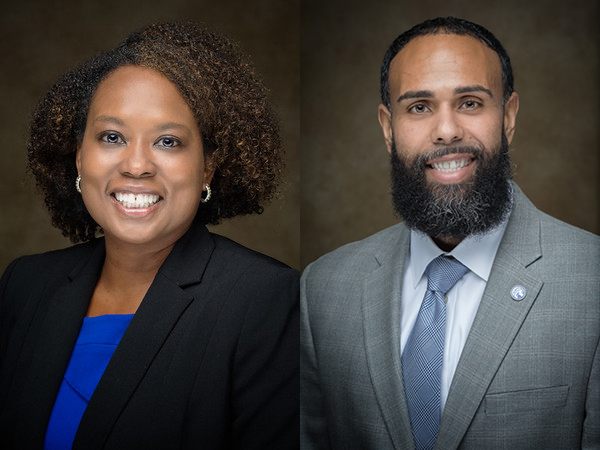 Pictured: Dr. Nicole Lucas (left) and Dr. Hector Molina (right)
---
Fayetteville, N.C. (March 08, 2023) — Fayetteville State University's (FSU) Nicole Lucas, Ph.D., associate vice chancellor for institutional effectiveness, research, and planning, and Hector M. Molina, D.B.A., vice chancellor for information technology and chief information officer, have been named American Council on Education (ACE) Fellows for academic year 2023-24. They are two of 36 fellows selected this year following nomination by their institution's senior administration and a rigorous application process.
"We are delighted that the American Council on Education selected two of Fayetteville State's top leaders as fellows this year," said Monica T. Leach, Ed.D., FSU provost and senior vice chancellor for academic affairs. "Drs. Lucas and Molina bring invaluable expertise to the table and approach all they do strategically, creatively and thoughtfully. We are proud to support their professional leadership development and to have them represent FSU at such a highly respected national program."
Since its inception in 1965, the ACE Fellows Program has strengthened institutions in American higher education by identifying and preparing over 2,500 faculty, staff and administrators for senior positions in college and university leadership through its distinctive and intensive cohort-based mentorship model. Of the fellows who have participated to date, more than 80 percent have gone on after their fellowship to serve as chief executive officers, chief academic officers, deans and in other cabinet-level positions.
Lucas joined FSU in 2009 and has held numerous leadership and academic appointments, including associate professor and chair of FSU's Department of Sociology and Interdisciplinary Studies and interim director for institutional effectiveness. She leads key university initiatives aimed at improving student retention and graduation rates, such as the 30-60-90 Graduate on Time Initiative, where she is academic progression coordinator. She also spearheads the university's strategic planning process and collaborates with leadership to implement strategies that address and advance strategic goals and metrics of the university. Lucas also led the recent 10-year Southern Association of Colleges and Schools Commission on Colleges (SACSCOC) reaccreditation process that resulted in no findings in 2022. This result occurs in less than 2% of institutions that complete the 10-year reaccreditation process.
Lucas earned a bachelor's degree from Oberlin College and holds M.S. and Ph.D. degrees from Virginia Polytechnic Institute and State University.
"I am honored to join this year's cohort of ACE fellows to further hone my leadership skills and collaborate with like-minded professionals committed to strengthening higher education for all students," Lucas said. "To move our universities forward and prepare the next generation of leaders, we must be lifelong learners and critical thinkers ourselves. This fellowship is an incredible opportunity to partner with other institutions and bring new ideas to FSU; I look forward to an extraordinary experience."
Molina joined FSU in 2022 and oversees the Information Technology Services (ITS) Division, sets IT direction and coordinates infrastructure and service delivery across the university. A goal-oriented IT leader with extensive experience in planning and implementing cutting-edge information technology solutions to address university opportunities, he is responsible for ITS units which support enterprise applications, enterprise data, research support, teaching and learning, user support, infrastructure, communications and information security. A U.S. Marine Corps veteran, Molina has 27 years of experience in the field of information technology with a diverse background in both university and corporate settings, as well as extensive experience in project and portfolio management, instructional, and enterprise computing, as well as telecommunications.
Molina earned a B.S. in information technologies from East Carolina University, M.B.A. from Colorado State University, M.A. in organizational leadership from Gonzaga University, M.S. in information technology, and doctorate in business administration from Wilmington University. He also holds 20 IT industry certifications.
"I am delighted to join my colleagues across the country to strengthen my leadership capabilities and further Fayetteville State's mission of teaching, learning and service to our students, communities, the state and beyond," Molina said. "The ACE Fellowship allows us to work together to improve higher education across all our organizations and help build brighter futures for generations to come."
The program combines retreats, interactive learning opportunities, visits to campuses and other higher education-related organizations, and placement at another higher education institution to condense years of on-the-job experience and skills development into a single year.
During the placement, fellows observe and work with the president and other senior officers at their host institutions, attend decision-making meetings, and focus on issues of interest. Fellows also conduct projects of pressing concern for their home institutions and seek to implement their findings upon completion of the fellowship placement.
At the conclusion of the fellowship year, fellows return to their home institutions with new knowledge and skills that contribute to capacity-building efforts, along with a network of peers across the country and abroad.
"The ACE Fellows Program has a proven track record of developing agile leaders, and it fuels the expansion of a talented and diverse higher education leadership pipeline," said ACE President Ted Mitchell. "ACE Fellows engage in unique learning experiences before returning to their home campuses armed with a fresh outlook and distinct skillset. I am excited to see all that this class accomplishes."