Fayetteville State University Awards Scholarships to Five Communication and Media Studies Majors
ABC 11/WTVD continues annual student support
Date: April 24, 2023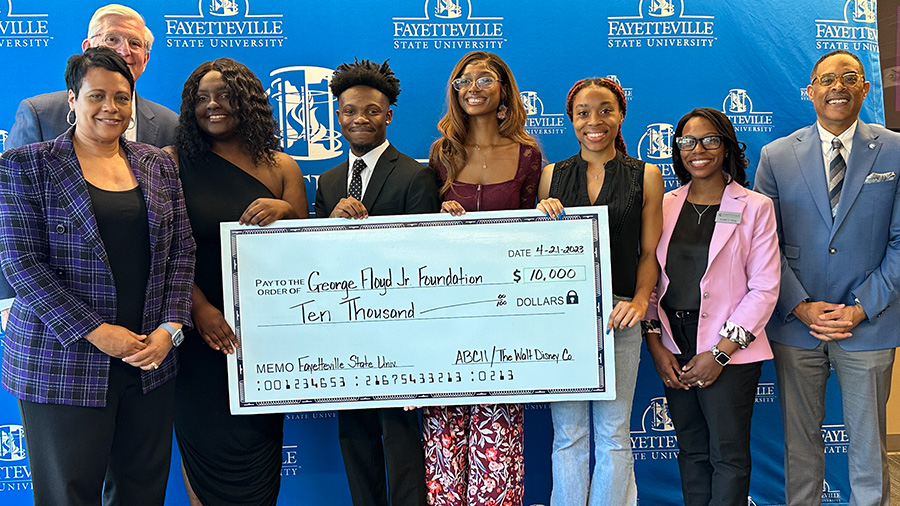 Fayetteville, N.C. (April 24, 2023) — Fayetteville State University (FSU) awarded scholarships of $1,000 to each of five Communication and Media Studies majors, thanks to a $5,000 commitment from ABC 11/WTVD. The scholarship winners, announced Friday at an awards ceremony in the Bronco Lounge of the Rudolph Jones Student Center on the FSU campus, are Jamilyn Wallace, Kinaya Gibson, Westley Reaves, Evangeline Henzie, and Breasia Williams.
ABC 11/WTVD began making annual awards of $5,000 to FSU in 2022 through the George Floyd Memorial Foundation, Inc., to encourage minorities to pursue careers in journalism. Since 2007, the news outlet has made $20,000 available in scholarship support for Communication and Media Studies majors at FSU, for a total of 20 scholarships awarded. (The foundation has been operating under the Floyd Family Center for Social Equity since 2022.) On Friday, ABC 11/WTVD presented $10,000 in funding for 2022 and 2023 awards.
"These scholarships are certainly important for the students because many of them are working one if not two part-time jobs and taking out student loans to pay for their education," said Todd S. Frobish, Ph.D., professor and chair of the Department of Communication, Languages and Cultures in the College of Humanities and Social Sciences. "The scholarships also reward the students for their efforts to maintain high academic standards and remain involved in our student media organizations, which help prepare them for their careers. They reinforce the concept that good effort deserves recognition."
To qualify for the scholarships, students must major in Communication and Media Studies; maintain a minimum 3.0 GPA; and participate in one of FSU's student media organizations. The scholarships can help cover tuition, student fees, and other expenses the students may incur while at FSU.
"It's exciting to see our talented students recognized and rewarded for their hard work and dedication in the classroom and in our campus organizations as they prepare for impactful careers," said Monica T. Leach, Ed.D., FSU provost and senior vice chancellor for academic affairs. "Skilled communicators are crucial to public service and information initiatives in any organization. We deeply appreciate ABC11/WTVD's support of our students and their goals to contribute to this critical work."
Meet the 2023 ABC11/WTVD scholarship recipients:
Kinaya Gibson, a sophomore, made the dean's list with a 3.6 GPA, and she joined the Tau Sigma National Honor Society, an organization for transfer students who have earned at least a 3.5 GPA during their first term at FSU. She is one of the arts and culture editors for The Voice, FSU's student newspaper, and the director of social media for Bronco TV.
Evangeline Henzie, a junior, earned an associate's degree in science from Fayetteville Technical Community College, and she will be the first in her family to graduate from a four-year university. She's the vice president of Alpha Theta Zeta, FSU's chapter of Lambda Pi Eta, the National Communication Association's honor society. She wants to pursue a doctorate in communications and plans to explore a career in ethnography.
Westley Reaves, a freshman, wants to be a sports broadcaster, preferably for soccer or basketball. He's the co-chief sports editor for The Voice and the sports director for BroncoiRadio.com at FSU.
Jamilyn Wallace, a senior, aspires to work in sports information or media. She credits her major with nurturing her skills in such areas as writing, journalism, social media management, and production. She's a staff writer at The Voice and she also works for the FSU Sports Network as a social media assistant, writer, and statistician assistant.
Breasia Williams, a junior, is a track and field student-athlete who wants to become a lawyer. She is also a Judge Ola M. Lewis Pre-Law Scholar and the president of Alpha Theta Zeta, FSU's chapter of Lambda Pi Eta, the National Communication Association's honor society.