Fayetteville State University Breaks Ground on Popular Restaurant Pair, Unveils Rebranded Bronco MidTown
Chick-Fil-A joins McAlister's Deli, Entrepreneur & Business HUB at Reinvigorated Murchison Road Locale; Starbucks Coming to FSU Campus
Date: October 20, 2022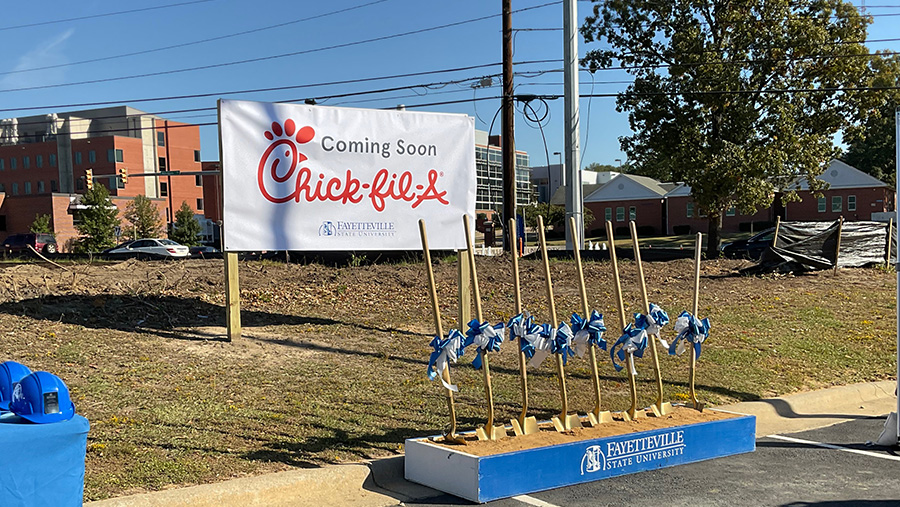 Fayetteville, N.C. (October 20, 2022) — Fayetteville State University (FSU) broke ground for major developments on its campus and at the newly renamed Bronco MidTown — formerly Bronco Square — adjacent to the FSU campus. A new Chick-fil-A® will open at Bronco MidTown and a Starbucks® is under construction on the FSU campus. The restaurants anticipate opening between late 2023 and early 2024.
In 2020, FSU and its dining partner Aramark® opened the McAlister's Deli® currently located in the multi-use Bronco MidTown center. FSU plans to build on that foundation through initiatives that will continue to have meaningful and positive effects not only for its campus, but for the broader city and citizens in the greater Murchison area who call Fayetteville home.
Leaders from Fayetteville State University, the City of Fayetteville, Cumberland County, Aramark®, Chick-Fil-A® and Starbucks® as well as local and state representatives were on hand to mark the occasion and participate in turning the soil.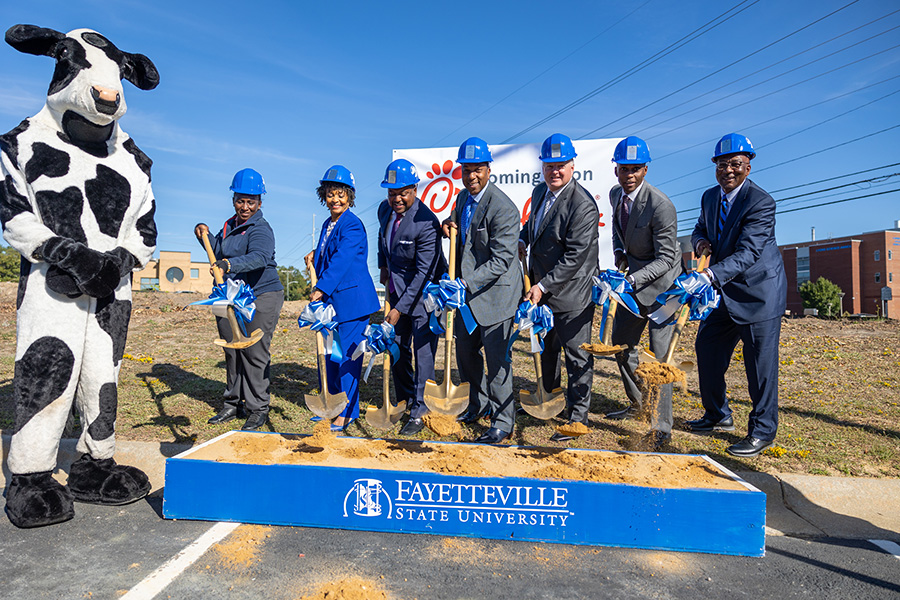 "This is an extraordinary moment for our university, our city, county and region," said FSU Chancellor Darrell T. Allison. "These new enterprises are much more than popular restaurants — they are significant investments in our local economy that will create new employment and revenue opportunities, offer welcoming and vibrant gathering places for families, and further enrich our student experience. These are tangible symbols of FSU's economic leadership, partnership and commitment to this community. After more than a year of planning and collaborating with incredible partners, we are seeing the fruits of our collective labors."
FSU's move to rename Bronco Square to Bronco MidTown connects the expanding campus to downtown Fayetteville and further solidifies the University's partnership with the city. Similarly, with the combined support of Fayetteville Mayor Mitch Colvin and the city council, as well as the Cumberland County Board of Commissioners, Filter Plant Road, adjacent to Bronco MidTown, is now Bronco Village Drive.
The University begins this new construction just weeks following the opening of the Fayetteville-Cumberland Regional Entrepreneur and Business HUB on September 14 and FSU Chancellor Darrell T. Allison's installation as the university's 12th chancellor and CEO on September 23.
Just last year, FSU first announced the debt-free $5 million acquisition of Bronco Square and shared plans for future expansion at that time. Mayor Colvin echoed Allison's sentiments during the ground-breaking.
"The growth of Bronco MidTown is reinvigorating the Murchison Road corridor and shining a light on our city, our University, Cumberland County and beyond," Colvin said. "FSU is firmly cementing its place as an economic engine and partner in one of the state's fastest growing areas. We are thrilled to be a part of this evolution and look forward to a brighter future here."