Fayetteville State University Professor Receives 2023 UNC Board of Governors Excellence in Teaching Award
Honoree Sambit Bhattacharya, Ph.D., is a professor in the Department of Mathematics and Computer Science
Date: April 28, 2023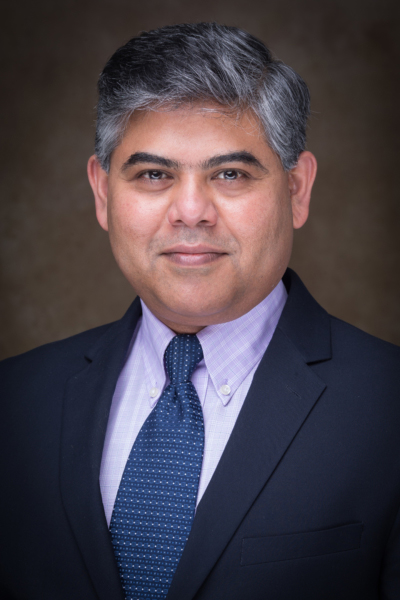 Fayetteville, N.C. (April 28, 2023) — Fayetteville State University (FSU) congratulates Sambit Bhattacharya, Ph.D., a professor in the Department of Mathematics and Computer Science, on receiving a 2023 Excellence in Teaching Award from The University of North Carolina Board of Governors. Bhattacharya is one of 17 outstanding faculty members honored.
The award winners represent all 16 of North Carolina's public universities and the North Carolina School of Science and Mathematics. Recipients were nominated by special committees at each institution and selected by the Board of Governors Committee on Educational Planning, Policies, and Programs.
Winners receive a commemorative bronze medallion and a $12,500 cash prize. Recipients will be honored at their institution at a future date.
"Education, a core pillar of our University mission, is made stronger by passionate, innovative teachers," said Board of Governors Chair Randy Ramsey in a statement announcing the honorees. "These world-class faculty members choose to be part of our outstanding public institutions, and we are grateful for their service to North Carolinians. Congratulations to all on these well-deserved awards."
Bhattacharya is a professor in the Department of Mathematics and Computer Science and director of FSU's Intelligent Systems Laboratory. He has taught computer science at FSU since 2005. His research interests are in machine learning, computer vision and their applications in robotics and geospatial data analysis. He teaches in these same areas, including introductory programming and computer systems. His research and education program development efforts have been supported by grants from the National Science Foundation, the U.S. Department of Education, the National Geospatial Intelligence Agency, and the U.S. Department of Defense. Bhattacharya collaborates with scientists at research laboratories of the U.S. Department of Defense and works with industry on applied research projects. In 2017 he served as Faculty in Residence at Google Inc., Mountain View, California.
Bhattacharya earned a Master of Science in physics from the Indian Institute of Technology, Kanpur; a Master of Technology in computer science and data processing from the Indian Institute of Technology, Kharagpur; and a Ph.D. in computer science and engineering from the University at Buffalo. He also holds a Stanford Advanced Computer Security Certificate from the Stanford Center for Professional Development and a Deep Learning Institute Ambassadorship from NVIDIA, a world leader in Artificial Intelligence (AI) computing.
"FSU is proud to have faculty of the highest caliber in our classrooms and research labs," said Monica T. Leach, Ed.D., provost and senior vice chancellor for academic affairs. "Dr. Bhattacharya is renowned in his field and dedicates his efforts to ensuring our students receive exemplary instruction, real-world experiences and valuable network and career opportunities. He is extremely deserving of this recognition."
"It is an honor to recognize our faculty and the tremendous work they do in classrooms across the UNC System," said UNC System President Peter Hans in the UNC System release. "I offer my deepest thanks and congratulations to them."