Fayetteville State University Students Place Third in Nationwide Cybersecurity Hackathon
A competition to solve U.S. Department of Homeland Security real-world scenarios
Date: March 30, 2023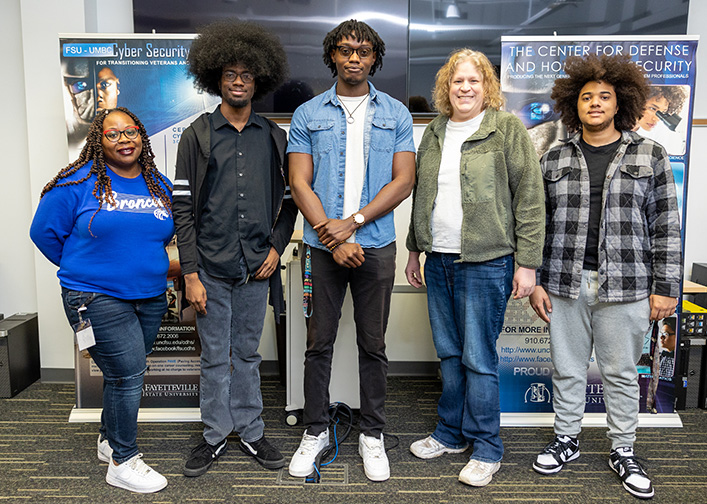 Pictured Left to Right: Je'Vida Owens, Tivon Brown, David Riddy, Catherine Spooner, Gi'Vante Lewis
---
Fayetteville, N.C. (March 30, 2023) — A team of five student researchers in the Intelligent Systems Laboratory (ISL) from Fayetteville State University (FSU) recently took third place in a nationwide, weekend-long cybersecurity hackathon event held in FSU's Center for Defense and Homeland Security (CDHS). Coordinated by Arizona State University (ASU) under a grant funded by the U.S. Department of Homeland Security (DHS), the hackathon welcomed 23 teams of 4 to 6 students from 11 colleges and universities throughout the country. Nine teams total were named winners by a panel of judges via Zoom. The winning teams divided $50,000 among them with prizes ranging from $2,500 to $10,000 per team.
The event included a student design challenge titled DASSH — Designing Actionable Solutions for a Secure Homeland — and presented students with several real-world problem statements affecting homeland security. Unlike other hackathons which typically focus on coding challenges, this event required students to demonstrate real-world solutions to scenarios such as managing crowds during an attack. The theme, titled "Protecting America's Public Access Areas," asked each team to choose one of three prompts as a designable solution:
How do we guide crowds to good decisions during an attack?
How do we enable effective and timely communication among stakeholders and responders to allow for oversight and response to an attack?
How can we inform and enable civilians to prepare for a drone attack?
"Team Broncos" comprised some of FSU's brightest students: Catherine Spooner, a graduate student in computer science; David Riddy, a senior computer science major with a minor in geospatial intelligence; Je'Vida Owens, a junior computer science major; Gi'Vante Lewis, a senior computer science major; and Tivon Brown, a graduate student in computer science.
The students work on advanced research projects at ISL which are funded by federal agencies including NASA and the US Department of Defense (DoD). They chose designable solution number 3, and their presentation proposed a comprehensive system using Artificial Intelligence (AI) for real-time object detection and anti-drone drones to combat unauthorized drone activities. Implementation steps included camera usage, Drones vs. Birds dataset, and Synthetic Data. Benefits of this solution would mitigate drone attacks, improve response time, and enhance communication with law enforcement. The model would prove to be cost effective, efficient, scalable and flexible.
"We could not be prouder of Team Broncos in placing third in such a significant event as this cybersecurity hackathon," said Monica T. Leach, Ed.D., FSU provost and senior vice chancellor for academic affairs. "These brilliant young minds represent the immense talent and potential of our students across the campus, and we know they will be well prepared for incredible careers doing extraordinary things. Thanks to their renowned faculty mentors and hard work, these students will have tremendous opportunities moving forward."
FSU received a sub-award from the ASU DHS grant to support the team's participation in this event. Sambit Bhattacharya, Ph.D., professor of computer science and director of ISL in FSU's Department of Mathematics and Computer Science, is the principal investigator (PI) of the sub-award. John Bellamy, assistant director and operations manager for the CDHS, is the Co-PI.
Following 30 hours of stiff competition, teams celebrated each other's accomplishments as the winners were announced. "Although Team Broncos placed third, their dedication, excitement and approach to the project was first rate," Bellamy said. "They put their prior research experience to the test and worked diligently to present a workable solution. There were long hours, but the students also enjoyed a few laughs and some great meals! I enjoyed facilitating this event and watching our students excel."
"I am very proud of our students because they were able to bring their research expertise and imagination to the process of participating in this competition," said Bhattacharya, who advises the students daily in their research at the ISL. "One of the best experiences at the university is when students apply their education and research knowledge to a new domain to solve a novel problem that is recognized as real-world and urgent. The Broncos team is a great example of the impact our university has on the character and intellect of our students."
Team Broncos understood the impact of competitions such as this. "It is important to our careers because it prepares us to be able to work as a team and remain professional under pressure, while exposing us to potential employers, scholarships and internship opportunities," Owens said. "I am glad that all our hard work paid off and we placed third. It was a great learning experience and time management was the key."
"This problem was complex, requiring extensive research and time to develop a solution," Brown said. "Fortunately, our team has dealt with similar problems while researching projects from the National Security Administration (NSA) and the Department of Defense. We were able to draw from our previous experience to get an edge over our competitors."
Describing Team Broncos' approach, Spooner said: "Our solution was to use a real-time object detection and training system to identify and track unauthorized drones using high-resolution cameras and edge device processors. We would also deploy anti-drone drones to intercept and neutralize unauthorized drones. The most vulnerable targets would probably be stadiums and other rich venues, and we are certain that our solution is scalable to virtually any situation."
Event keynote speaker George Naccara, a retired admiral in the U.S. Coast Guard and former senior official at the U.S. Department of Homeland Security, opened the event with remarks about the importance of the competition and how each participant can play a major role in the future to help protect our nation.
The closing ceremony was co-hosted via Zoom by Northeastern University's Soft-Target Engineering to Neutralize the Threat RealitY (SENTRY) Center of Excellence and ASU's Center for Acceleration Operational Efficiency. Prior to announcing the winners, Gregory Simmons, program manager for Minority Serving Institutions and Workforce Development Initiatives, Office of University Programs, Department of Homeland Security, discussed future opportunities that are available in his organization.
"The bottom line is that we want you to come and take jobs within Homeland Security." Simmons said.