Fayetteville State University, U.S. Agency for International Development (USAID) Announce Historic Partnership
Memorandum of Understanding provides $1 million to create Acquisition Career Workforce Professional program
Date: April 18, 2023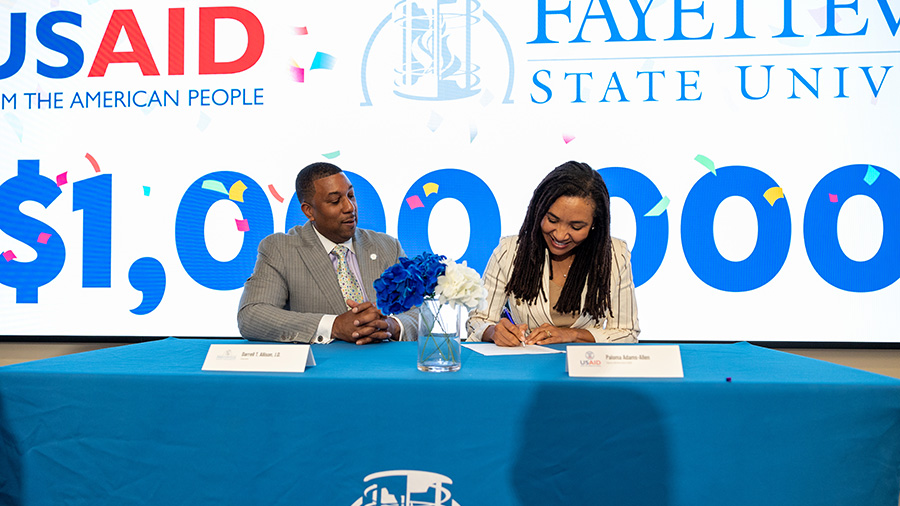 Pictured Left To Right: Chancellor Darrell T. Allison and Paloma Adams-Allen
---
Fayetteville, N.C. (April 18, 2023) — Fayetteville State University (FSU) welcomed Deputy Administrator Paloma Adams-Allen and her delegation from the U.S. Agency for International Development (USAID) to Fayetteville on Tuesday to sign an historic Memorandum of Understanding (MOU) during a ceremony at the Rudolph Jones Student Center on the FSU campus.
The ceremony marks the agency's sixth agreement to date under USAID's Minority Serving Institutions Partnership Initiative. In October 2020, USAID launched the Minority Serving Institutions Partnership Initiative during the USAID Historically Black Colleges and Universities Virtual Symposium to broaden awareness and access to USAID programs and initiatives and identify opportunities for students and faculty to engage in U.S. foreign assistance and USAID's work. It is open to all MSIs, including Historically Black Colleges and Universities, Hispanic Serving Institutions, Tribal Colleges and Universities, Asian American and Native American Pacific Islander Serving Institutions.
The event also included a coffee mix and mingle, a student roundtable, engagement with faculty, media interviews including with FSU's student newspaper The VOICE, and a campus tour.
FSU Chancellor Darrell T. Allison, J.D. and other university leaders welcomed the honored guests, including members of the FSU Board of Trustees, city, county and state representatives, faculty, staff, students, and members of the community.
As a result of the new partnership between USAID and FSU, USAID and FSU will develop the pilot of an Acquisition Career Workforce Professional Program, a program for which the Agency has made an initial investment of $1 million. This program will give FSU students opportunities for internships, professional development, and certification that will position them for careers with USAID and the federal workforce. This agreement represents the first funded USAID MOU with an HBCU (though other HBCUs have signed less comprehensive collaboration agreements).
The partnership represents a major step forward in USAID's collaboration with HBCUs. Fayetteville State University was selected because of the preeminent standing of its Broadwell College of Business and Economics (BCBE) — with the online MBA program ranked 1st by US News and World Report among the nation's HBCUs. FSU's diverse student population and varied program offerings were also significant in its selection.
"I am so excited about today's announcement because it emphasizes keys to success for any organization – building, developing and tapping into its strong talent pool – a talent pool of leaders," said FSU Chancellor Darrell T. Allison, J.D. "That is why I am overjoyed that the U.S. Agency for International Development has identified Fayetteville State University as its first HBCU partner – investing $1 million over two years to help maximize the diversity and strength of its workforce. FSU is already making an impact and building bridges. Thanks to this investment, we will realize even greater change."
USAID provides foreign assistance that enhances international economic development among key developing countries and responds to urgent global humanitarian needs. The Agency's Bureau for Management coordinates this global activity. The agreement between FSU and USAID is specifically with the Bureau for Management, and initiates a broad set of activities to improve student preparation for working at USAID, including:
Acquisition Workforce Development Pilot through which FSU students will be prepared to enter federal careers in contracts and purchasing
Faculty support for potential curriculum enhancements
Potential faculty engagement in research and consulting projects to help improve USAID operations
Student information sessions and webinars available to students from all majors
Webinar events for USAID staff to interact directly with FSU students and staff to discuss global career opportunities
Potential internships for students interested in management and operations at USAID beginning in the Fall 2023