Fayetteville State University's Oates Awarded Inclusivity Scholarship for 2023 Internet2 Community Exchange
Stephania Oates Among Seven Emerging Women IT Professionals Recognized at Inaugural Event
Date: May 10, 2023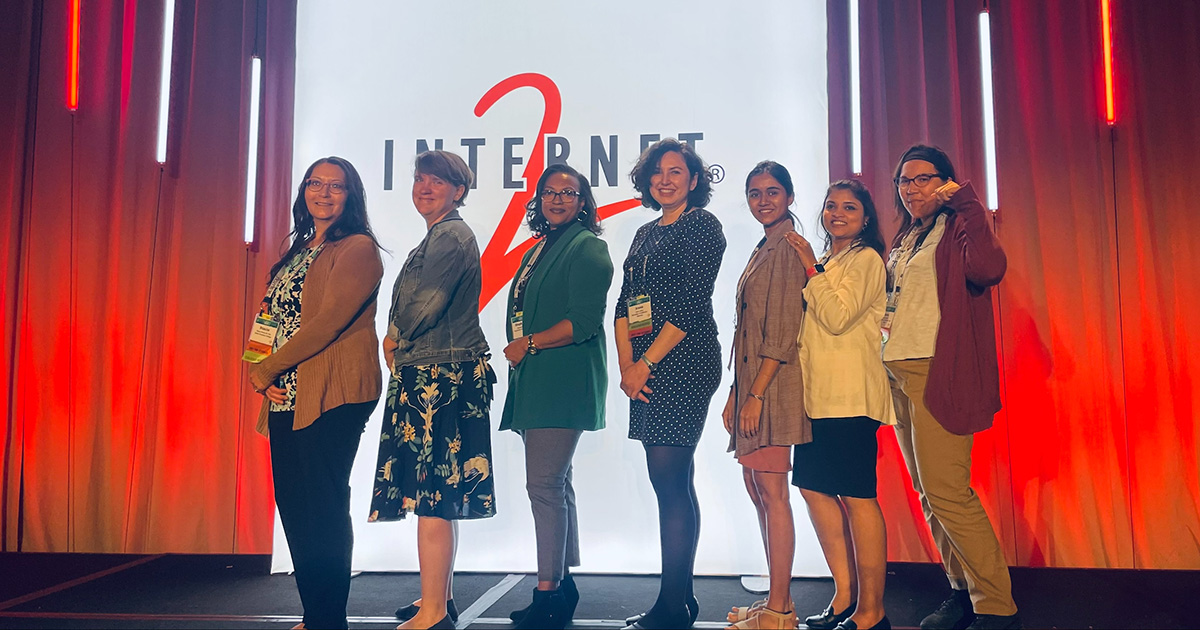 Stephania Oates Pictured Third From Left
---
Fayetteville, N.C. – (May 10, 2023) Fayetteville State University (FSU) congratulates Stephania Oates, the Unified Communications Manager in the Infrastructure unit of FSU's Division of Information Technology Services (ITS), on receiving a 2023 Community Exchange Internet2 Inclusivity (I2I) Scholarship.
The Internet2 Inclusivity (I2I) Scholarship is centered on increasing the meaningful participation of women information technology professionals in the research and education (R&E) community. Oates was among seven women honored at the inaugural 2023 Internet2 Community Exchange event held in Atlanta, Georgia, May 8-11.
"FSU's Division of Information Technology Services is extremely proud of Stephania's many accomplishments and contributions to the critical networking infrastructure on campus," said Hector M. Molina, D.B.A., FSU's vice chancellor for information technology and CIO. "Not only is she a consummate and knowledgeable IT professional, Stephania is a crucial resource for our users campus-wide. She is most deserving of this recognition and an excellent ambassador for all women IT professionals."
The event brought together emerging leaders and seasoned community members from U.S.-based to global organizations and institutions. The I2I scholarship enabled recipients to meet and learn from community attendees, including C-suite leadership, advanced technology managers and administrators, faculty, students, researchers, and academic leadership. They were also able to cultivate new relationships and engage in discussions to help evolve, change, and grow the future of the R&E community.
The exchange is a part of The Internet2 Inclusivity Initiative (I2I), which focuses on resources, attention, and scholarships to improve diversity and inclusion in the community of networking and technical professionals.
This initiative
Provides a national forum to discuss and share best practices to improve diversity and inclusion in technical fields, particularly in advanced networking, security, and identity.
Partners with other national organizations engaged in similar work, such as the National Center for Women in Technology (NCWIT), EDUCAUSE, and others.
Provides scholarships for emerging information technology women professionals to attend Interent2 events to increase community diversity and inclusion.
Oates is the Unified Communications Manager in FSU's Network Infrastructure unit and has been at the university for eight years. She is an information technology service professional who implements, manages, troubleshoots and improves the university's unified communication, faxing, mobile, emergency, and data analysis systems to maintain business continuity onsite and remotely. She implements cost-effective solutions by working as the project manager and communicating the university's business needs to stakeholders, clients and vendors. Additionally, she is the liaison for the end user and the university's technical partners. She ensures all stakeholders are equipped with training and/or material to effectively use new business tools and technology.
"I am thrilled to be a part of the inaugural 2023 Internet2 Community Exchange and to receive a 2023 Community Exchange Internet2 Inclusivity (I2I) Scholarship," Oates said. "I am passionate about strengthening the involvement of women information technology professionals and this scholarship is a symbol of the support and recognition for women in the field. As an FSU alumna and FSU employee, I am grateful for the opportunity to represent and build a culture of inclusiveness and awareness regarding the gender and racial disparities for women IT professionals. This forum has been immensely informative, and it is important we create allies and more recruitment opportunities for IT professional women! I hope to inspire and encourage other women to pursue their dreams in information technology."
"Our organizational leaders must be exemplars and leaders who take responsibility for recognizing and changing their own conscious and unconscious gender biases," said Steve Burrell, vice president for IT and chief information officer at Northern Arizona University and the presenter for the I2I session on May 9 honoring the scholarship recipients. "Organizational leaders must engage bias issues deeper in their organizations and create cultures that equally favor and celebrate gender diversity. In particular, leaders should find opportunities for women to demonstrate their potential and provide a safe environment for them to step forward and contribute. CIOs should also develop and recognize qualities beyond technical expertise that may be signs of future leadership potential in women."
---
About Internet2
Internet2® is a non-profit, member-driven advanced technology community founded by the nation's leading higher education institutions in 1996. Internet2 delivers a diverse portfolio of technology solutions that leverages, integrates, and amplifies the strengths of its members and helps support their educational, research, and community service missions. Internet2's core infrastructure components include the nation's largest and fastest research and education network that was built to deliver advanced, customized services that are accessed and secured by the community-developed trust and identity framework. For more information, visit https://internet2.edu or follow @internet2 on Twitter.