Chancellor Darrell T. Allison
Chancellor Allison's Bio
Darrell T. Allison is the 12th chief executive officer and Chancellor of Fayetteville State University - the 2nd oldest public university in the UNC System. Under his leadership, Chancellor Allison has made it a priority to listen to stakeholders and has invested time and attention to listening to students, faculty, staff, alumni, and supporters of the university, through a series of town halls, one-on-one meetings, and small group engagement sessions.
Since his arrival on March 15, 2021, Chancellor Allison has seen through the approval of demolition of Vance and Bryan residence halls along with moving the university Health and Wellness Center to campus. Under his leadership, he launched a retention initiative, the 30-60-90 Summer School full-paid scholarship program for nearly 1,300 FSU Students and established the Bronco One Stop - a centralized location for students to receive all essential services and academic advising. He has also focused on an adult learning and military-affiliated students initiative that seeks to provide better services, programs, and resources to these targeted populations.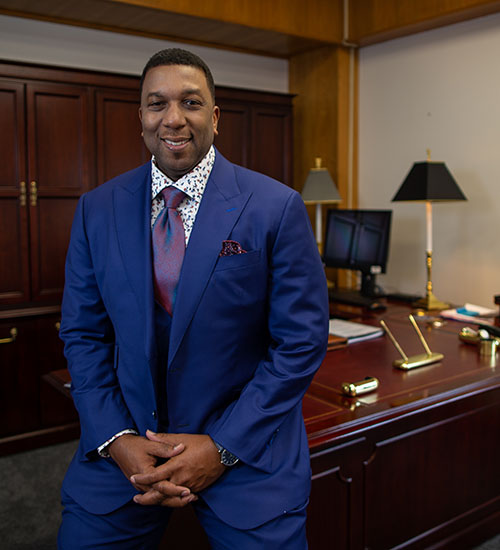 Chancellor Darrell T. Allison
Through strategic leadership and commitment to enhancing student opportunities, Chancellor Allison has invested in a 21st century model for Career Services that prepares students for paid internships early on in their academic journey and provides them with the resources that will better prepare them for the workforce. In just six months after his arrival, Chancellor Allison established a new Board of Visitors, 53 members made up of industry professionals, community leaders, business owners, and dedicated alumni, who will serve as advocates and ambassadors for FSU. He is known for his commitment to expanding student opportunities and serving as a bridge builder.
Chancellor Allison has dedicated much of his time to meeting with and establishing partnerships with city and county officials, as well as business and community leaders. Since taking the helm, Chancellor Allison has become an active member of several boards. These include The Board of Trustees of the Endowment Fund of Fayetteville State University (member), 2021; Fayetteville State University Foundation, Inc. (member), 2021; Fayetteville State University Research Corporation (Chairman), 2021; Fayetteville State University Development Corporation (member), 2021; The Central Intercollegiate Athletic Association (CIAA), (member), 2021.
A former member of the University of North Carolina Board of Governors and former trustee at North Carolina Central University, Chancellor Allison's career has been focused on education and public service. Serving on the Board of Governors from 2017 to 2020, he was a vocal supporter of the system's historically minority-serving institutions. As the inaugural chair of the Historically Minority-Serving Institutions (HMSI) Committee, he led the effort that provided all 17 UNC System institutions with at least $2 million for repairs and renovations, annually – an investment that especially supported the system's smaller universities. Allison also initiated and finalized a partnership with UNC-Chapel Hill's NC Policy Collaboratory, which awarded $6 million for COVID-19 programming and research at historically minority-serving institutions. He served on several committees, including Budget and Finance; Historically, Minority-Serving Institutions (chair); UNC System Racial Equity Task Force (chair); Educational Planning, Policies and Programs (secretary); Strategic Initiatives Committee; and UNC K-12 Laboratory Schools.
In prior leadership roles, Chancellor Allison served on the NCCU Board of Trustees, Advancement, Athletics and External Affairs, Academic and Student Affairs committees, and served as a member of the NCCU Chancellor Search Committee. In 2017, he endowed a scholarship fund at NCCU, his alma mater, in memory of his father, Thomas Allison.
A North Carolina native, Chancellor Allison holds a Juris Doctor degree from UNC-Chapel Hill and a bachelor's degree from NCCU. Allison and his wife La Nica are the proud parents of two daughters.
---
Congratulatory Remarks
"I want to congratulate you on becoming our 12th Chancellor of FSU, and thank you for giving me the opportunity to come and speak to you personally. I would like to come speak to you again soon."
- Orlando Campbell
"It is my great pleasure to congratulate you on your appointment as 12th Chancellor of Fayetteville State University. You are so deserving and will be, without a doubt, both a blessing and an asset to the university. I am positive that FSU will grow under your able leadership. The faculty, students, and the staff are truly blessed to have you at the helm. I wish you the absolute best and God's richest blessings and favor upon you in this new endeavor. Congratulations, Chancellor!
We are so proud of you, Chancellor!"
- Paul Boaheng
"Chancellor-Elect Darrell T. Allison serves as a pioneering North Carolina Central University graduate who paves the way for aspiring scholars. On behalf of NCCU's Board of Trustees, students, faculty, staff and alumni, I offer congratulations to our esteemed alumnus and former member of our Board of Trustees. The Eagle community is excited about this milestone achievement for Chancellor-Elect Allison, who is also a generous supporter of our institution. I know that he believes in the transformative power of higher education and continuously demonstrates his commitment and passion as an advocate for those seeking higher education."
- Chancellor Johnson Akinleye, North Carolina Central University
"I have known Darrell T. Allison for many years. He is a strong, collaborative leader. I truly believe that he will make an excellent leader for FSU."
- North Carolina Senator Dan Blue, 14th District
"This will be an extraordinary opportunity for Fayetteville and our region. I'm confident that with Chancellor Allison at the helm, FSU is on the threshold of major growth and advancement."
- North Carolina Senator Ben Clark, 21st District
"My dream is that your greatest achievement at Fayetteville State University will be preparing the next generation of phenomenal leaders who will make our world a better place for all persons. It is my hope that you will succeed in providing stellar leadership as the 12th Chancellor of this remarkable institution. As you succeed in your new role, Fayetteville State University will reap the benefits. Fayetteville State University's future rests on your remarkable and dedicated leadership. GO BRONCOS!"
- Dr. Algeania Warren Freeman, FSU '70, former president of Wilberforce University, Livingston College, and Martin University
"Darrell T. Allison has a long a history of dedication to historically black colleges and universities (HBCUs). As a graduate of a HBCU, he knows that a quality education can transform a student's life and will impact not only the student, but the student's family and community. Fayetteville State University will have a new leader in Allison who will bring innovation and resources to a great university and make it greater."
- David Green, former UNC System Faculty Assembly Chair, NCCU School of Law
"I am excited to see Darrell T. Allison take the helm at Fayetteville State University. During his time as chair of the HMSI committee and the Racial Equity Task Force, I saw him navigate through tough issues with a spirit of partnership. He will be a great advocate for students at FSU and I look forward to seeing what's to come."
- Isaiah Green, ASG President and BOG Member, UNC Asheville
"Congratulations FSU and Chancellor Darrell T. Allison! I believe this is a positive step in the right direction for the university and Cumberland County. Bronco Pride!"
- North Carolina Representative Marvin Lucas, 42nd District, FSU '64
"I am excited about the future of Fayetteville State University and look forward to working with Chancellor Darrell T. Allison. I am confident that he will be a great asset to our institution."
- North Carolina Representative Garland Pierce, 48th District, FSU '77

"I look forward to working with Darrell T. Allison and this great institution in the days ahead."
- North Carolina Representative Robert Rieves, 54th District

"It was through Darrell T. Allison's vision and leadership that the Collaboratory was able to commit $6 million to our HMSI campuses for COVID-19 research. I look forward to working with Chancellor-elect Allison in his new role for the next big research partnership between the Collaboratory and FSU that I'm sure is right around the corner."
- Dr. Jeff Warren, Executive Director, North Carolina Policy Collaboratory, UNC-Chapel Hill