Alumni Awards & Recognitions
Every year, Alumni Relations upholds the annual tradition of crowning Mr. or Ms. Alumni and recognizing the Family of the Year. These traditions highlight FSU alumni that are active within the Bronco community and within their own communities.
---
Mr. Alumni 2020-2021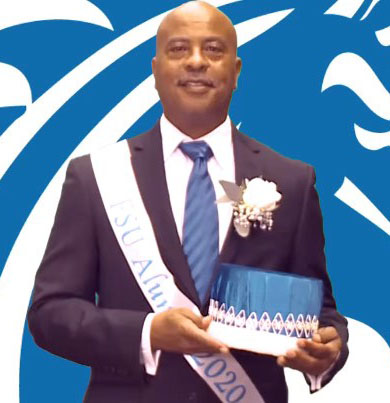 Mr. Kevin Wardlaw
Kevin Wardlaw is a 1986 graduate of Fayetteville State University where he majored in Speech and Theatre. He participated in theatre productions and was the radio announcer for the campus-based public radio.

Kevin was a scholarship athlete playing football and running track for the Broncos and was inducted into the Fayetteville State Hall of Fame in 2007. He pledged Omega Psi Phi in the fall of 1983. He served as the basileus for the Delta Gamma chapter and was Omega Man of Year for the Charlotte Alumni chapter, Pi Phi. He has been a photojournalist for WCNC for the last 32 years. Kevin is an active member of his church, Memorial Presbyterian in Charlotte and is a proud husband and father.
Past Families of the Year:
2018- The Brewington-Sansbury Family
2017 -The Miller-Gillespie Family
2016- The Patterson Family
2015- The Offie and Cora Brown Family
2014- The Cisrow and Octavia Prince Thomas Family
2013- The Barnes and Braswell Family
2012- The James and Mallie Monroe Family
2011- The White/ McAllister Family
2010- The Larry and Hattie Bush Family
2009- The Late Charlie and Nellie Marable Family
2008- The Rev. Ernest and Mable Bacote Family
2007- The Rev. James and Susie Evelyn Sparrow Family
2006- The Late Rev. George and Cora Steele Family
2005- The Robert and the late Addie Brown Melvin Family
2004- The Rev. Bessie Moore Family
2003- The Alvin and Ruth Taylor Family
2002- N/A
2001- The Dennis R. and Polly Simpson McNair Family
2000- The Earl and Mildred Best Smith Family
1999- The David O' Berry and Maggie Darden Bell Family
1998- The Wilson and Maudie P. Lawrence Family
1997- The Henry Herman and Bessie Parker Family
1996- The George W. and Betty Brown Family
1995- The Josephine Rozier Thompson Family
1994- The Paul and Annie Bryant Family
1993- The Roy and Reather McNeill Family
1992- The Raymond and Myrtle Battle Family
1991- The Rev. D. Hector and Henrietta McEachern Family
1990- The Gabriel McNeill Family
1989- The Vivian Diggs Family
1988- The Rev. Jeremiah and Leolar Williams Family
1987- The Cornie Lee and Ella Mae McLauchlin Family
1986- The David Hill Family
1985- The Batrice Bracey Family
1984- The Jessie Mae Owens Family
1983- The James B. Wright Family
FSU 30 Under 30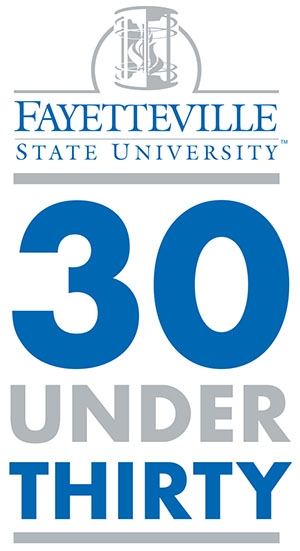 More Information Coming Soon