Alumni Awards & Recognitions
Every year, Alumni Affairs upholds the annual tradition of crowning Mr. or Ms. Alumni and recognizing the Family of the Year. These traditions highlight FSU alumni that are active within the Bronco community and within their own communities. Our King or Queen is selected to reign over a variety of Homecoming and Alumni events and holds the title for one year.
---
Ms. Alumni 2019-2020 Winner
Ms. Mary Nobles Maultsby
Ms. Mary Nobles Maultsby graduated Magna Cum Laude from FSU in May 1978 with a Bachelor of Science degree in Early Childhood Education. While a student she was listed in Who's Who Among Students in American Universities & Colleges and was initiated into the Delta Alpha Chapter of Alpha Kappa Alpha Sorority, Inc. (Spring 1976).


Read More about Mary
Professionally, I am a retired educator (35 years of service to Pitt, Edgecombe and Halifax counties) and am at present a part-time Reading Remediation teacher. I served as PTA President at Elmhurst Elementary School and Junius H. Rose High School (Pitt County). In Halifax County I was recognized as "Teacher making most growth in reading and math".
Service and civic activities include: Vice President and Program Chair of Iota Kappa Omega Alumnae Chapter of Alpha Kappa Alpha Sorority, Inc. (Greenville, NC) and I work with Pitt County Board of Elections as a Precinct Chief Judge (30 years). In 2014, I was an honoree (for doing great work in the Greenville community) at the biennial Pearls and Rubies Benefit Luncheon sponsored by the Zeta Pi Sigma Alumnae Chapter of Sigma Gamma Rho Sorority, Inc. I am a congregant of Cornerstone Missionary Baptist Church (Greenville, NC) where I served as a choir member and usher (Lead Usher for 17 years).
Personally, I am widowed and the mother of two grown, high achieving daughters. I would like this opportunity to represent Fayetteville State University to showcase the quality and excellence of a FSU education and to encourage all alumni to begin or continue supporting the university.
---
Family of the Year
The Brewington-Sansbury Family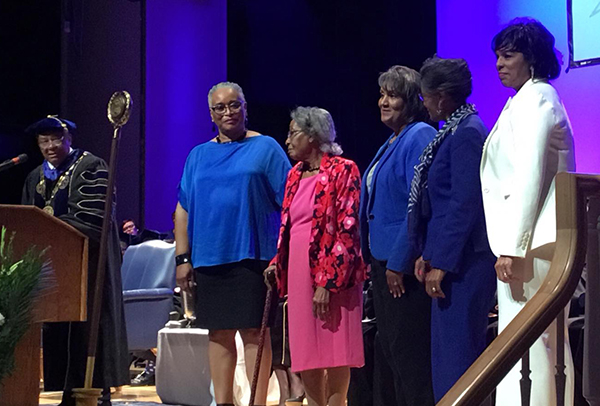 The matriarchs of the Brewington-Sansbury family are Mrs. Gladys Sansbury Brewington, 96, and Mrs. Irene Melvin Sansbury, 88.

The first person of the family to graduate from Fayetteville State University was Mrs. Valjeaner Brewington Ford, Class of 1974. Next was Mrs. Judy Sansbury Godwin, Class of 1978. The foundation and focus of the family has always been education and history. Fayetteville State University has been the "school of choice" for the Brewington-Sansbury family for several decades.
The Brewington-Sansbury family has been financial supporters and have given of their time and professional talents to FSU.
They have been and are currently Instructors at Fayetteville State University and have mentored local students attending FSU.

According to the family, they are proud to have attended Fayetteville State University. They said the institution has been one of the biggest contributors to the people they are today. They stated their goal is to pass the family torch to the Brewington-Sansbury youth of tomorrow and encourage them to take advantage of each opportunity to further their education at Fayetteville State University.
Linda Fay Smith '78
Gregory D. Smith, Sr. '76
Gregory D. Smith, Jr. '05
Valjeaner Ford '74
Callie Brewington '81
Ontario Brewington '94
Elizabeth Hicks Brewingron '80
Sylvia Brewington Rivers '96
Gloria Brewington '83
Shawn Conyeers '99 and '02
Judy Sansbury Godwin '78
James Godwin '76
Monica Godwin '05
Eric McAllister '98
---
The Family of the Year Award recognizes and honors the families of four or more family members (Ex. mother, father, sister, brother, son, daughter) who graduated from Fayetteville State University, and who continue to bring credit to their family and to the University, through their achievements and active involvement in their respective communities. The Family of the Year is honored in April during Founder's Day Convocation with an attractive university plaque and brief biography of the family in the program. Nominations are currently closed.
Past Families of the Year:
2017- The Miller-Gillespie Family
2016- The Patterson Family
2015- The Offie and Cora Brown Family
2014- The Cisrow and Octavia Prince Thomas Family
2013- The Barnes and Braswell Family
2012- The James and Mallie Monroe Family
2011- The White/ McAllister Family
2010- The Larry and Hattie Bush Family
2009- The Late Charlie and Nellie Marable Family
2008- The Rev. Ernest and Mable Bacote Family
2007- The Rev. James and Susie Evelyn Sparrow Family
2006- The Late Rev. George and Cora Steele Family
2005- The Robert and the late Addie Brown Melvin Family
2004- The Rev. Bessie Moore Family
2003- The Alvin and Ruth Taylor Family
2002- N/A
2001- The Dennis R. and Polly Simpson McNair Family
2000- The Earl and Mildred Best Smith Family
1999- The David O' Berry and Maggie Darden Bell Family
1998- The Wilson and Maudie P. Lawrence Family
1997- The Henry Herman and Bessie Parker Family
1996- The George W. and Betty Brown Family
1995- The Josephine Rozier Thompson Family
1994- The Paul and Annie Bryant Family
1993- The Roy and Reather McNeill Family
1992- The Raymond and Myrtle Battle Family
1991- The Rev. D. Hector and Henrietta McEachern Family
1990- The Gabriel McNeill Family
1989- The Vivian Diggs Family
1988- The Rev. Jeremiah and Leolar Williams Family
1987- The Cornie Lee and Ella Mae McLauchlin Family
1986- The David Hill Family
1985- The Batrice Bracey Family
1984- The Jessie Mae Owens Family
1983- The James B. Wright Family