Report Concerns to the Title IX Office
The University is committed to providing a learning, working and living environment that promotes personal integrity, civility and mutual respect in an environment free of sex discrimination and sexual misconduct. Title IX of the Educational Amendment Act of 1972 states that: No person in the United States, shall on the basis of sex, be excluded from participation in, be denied the benefits of, or be subjected to discrimination under any education program or activity receiving Federal assistance. Sex/gender-based discrimination violates an individual's fundamental rights and personal dignity.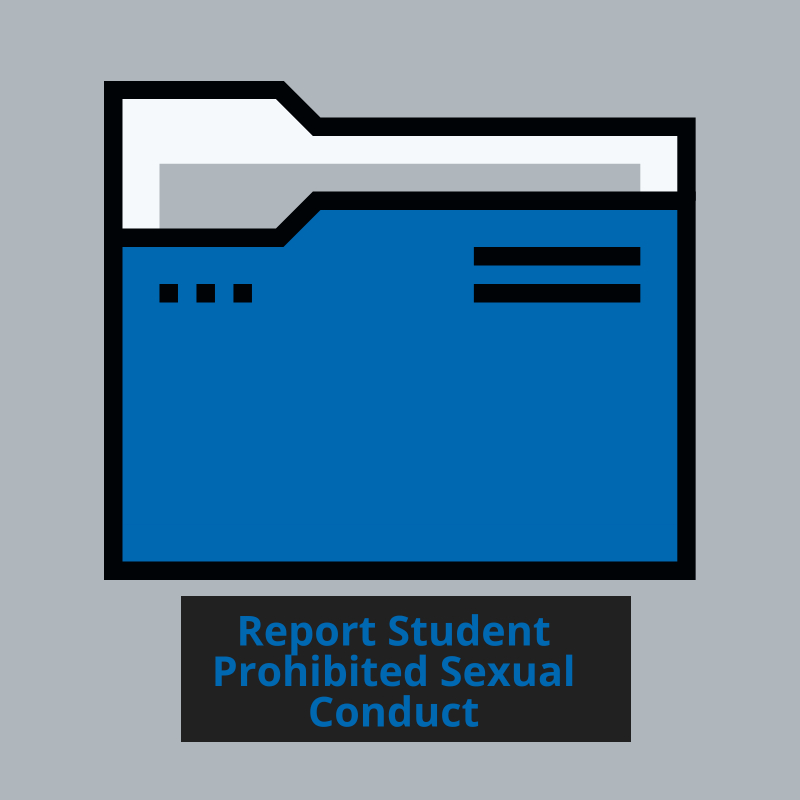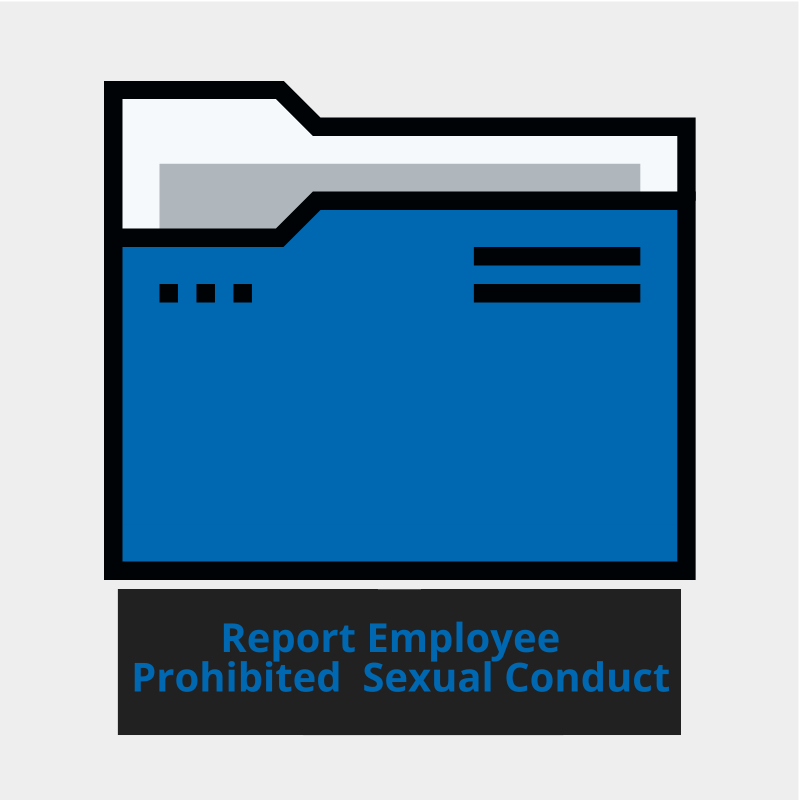 Additional Title IX Office reporting options:
Visit: Barber Building, Office 242
Call: (910) 672 - 2325
Email: TitleIX@uncfsu.edu
Teams: @TitleIX
Online Reporting Form: See above
Mail: Title IX Office c/o Fayetteville State University. Barber 242, Fayetteville, NC, 28301
---
---

2021 Reporting Options Brochure PDF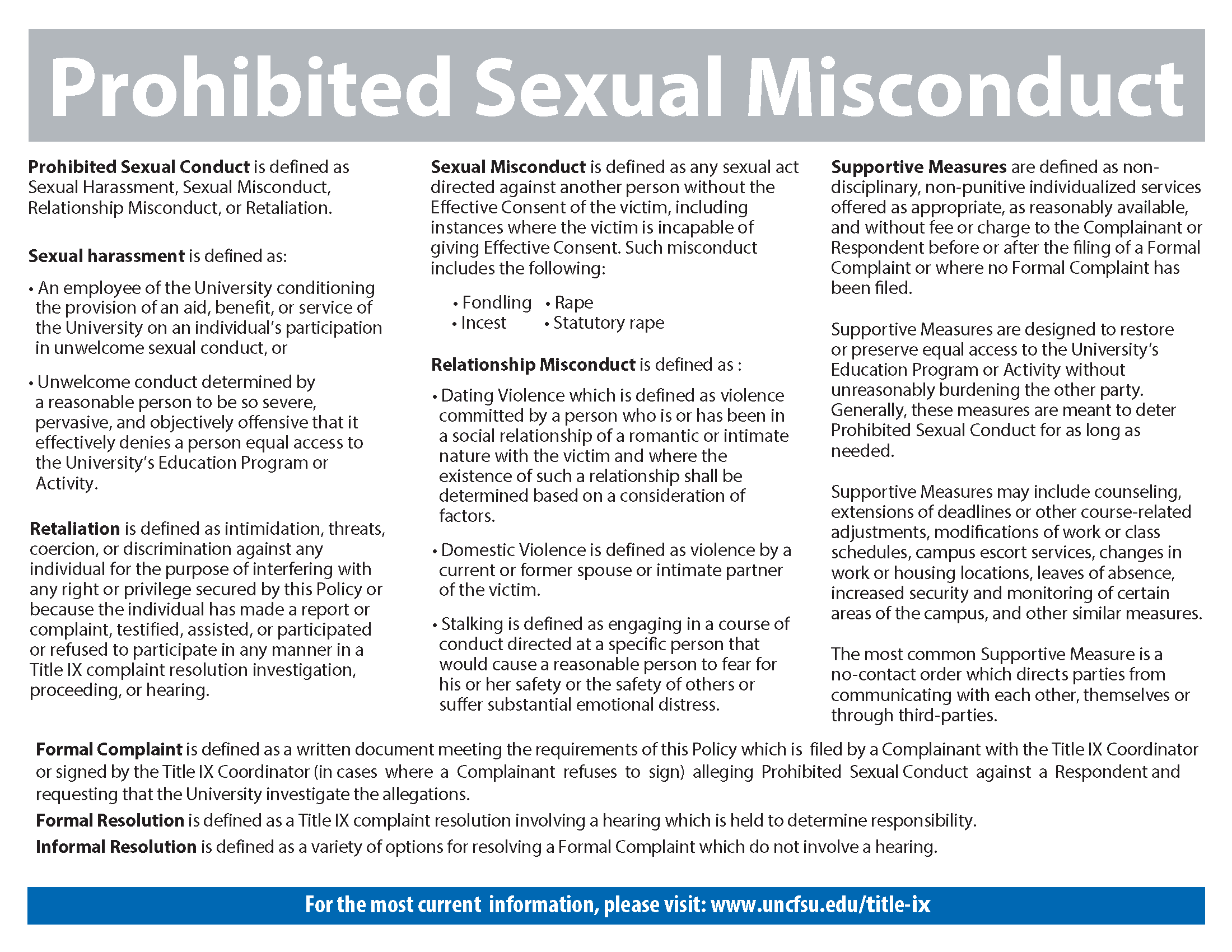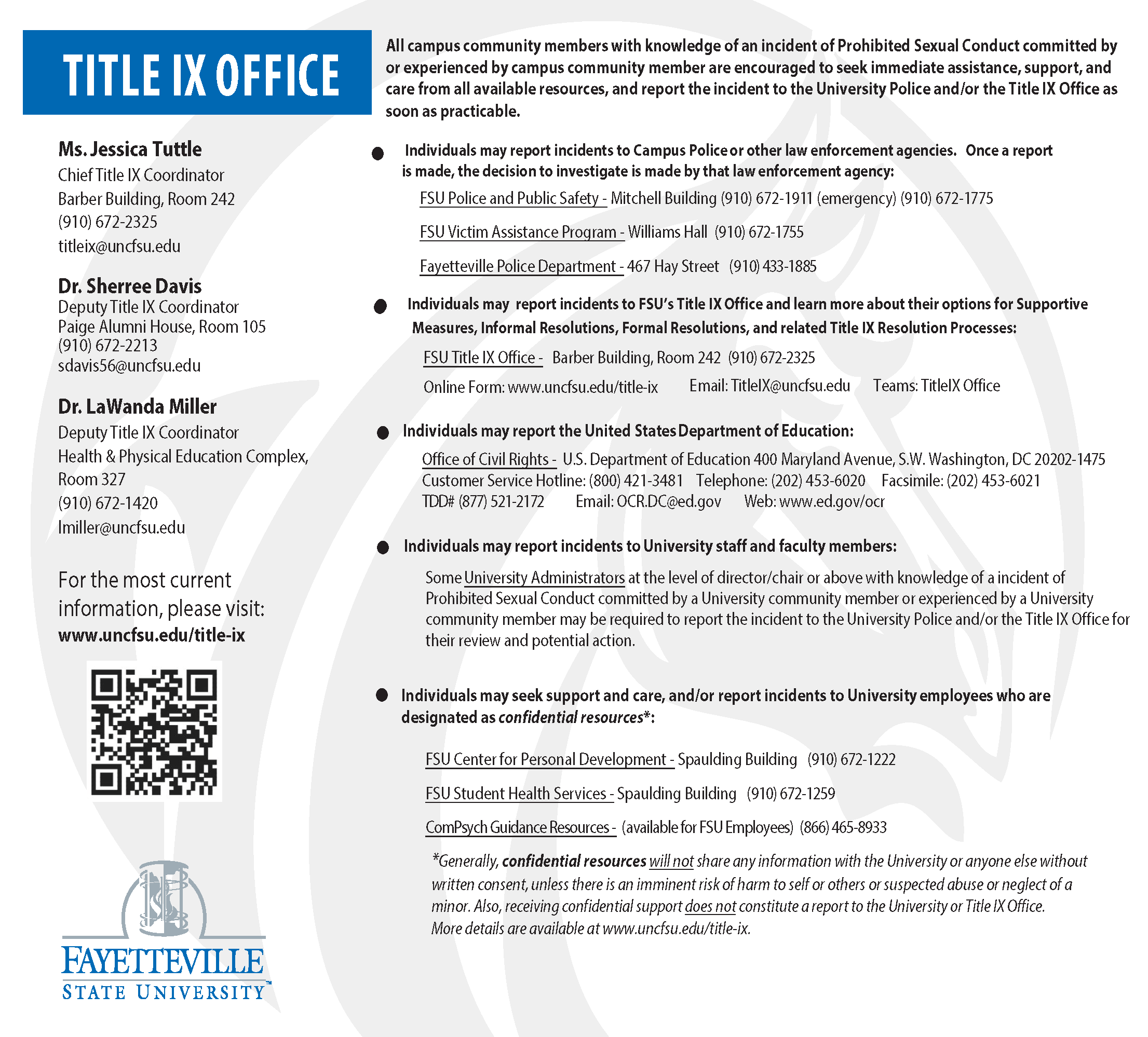 ---
---

Fayetteville State University's Clery Office and Annual Security and Fire Safety Report
Other Reporting Options
Law Enforcement

Individuals have the right to report Sexual Harassment incidents to off-campus Law Enforcement Officials (Police) and to FSU's Police and Public Safety. You can report to both, just the Police, just to the University, or to neither. It is your choice. Please know your decision to pursue any criminal, civil, or other legal action will not impact any Title IX investigation.

Department of Education's Office for Civil Rights
For assistance related to civil rights, you may contact the OCR headquarters office in Washington D.C. or the OCR enforcement office serving your state or territory. Contact the enforcement offices if you wish to file a complaint (or use our online complaint form) or if you need technical assistance on a problem or assistance to prevent civil rights problems. Contact the OCR headquarters office if you have a question on national policy, to make a Freedom of Information request for information that is national in scope, or to request publications or other assistance that is not available online.
We encourage students and parents, representatives of education institutions, and other OCR customers to use e-mail or fax to communicate with OCR when possible. For those without current e-mail accounts, Internet access may be freely available from your local public library, and free e-mail accounts are available from several large providers. Fax numbers and email addresses for each OCR office are provided below.
The OCR office for North Carolina is located at:
The OCR National Headquarters is located at:
Washington DC (Metro)
Office for Civil Rights
U.S. Department of Education
400 Maryland Avenue, SW
Washington, D.C. 20202-1475

Telephone: 202-453-6020
FAX: 202-453-6021; TDD: 800-877-8339
Email: OCR.DC@ed.gov
U.S. Department of Education
Office for Civil Rights
Lyndon Baines Johnson Department of Education Bldg
400 Maryland Avenue, SW
Washington, DC 20202-1100Telephone: 800-421-3481
FAX: 202-453-6012; TDD: 800-877-8339
Email: OCR@ed.gov
Evidence Preservation Suggestions
Regardless of whether an incident of Sexual Harassment is reported to Police or the University, FSU strongly encourages individuals who have experienced Sexual Harassment to preserve evidence to the greatest extent possible, as this will best maintain all legal options for them in the future.
Below are suggestions for preserving evidence related to an incident of Sexual Harassment. It is important to keep in mind that each suggestion may not apply in every incident:
In order to best preserve their legal options in the future, individuals should consider not altering, disposing of, or destroying any physical evidence of sexual misconduct.
If there is suspicion that a drink may have been drugged, inform a medical assistance provider and/or law enforcement as soon as possible so they can attempt to collect possible evidence (e.g., from the drink, through urine or blood sample).
Individuals can preserve evidence of electronic communications by saving them and/or by taking screen shots of text messages, instant messages, social networking pages, or other electronic communications, and by keeping pictures, logs, or copies of documents that relate to the incident and/or perpetrator.
Even if individuals choose not to make a complaint with the University regarding sexual misconduct, they may consider speaking with FSU Police & Public Safety or other law enforcement to preserve evidence. Please note that, as University employees, FSU Police & Public Safety would have to report the concern to the Title IX Office.
Physical Evidence Preservation Suggestions Specific to Sexual Assault
Because some evidence, particularly evidence that may be located on the body, dissipates quickly (within 48-96 hours), individuals who have been sexually assaulted and wish to preserve evidence should go to a hospital or medical facility immediately to seek a medical examination and/or evidence collection.
An individual who has been sexually assaulted and wishes to preserve evidence should, if possible, not shower, bathe, douche, smoke, brush teeth, eat, drink, use the bathroom, or change clothes or bedding before going to the hospital or seeking medical attention.
If the individual who has been sexually assaulted decides to change clothes or bedding, and wishes to preserve evidence, they should not wash the clothes worn or bedding used during the assault, and should bring them to a hospital, medical facility, or the police in a non-plastic (e.g. paper) bag.
من اللغات والوسائط ، عند الطلب. يرجى التواصل إذا كنت بحاجة إلى مساعدة أو معلومات على TitleIX@uncfsu.edu | 910-672-2325 | Barber Building، Room 242. سنقوم بفرز التفاصيل لضمان قدرتك على الوصول إلى المعلومات بطريقة تناسب احتياجاتك. لدينا أيضًا إمكانية الوصول إلى مجموعة متنوعة من الأدوات والموارد لضمان قدرتنا على التعامل معك بشكل كامل بغض النظر عن أي لغة أو اختلافات في إمكانية الوصول قد تكون لدينا.

Onthou asseblief dat ons materiaal op versoek in verskillende tale en mediums het. Kontak as u hulp of inligting benodig by TitleIX@uncfsu.edu | 910-672-2325 | Barber-gebou, Kamer 242. Ons sal die besonderhede uitsorteer om te verseker dat u toegang tot inligting het op 'n manier wat u pas. Ons het ook toegang tot 'n verskeidenheid instrumente en hulpbronne om te verseker dat ons ten volle met u in gesprek kan tree, ongeag die taal- en toeganklikheid verskille.

請注意,我們可應要求提供多種語言和媒體的資料。如果您需要幫助或信息,請聯繫TitleIX@uncfsu.edu | 910-672-2325 |理髮樓242室。我們將整理詳細信息,以確保您能夠以適合自己需求的方式訪問信息。我們還可以使用各種工具和資源來確保無論您使用哪種語言或可訪問性方面的差異,我們都能與您充分互動。
Nous vous rappelons que nous avons du matériel en plusieurs langues et médiums, sur demande. Veuillez nous contacter si vous avez besoin d'aide ou d'informations à TitleIX@uncfsu.edu | 910-672-2325 | Barber Building, pièce 242. Nous réglerons les détails pour que vous puissiez avoir accès aux informations d'une manière qui répond à vos besoins. Nous avons également accès à une variété d'outils et de ressources pour nous assurer que nous pouvons pleinement collaborer avec vous quelles que soient les différences de langue ou d'accessibilité que nous pourrions avoir.
ご要望に応じて、いくつかの言語と媒体の資料をご用意しておりますので、ご了承ください。 TitleIX@uncfsu.edu |でサポートや情報が必要な場合は、お問い合わせください。 910-672-2325 |理髪店、242号室。お客様のニーズに合った方法で情報にアクセスできるように、詳細を整理します。また、言語やアクセシビリティの違いに関係なく、お客様と完全に関わることができるように、さまざまなツールやリソースにアクセスできます。
Le recordamos que contamos con materiales en varios idiomas y medios, previa solicitud. Si necesita ayuda o información, comuníquese con TitleIX@uncfsu.edu | 910-672-2325 | Barber Building, Room 242. Clasificaremos los detalles para asegurarnos de que pueda tener acceso a la información de una manera que se adapte a sus necesidades. También tenemos acceso a una variedad de herramientas y recursos para asegurarnos de que podamos interactuar completamente con usted, independientemente de las diferencias de idioma o accesibilidad que podamos tener.
कृपया याद दिलाएं, अनुरोध पर हमारे पास कई भाषाओं और माध्यमों में सामग्री है। कृपया पता करें कि क्या आपको TitleIX@uncfsu.edu पर सहायता या जानकारी चाहिए 910-672-2325 | बार्बर बिल्डिंग, कक्ष 242। हम यह सुनिश्चित करने के लिए विवरणों को छाँट लेंगे कि आप अपनी आवश्यकताओं के अनुरूप जानकारी तक पहुँच बना सकते हैं। हमारे पास यह सुनिश्चित करने के लिए कि हमारे पास कोई भी भाषा या पहुंच अंतर हो, हम पूरी तरह से आपके साथ जुड़ सकते हैं, यह सुनिश्चित करने के लिए हमारे पास कई प्रकार के उपकरण और संसाधन हैं।.
Tafadhali kumbushwa, tuna vifaa katika lugha kadhaa na mediums, kwa ombi. Tafadhali fikia ikiwa unahitaji msaada au habari katika TitleIX@uncfsu.edu | 910-672-2325 | Ujenzi wa kinyozi, Chumba 242. Tutatatua maelezo ili kuhakikisha una uwezo wa kupata habari kwa njia inayokidhi mahitaji yako. Pia tuna ufikiaji wa zana na rasilimali nyingi kuhakikisha tunaweza kushirikiana nawe kikamilifu bila kujali tofauti yoyote ya lugha au ufikiaji ambao tunaweza kuwa nao.

Vui lòng lưu ý, chúng tôi có tài liệu bằng một số ngôn ngữ và phương tiện, theo yêu cầu. Vui lòng liên hệ nếu bạn cần hỗ trợ hoặc cung cấp thông tin tại TitleIX@uncfsu.edu | 910-672-2325 Barber Building, Phòng 242. Chúng tôi sẽ sắp xếp các chi tiết để đảm bảo bạn có thể tiếp cận thông tin theo cách phù hợp với nhu cầu của mình. Chúng tôi cũng có quyền truy cập vào nhiều công cụ và tài nguyên khác nhau để đảm bảo chúng tôi có thể tương tác đầy đủ với bạn bất kể sự khác biệt về ngôn ngữ hoặc khả năng tiếp cận mà chúng tôi có thể có.

Fi aanu ṣe iranti, ani awọn ohun elo ni ọpọlọpọ awọn ede ati awọn alabọde, lori ibeere. Jọwọ ṣii jade ti o ba nilo iranlọwọ tabi alaye ni TitleIX@uncfsu.edu | 910-672-2325 | Ilé Barber, Yara 242. A yoo to awọn alaye jade lati rii daju pe o ni anfani lati ni aaye si alaye ni ọna ti o baamu awọn aini rẹ. A tun ni iraye si ọpọlọpọ awọn irinṣẹ ati awọn orisun lati rii daju pe a le ṣe alabaṣiṣẹpọ ni kikun pẹlu rẹ laibikita eyikeyi ede tabi awọn iyatọ wiwọle ti a le ni.
Kindly be reminded, we have materials in several languages and mediums, upon request. Please reach out if you need assistance or information to TitleIX@uncfsu.edu | 910-672-2325 | Barber Building, Room 242. We will sort out the details to ensure you are able to have access to information in a manner that suits your needs. We also have access to a variety of tools and resources to ensure we can fully engage with you regardless of any language or accessibility differences we may have.