Fayetteville State University Choristers Sing in Carnegie Hall
Perform Cry of Jeremiah with Several Other Choirs, Many from HBCUs
Date: May 04, 2023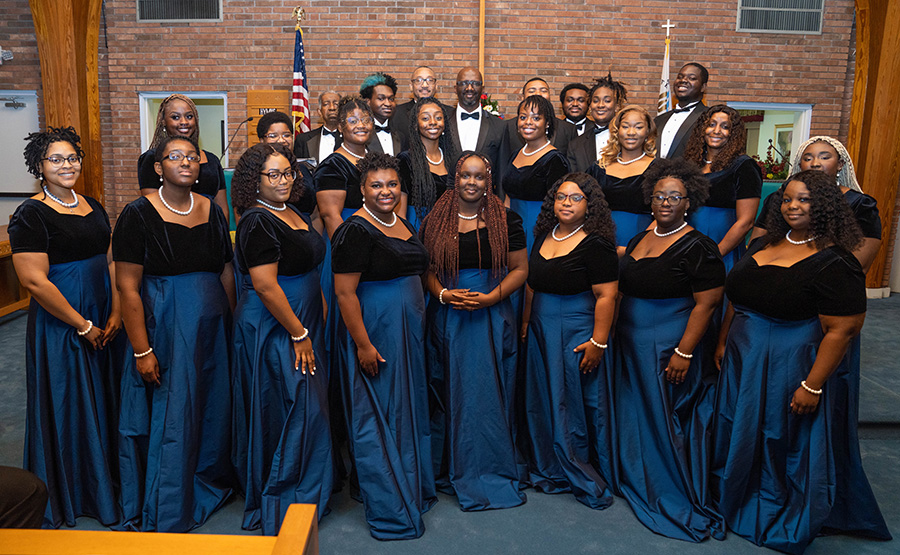 Fayetteville, N.C. (May 4, 2023) — Glorious music and song inspired by an Old Testament prophet rang out from famed Carnegie Hall via a mighty choir of 300 singers — including six from the Fayetteville State University (FSU) Concert Choir.
Maestra D'Walla Simmons-Burke, the director of choral and vocal studies at Winston-Salem State University (WSSU), conducted Rosephanye Powell's The Cry of Jeremiah on April 9 on Perelman Stage in Carnegie's Stern Auditorium. The performance featured choristers from FSU, who were prepared by Denise Murchison Payton, Ph.D., director of choral activities at FSU. It also included singers from ensembles at several other HBCUs, including WSSU, North Carolina Central University, Mississippi Valley State University and Vorhees University.
Also engaged were singers from The Australian Waratah Girls Choir and Alumni Chorus and from choirs of Apple Valley (Minn.) High School and West Jessamine High School in Nicholasville, Ky.
"Please join me in congratulating Dr. Payton and her students in the Fayetteville State University Concert Choir," said Marcus Cox, M.B.A., Ph.D., dean of FSU's College of Humanities and Social Sciences. "Their talents, dedication and hard work enabled them to grace one of the most famous stages in the world. Everyone in the College of Humanities and Social Sciences is extremely proud of their achievement."
Jeremiah, a frequently performed four-movement work commissioned by the American Guild of Organists for its 2012 convention, is "based textually on the 29th chapter of Jeremiah," writes Powell in an online description of the work. "The prophet Jeremiah, having experienced ridicule and imprisonment because of his prophecies, laments his present state." Each movement of Jeremiah sets different verses drawn from the 20th chapter of Jeremiah to music, illuminating everything from the reasons Jeremiah prophesies to his accusations that the Lord has deceived him.
There are several versions of Jeremiah. The one that featured FSU's singers on April 9 is designed to make quite an impression, having been scored for mixed chorus; orchestra (the New England Symphonic Ensemble); organ (Andrew Liu); percussion soloist (Gillard Louis); and narrator (Powell).
The FSU singers demonstrated their finest musical mettle in New York. They mastered their parts for a high-profile concert of challenging music, drawing on the expertise of Payton, who knew Jeremiah well, having conducted it in 2018 at FSU. Their sound gelled with those of several other choirs and they showed they could adjust to changes in interpretation that come with performing a large-scale work with an orchestra under the baton of a new conductor (Simmons-Burke) after preparing it with a chorusmaster (Payton). Payton said the students adapted quickly to what Simmons-Burke wanted during the rehearsals in New York.
Most importantly, perhaps, the FSU choristers embraced the iconic stature of Carnegie Hall, where so many of classical music's finest soloists and ensembles have performed. Senior biology major Reggie Jones, one of these singers, said the experience "filled me with so much joy."
Kiyana Adams, a senior member of the FSU Concert Choir and a music vocal major, knew she had landed on some of classical music's most hallowed ground.
"It meant the world to me to be able to perform at Carnegie Hall," she said. "It was one of my lifetime dreams. I'm so grateful to Dr. Denise Payton and to the University for giving me this opportunity."
FSU's Concert Choir celebrated its 140th anniversary on April 30 with a concert in Seabrook Auditorium featuring choir alumni and current students. Under Payton's direction, the program, titled "The Lantern Still Shines," included classic and contemporary works and a reprise of The Cry of Jeremiah.