Fayetteville State University Names Johnson Dean of the College of Education
Chandrika Johnson, Ph.D., assumed deanship April 1
Date: May 03, 2023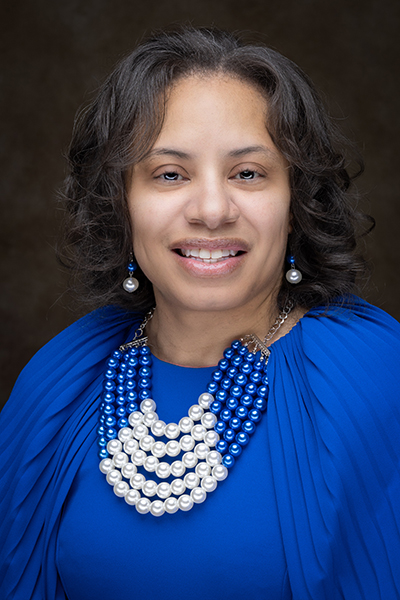 Fayetteville, N.C. (May 3, 2023) — Fayetteville State University (FSU) appointed Chandrika Johnson, Ph.D., as dean of its College of Education (COE), effective April 1, 2023 following a national search. Johnson has served as COE's interim dean since January 2022.
Johnson is a professor of public health education in the COE Department of Health, Physical and Secondary Education.
As interim dean, Johnson led the process to secure national accreditation for the COE during the 2022 Council for the Accreditation of Educator Preparation (CAEP) visit. She has guided the COE in fostering excellence in teaching, research and service to the community by setting an example for faculty and staff; in ensuring academic programs that challenge and encourage students in inquiry and application with the addition of the new Sport Management and Public Health programs; and in developing and implementing current and future curriculum/programs by creating an online Master of Arts in Teaching (MAT) for the upcoming 2023-2024 academic year.
"We are thrilled that Dr. Johnson will continue her exemplary leadership of FSU's College of Education in an official capacity as dean," said Monica T. Leach, Ed.D., FSU provost and senior vice chancellor for academic affairs. "She has done remarkable work to expand and elevate the school's academic programs, encourage and prepare more educators to enter the classroom and ensure the faculty, staff and students have the support, guidance and resources they need to succeed. FSU is fortunate to have her here."
Johnson aims to create an engaging teaching, learning and research environment that promotes creativity, innovation, and knowledge discovery. She is committed to student success that includes the recruitment, retention, graduation, and career placement of undergraduate and graduate students. Johnson is dedicated to improving the conditions of all FSU College of Education students, faculty, staff, community stakeholders (teachers, teacher assistants, principals, etc.), Local Education Agencies (LEAs), and health and sports professionals.
Johnson is a proactive leader in the fields of health and physical education and community/public health, especially regarding her research on Human Papillomavirus (HPV). She has conducted numerous professional development workshops for public schools, published several scholarly papers, and presented at professional conferences throughout the country in her discipline. Currently, she is a board member of the Cumberland County Council on Older Adults, the Alliance of AIDS Services – Carolina, the North Raleigh Civitan Club, and a committee member of the School Health Advisory Council (SHAC).
Nominated by her students in Spring 2017, Johnson received the FSU College of Education Wynton Hadley Teaching Award. Her most distinguished accomplishments during her higher education career thus far include receiving both the Fayetteville State University Teacher of the Year Award (2019-2020) and the UNC Board of Governors Excellence in Teaching Award (2021-2022).
Johnson is a prolific academic investigator, having secured over $680,000 in grant funding to support initiatives including: FSU Learning Loss from a Grassroots Perspective (sponsored by UNC-Chapel Hill NC Collaboratory); FSU Bronco Expansion (sponsored by UNC-Chapel Hill NC Collaboratory and NC Department of Public Instruction [NCDPI]); FSU Behavioral Health grant (sponsored by UNC General Administration); Body and Soul Exercise grant (Wade, NC); Cumberland County HIV Task Force Prevention Project Grant; and Better Health of Cumberland County, Inc., AmeriCorps Program Grant. In Fall 2018, Johnson received a Visiting Investigator Fellowship with Langston University Rehabilitation Research and Training Center (LU-RRTC).
Prior to arriving at FSU, she taught health and physical education in the Cumberland County Public School System. Johnson also has previous experience as a health educator at various hospitals and non-profit organizations. She began teaching health education classes at FSU in 2005, and in the fall of 2007, Johnson designed and developed the first online classes on drug education and nutrition in the Department of Health, Physical Education and Human Services.
Johnson earned an Associate of Arts in biology and K-12 Health Education Teaching License from Fayetteville State University, a Bachelor of Science in Community Health Education from the University of North Carolina at Pembroke, a Master of Public Health in Community Health Education from the University of Tennessee at Knoxville, and a Ph.D. in Health Education from Southern Illinois University at Carbondale.