Veterans Week
Join FSU to Honor Veterans
November 3-10, 2021
All events are free and open to the public. Some events require registration.
Event guests must adhere to state, local, FSU, and UNC System COVID-19 guidelines. Guests attending events indoors must wear face masks and practice social distancing. If you are experiencing COVID-19 symptoms, please do not attend.
---
Wednesday, November 3
POW/MIA Ceremony
Location: Rudolph Jones Student Center Amphitheater
Time: Noon
Triple Nickel Association Social
Location: Rudolph Jones Student Center, Rooms 238 and 240
Time: 5pm-6:30pm
Learn about the prestigious 555th Parachute Infantry Battalion, nicknamed the Triple Nickel, which was an all-black airborne unit of the United States Army during World War II. Meet living members of the Triple Nickel and learn about this unit's historic military missions.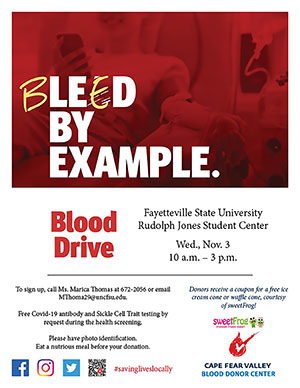 Blood Drive
Location: Rudolph Jones Student Center
Time: 10am-3pm
Donate blood in honor of a veteran.
Thursday, November 4
Military Movie Night: Major Payne (PG-13)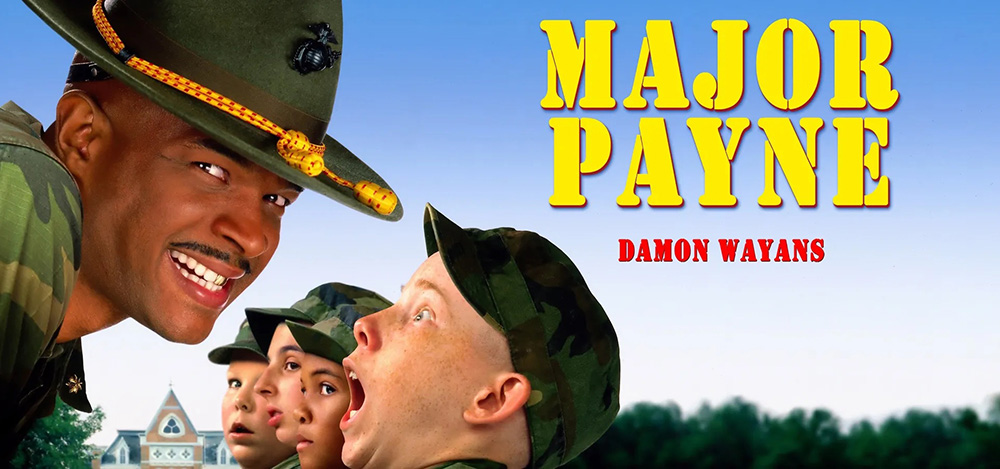 Location: Rudolph Jones Student Center, Room 242
Time: 7pm-9pm
Free bags of Hot Sugar Pop to the first 100 people/families who register.
Enjoy a movie and family time in the grass under the Fall stars.
Friday, November 5
Make a Card, Thank a Veteran
Location: Rudolph Jones Student Center Cafeteria Lobby (2nd floor)
Time: 11am-2pm
Faculty, staff, and students can make a card for a veteran that they know, or they can make a card that will be delivered to veterans in the VA hospital nursing home on Ramsey Street.
Monday, November 8
Battle of the Branches
Location: Rudolph Jones Student Center/Gazebo Quad
Time: 11am-2pm
Questions? Contact Janet Polk, Interim Director for Military Student Success at jpolk3@uncfsu.edu.
All students with a military connection are encouraged to engage in easy and fun competitive activities. The top three branches that have the highest turnout and the most wins will receive gift cards. Student organizations are highly encouraged to participate.
Tuesday, November 9
Greater Fayetteville Business Journal Power Breakfast: For Our Defense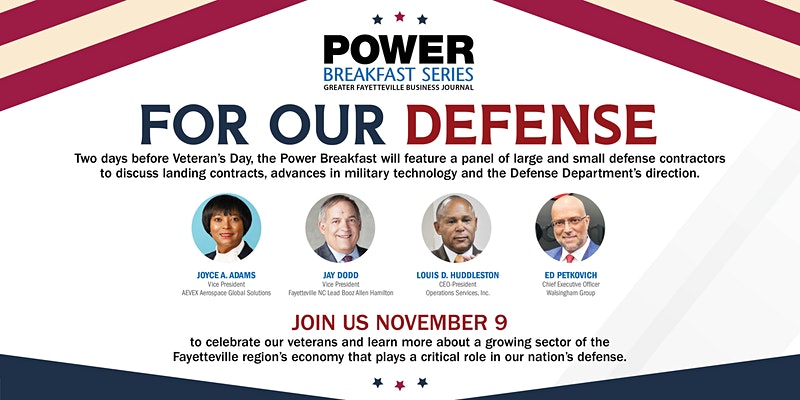 Register at FayettevillePowerBreakfast.com
Location: Rudolph Jones Student Center
Time: 7:30am-9:30am
The Power Breakfast will feature a panel of large and small defense contractors to discuss landing contracts, advances in military technology and the Defense Department's direction. Celebrate our veterans and learn more about a growing sector of the Fayetteville region's economy that plays a critical role in our nation's defense.
Student Veteran Pizza Party
Location: Student Veterans Center
Time: 11am-2pm
Student Veterans, join us for food and fellowship as we show our appreciation for your service.
Wednesday, November 10
FSU Veterans Day Ceremony and Purple Heart University Designation
Location: Rudolph Jones Student Center, Room 242
Time: 11am-1pm