Office of the Chancellor
Chancellor's Message
I am honored and excited to serve as the CEO of Fayetteville State University. This university was founded upon a great historical legacy that will contribute to our emergence as a competitive and modern 21st century institution. We will honor the dynamic history of this university in 2017 when the university celebrates its Sesquicentennial Birthday 1867-2017 (150th Anniversary). It will be one of the most memorable events in this institution's already storied legacy.
My task is to apply leadership and management strategies that reflect integrity, quality, transparency, and excellence. Our most precious commodity is our students and everything that we do should support their growth, maturity, and success. Our five-year strategic plan will be the map that guides us as we seek to provide the best experiences possible for our students. "From a Proud Legacy to a Twenty-First Century World-Class University of Choice" will be the guiding theme for the next five years.
The three strategic priorities for 2015-2020 are:
Retention and Graduation Rates
Collaborations and Partnerships
Efficiency, Effectiveness, and Sustainability
I appreciate the daily efforts of our faculty, staff and administrators, and the support from our alumni, the community, and friends worldwide. I truly become emotional when I say that I am "Proud to Be" the Chancellor of Fayetteville State University.
Ashley Dominique
Dominique is a Senior Political Science major and a member of the Political Science Club.
She learned how to network, how to communicate and operate two radio shows, and gained professional communication skills within the area of journalism and broadcasting on Bronco-iRadio.
Read more
Chancellor's Bio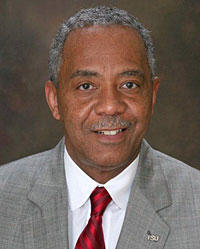 Dr. James A. Anderson serves as Chancellor and Professor of Psychology at Fayetteville State University. He is in his seventh year in this position. He is committed to making FSU a world-class university of choice through advanced technology, new cutting edge academic programs, state of the art classroom buildings and residence halls, expanded partnerships with the community and educational institutions, globalism, student success, community service, and professional development for faculty, staff and students.
"From a Proud Legacy to a Twenty-First Century World-Class University of Choice" will be the guiding theme for the next five years. The three strategic priorities for 2015-2020 are: 1) Retention and Graduation Rates, 2) Collaborations and Partnerships, and, 3) Efficiency, Effectiveness, and Sustainability.Anderson's tenure at FSU saw the institution increase its physical stature with some of the most modern and attractive buildings to be found on a college campus.
The Rudolph Jones Student Center underwent $23 million in renovations. The transformation included a 69,000 square foot renovation of the existing Center with an addition of 40,000 square feet. Beautiful architectural designs include an expanded multipurpose room, cafeteria, lounges, movie theater, café, offices and other student related functions.
A 62,000-square-foot LEED Silver Science and Technology Building opened. The building, awarded for its architectural design, is complete with laboratories for chemistry, forensics, mathematics, physics and computer science.
Renaissance Hall, a 336-bed residence hall, welcomed students in 2013. Amenities include spacious rooms with carpet, a full size bed per resident, a large windows in each room that provide a marvelous view of the campus, and WI-FI.
The Southeastern North Carolina Nursing Education and Research Center houses hospital nursing labs and robotics labs for psychology.
Anderson also initiated the launch of the largest fund-raising campaign in the institution's history. "The Campaign for Fayetteville State University: From a Proud Legacy to a 21st Century," seeks to raise $25 million for the following initiatives:
Scholarships for Deserving Students
Support for Scholar Athletes
Professional Development for Faculty and Staff
Student Enrichment and Global Enhancement
Military and Veteran Partnerships
Center for Defense and Homeland Security
The campaign concludes in 2017-18 when the university celebrates its Sesquicentennial Birthday 1867-2017 (150th Anniversary).
He began his duties as Chancellor of the state's second-oldest public institution on June 9, 2008. Before coming to FSU, Anderson served as the University of Albany's Vice President for Student Success and Vice Provost for Institutional Assessment and Diversity.Raised in Washington, D.C, Anderson majored in psychology at Villanova University in Pennsylvania, graduating in 1970. He later earned a doctoral degree in the field (1980) from Cornell University in New York. Early in his career, Anderson chaired the Department of Psychology at Xavier University in New Orleans (1976-1983) before joining the Indiana University of Pennsylvania as a professor of psychology.
In 1992, he began an 11-year tenure as Vice Provost for Undergraduate Affairs at North Carolina State University. In that role, he was credited with leading a revision of the general education curriculum, as well as the development of the First Year College, the Honors Programs, the Faculty Center for Teaching and Learning, the Minority Engineering Program, and the North Carolina State Diversity Initiative, among others.In 2003, Anderson was recruited to Texas A&M University, a major land-grant institution serving more than 46,000 students, as Vice President and Associate Provost for Institutional Assessment and Diversity. He held that post until joining the University at Albany in 2005.
Anderson is active in professional, civic, and higher-education organizations. Examples of the many agencies he serves include being a member of the Board of Trustees of the Southern Association of Colleges and Schools' Commission on Colleges, a member of the American Council on Education's Commission on Inclusion, the Board of Directors of United Way of Cumberland County, the Educators Serving Educators Advisory Board for Excelsior College in Albany, New York, Chair of the Board of Directors of the Sustainability Communities Foundation in Fayetteville.Anderson's research and writing have focused on the assessment of student learning, as well as the impact of diversity on student learning, retention, and overall institutional effectiveness. He is the author or co-author of numerous books, including "The Unfinished Agenda: Brown v. Board of Education" (2004) and "Driving Change through Diversity and Globalization-Transformative Leadership in the Academy" (2007).
Notable Achievements under Chancellor Anderson's Leadership
The Economic Impact of FSU on Fayetteville and Cumberland County (2012-13) included $153.8 million in total economic output; 2,210 jobs; $104.4 million in labor income; $5.4 million in taxes; and $195 million in incremental salary value of FSU alumni currently residing in Cumberland County. Over $75 million in research, campus operations, and new construction included employment of local contractors and subcontractors.
From 2010-2013 clean state audits and only minimal recommendations since then.
In terms of educating FSU graduates (2012-2013), North Carolina tax payers received $16.13 for each dollar of state funds expended (11.5% ROI) ; and in terms of Federal appropriations, $54.55 was generated for each dollar of federal funds expended (15.1% ROI)
When Chancellor Anderson arrived at FSU, grant funding was $5.5 million. For 2014-15 it will approach $12 million.
Alumni giving (donations) was 3.1% in 2008 and is currently 12.6%. FSU has doubled the number of alums who give and we have initiated our first comprehensive capital campaign.
From 2008-2013 FSU had 1,293 graduates in graduate or professional school (29% of all awarded degrees).
Since 2013 the FSU Pre-Law Society has advised 42 students and 39 have been accepted into Law School (93% acceptance rate).
FSU received continued NCATE Accreditation for teacher education and SACS Reaffirmation of the entire university.
FSU ranks as the top HBCU producer of teachers in North Carolina and 8th in the nation.
Affordable Colleges Foundation (AFC) states that FSU has the nation's 20th ranked online psychology program, and the 16th ranked criminal justice program.
The Social Science Research Network (SSRN) ranks FSU's School of Business and Economics 63d best in the country (#116 in the world). FSU is the 3d ranked Business program in NC behind Duke and UNC Chapel Hill and the highest ranked HBCU in the country. The MBA program is ranked #4 in NC and among the top 50 in the nation.
According to forensicscolleges.com FSU has the #2 ranked Forensic Biology program in the country and one of only two in North Carolina selected for their listing.
The Nursing Program has a 100% pass rate on the NCLEX and ranked #2 in the Eastern and Southeastern region of the U.S. and best among NC Nursing programs (Nurse Journal.org 2015).
Other top ranked accredited programs include, Social Work, Criminal Justice, Computer Science, and Visual Arts.
The National Geospatial-Intelligence Agency recently designated FSU as a Center of Excellence (the only UNC school and HBCU to have the GEOINT Certificate accreditation).
College Factual ranks FSU as the nation's 33rd best college for veterans. FSU is the only NC institution ranked in the top 50. Military Times publication ranked FSU as the top school in NC on its "2014 Best for Vets Colleges" listing. FSU offers the only Master's degree in Social Work on a military base in the country (Fort Sam Houston, San Antonio, TX).
FSU's Center for Defense and Homeland Security offers certificates in Cyber Security (Foundations and Advanced).
FSU now has a strong global footprint in China, Africa, and an emerging one in India.
FSU has been cited as North Carolina's most affordable online university.
Chancellor's Office Staff
James A. Anderson, Chancellor | 910-672-1141 | janderson@uncfsu.edu

Victoria Bradford, Administrative Assistant | 910-672-1141 | vbradfor@uncfsu.edu

Wesley Fountain, Director of Government Relations | 910-672-1685 | wfountain01@uncfsu.edu

Tonya Fedrick, Office Assistant | 910-672-2175 | trsellers@uncfsu.edu

Keshema Jackson, Administrative Assistant | 910-672-2500 | kjacks22@uncfsu.edu

Wanda Jenkins, University General Counsel | 910-672-1145 | wljenkins@uncfsu.edu

Bertha Miller, Special Asst. to the Chancellor for Strategic Planning | 910-672-2431 | bmiller@uncfsu.edu

Mykia Mitchell, Administrative Assistant | 910-672-1145 | mmitche7@uncfsu.edu

Suzette Perkins, Secretary of the University | 910-672-1143 | sperkins@uncfsu.edu

Angel Powell, Assistant General Counsel | 910-672-1906 | bpowell3@uncfsu.edu

Terrance Robinson, Legal Assistant | 910-672-1145 | trobinson@uncfsu.edu

Ann Zomerfeld, Executive Assistant to the Chancellor | 910-672-1141 | azomerfe@uncfsu.edu