School of Nursing
Welcome to the nursing program at Fayetteville State University. Our journey in achieving nursing excellence began in 1992. This vibrant program has thrived through-out our history to meet the needs of Registered Nurses in this region and beyond. We continue to educate a large number of nurse leaders who play a significant role in the health maintenance of citizens in North Carolina and the rest of the country. Thank you for visiting us and Welcome!
-Afua O. Arhin, RN, PhD Professor and Associate Dean
The Faculty
You will learn from professors who are passionate, knowledgeable, and experienced. They are invested in your future and developing highly motivated and professional nurses.
Clinical Experience
Clinical experience gives you a first hand perspective of the life of a nurse. It often involves treatment of patients and the observation of the nurse/patient relationship. You will gain an understanding of the realities of nursing and become more service-minded.
Coming Attractions
The Fayetteville State University's School of Nursing will hold its Fall 2018 Nursing Convocation on Wednesday, August 22, 2018 at 1:00 PM in Shaw Auditorium. The theme for this semester's Nursing Convocation is "Steps to Success".
The Key Note Speaker will be Staja "Star" Booker, PhD, RN.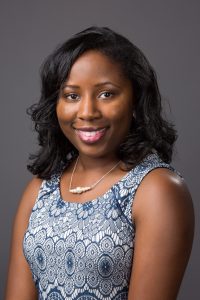 Dr. Staja Booker is a Nurse Researcher and a post-doctoral fellow in pain and aging (T32-AG049673, PI: R. Fillingim) at the University of Florida in the College of Dentistry. She received her Bachelor of Science in Nursing, magna cum laude, from GSU in 2010. Since that time, Star has worked in the areas of research, long-term care, and geriatrics, having earned her MS (Adult/Gero Nursing) degree from Penn State University and PhD (Nursing/Aging) from the University of Iowa. She is a former National Hartford Center of Gerontological Nursing Excellence Patricia G. Archbold Scholar.
Under the mentorship of Dr. Roger Fillingim, Dr. Booker's research explores culturally-grounded self-management interventions for aging African Americans with osteoarthritis pain, with an emphasis on behavior change. As part of her training, she is involved with the UPLOAD-II study which investigates biopsychosocial contributions to ethnic differences in osteoarthritis related pain and disability. By working with this project, she gains experience with quantitative sensory testing, brain imaging, and inflammatory biomarkers.
Dr. Booker has been working tirelessly to improve the care of African Americans with pain. She approaches her research from two angles, first assisting nurses in performing culturally-responsive pain assessment and secondly by improving African Americans' ability to self-manage their pain. Significant contributions include developing the first nursing clinical practice recommendations and a model for pain assessment and pain measurement in older African Americans. In 2011, Dr. Booker was inducted into Sigma Theta Tau International, the Honor Society of Nursing. Several years later, in 2015, she was recognized by Sigma Theta Tau as a "Rising Star of Scholarship and Research". An exceptionally engaged author, she has contributed over 20 peer-reviewed articles to a growing body of evidence on pain management in ethnically diverse older adults.
Please join us as we welcome both the School of Nursing's Fall 2018 Nursing cohort as well as Dr. Staja Booker to our Fayetteville State University Campus.