Theatre | Media Performance & Production | Costuming & Cosplay | Theatre Education | Musical Theatre
FSU Theatre is home to a BA in Theatre with concentrations available in Media Performance, Media Production, Costuming & Cosplay, and Education (non-licensure), or students may pursue general theatre studies instead of a specific focus. We offer minors in Theatre, Dance, and Costuming & Cosplay. We produce an annual season of mainstage shows, including children's drama, musical theatre, African American drama, Shakespeare and other classics, Play in a Day, and screen performances. Our program is led by world-class faculty with strong ties to the professional field. With deep ties to the professional theatre community in and around Fayetteville, our program maximizes student potential.
Why Choose Theatre?
Our academic program includes an internship and other professional development so students may anticipate working in the field upon graduation. Graduates of our program have gone on to graduate school, teaching or professional work in the field.
Where Will You Learn?
Most FSU Theatre productions take place in our 200-seat Butler Theater in the heart of the east FSU campus. Equipped with state of the art lighting and sound technology and a fully furnished scene shop, Butler Theater is home to most of our mainstage shows and many of our classes. We occasionally produce shows in FSU's 1100-seat Seabrook Auditorium, including our children's production and special classics and musicals.
Titus Emmanuel Ferrell
Titus Emmanuel Ferrell (class of 2011) was recently hired as a resident company member with Atlanta's Kaiser Permanente children's theatre touring company.
COMING SOON
Fayetteville State University (FSU) Theatre & Dance and the Department of Performing & Fine Arts will be presenting
THE BUSINESS OF BLACKNESS
A Black History Month Celebration of Dance and Theatre
February 16-17 at 10am (School Performances - $5 per student, chaperones and teachers FREE)
February 17-18 at 7:30pm (Public Performances - $10 general admission, $8 faculty/staff, $3 for students, FREE for FSU students with ID an pre-registration at least 24 hours in advance)
Location: Seabrook Auditorium
For more information on school performances/student matinees, please contact Jeremy Fiebig at jfiebig@uncfsu.edu or (910) 672-2574.
Stage & Screen, Costume/Cosplay/Fashion, Dance, and Education Programs in Theatre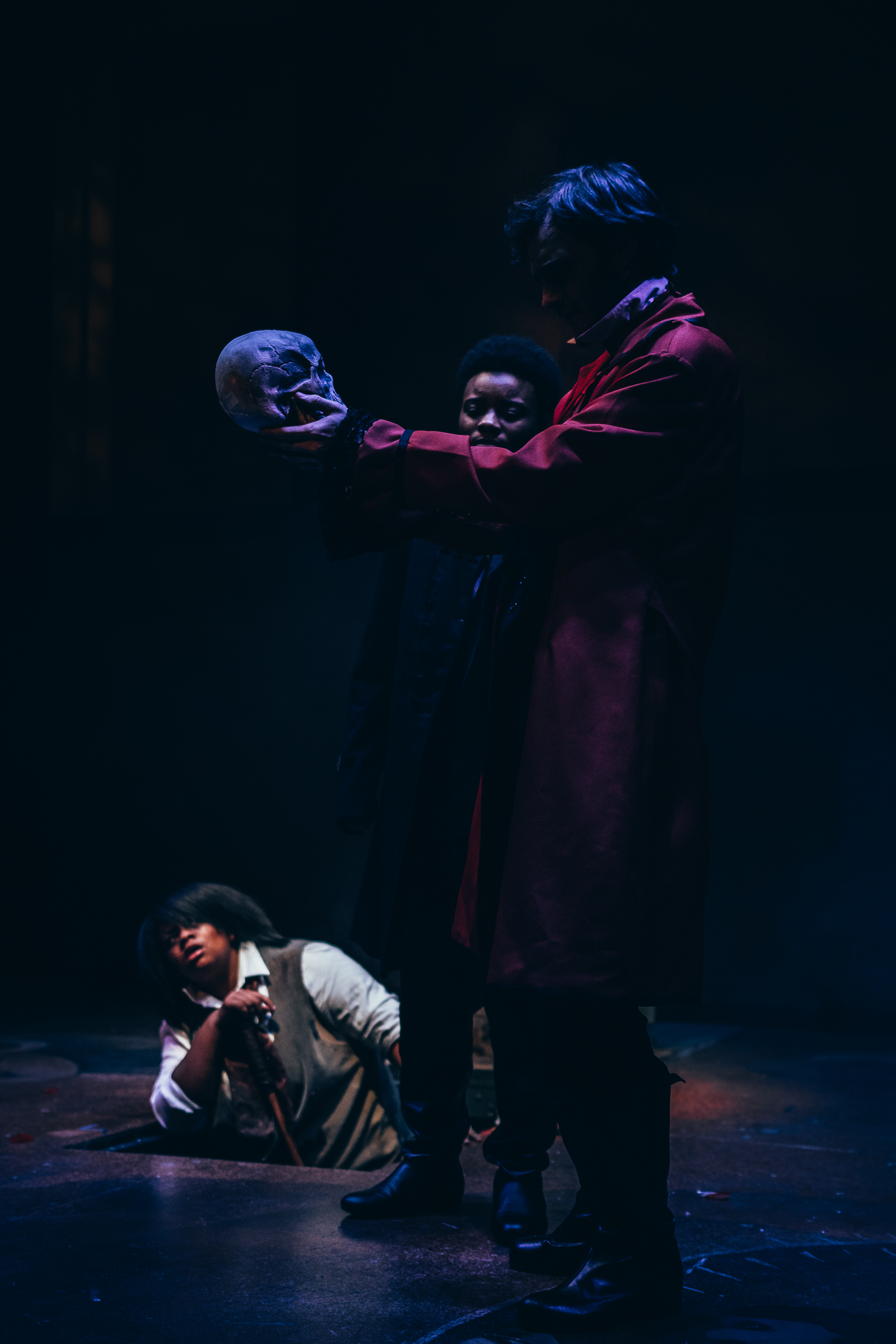 We offer several exciting programs for students interested in stage and screen performance, design, production, directing, musical theatre, playwriting, and much more. Programs include:
BA in Theatre

BA in Theatre with a concentration in Media Performance

BA in Theatre with a concentration in Media Production

BA in Theatre with a concentration in Costuming/Cosplay

BA in Theatre with a concentration in Education (non-licensure)

Minor in Theatre

Minor in Dance

Minor in Costuming, Cosplay, & Fashion
What Will You Learn in Our Programs?
Students majoring in Theatre with a concentration in Media Performance will complete intensive course work focused on performance for the screen including film, television, and social media, consisting of acting and voice work, characterization, camera studio work, and short films. ​Part of a general program collaboration between the Theatre and Communications areas​, new approaches seek to update courses using experiences with film, television and stage, to fill the need to expand professional practices in both areas and prepare students for lifelong careers in stage and screen ​performance.

Students majoring in Theatre with a concentration in Media Production will focus on audio, video, lighting, and stage production for film, television, and new media. The concentration looks intently at the crossover in production between theatre, television/film, and social media​, developing skills in a multidisciplinary platform that will broaden training and skill sets in various disciplines preparing them for lifelong careers in stage and screen ​production.
Both concentrations are collaborations with FSU's Department of Communications and World Languages.
Students may major in Theatre with a concentration in Costuming and Cosplay, ​developing studio, technical production, and artistic skills necessary to work in a variety of disciplines from traditional stage and screen costuming and props work to fantasy cons, Live Action Role Play, and much more. With classes in makeup, costuming, sculpture, mold making, and opportunities for props and mask work, this concentration will provide students an exciting set of in-demand skills and experiences ​that prepare​s them for worthwhile careers in the field. ​While this concentration is a collaboration with FSU's ​Visual Art program​, it may also be taken independently as a Minor.
Students majoring in Theatre with a concentration in Education (non-licensure) will blend studies in traditional areas of theatre with ​required courses from FSU's College of Education ​that prepare them for lifelong work with students. Students will have both in-class and out-of-class opportunities to gain practical experience and technical proficiency, including those gained through campus-based theatrical productions and internships with local employers. The program takes a holistic approach toward the study of theatre that embraces relevant areas of review and practice within the disciplines of English, Communications, Education, as well as Theatre. This is a non-licensure concentration, though students will find themselves well prepared for teaching positions via lateral entry, working as Directors of Education for regional theatres and arts organizations, or ​establishing their own studios.
Alternatively, students may pursue general studies in Theatre without one of these concentrations.
Together, these concentrations and studies the FSU Theatre program position students for quality work in their chosen field. Each new offering blends with FSU's strong core of theatre classes and production experiences, ​providing students a broad practical and theoretical background in the theatre. FSU Theatre is proud to have developed students who've gone on to work as professional actors, production professionals, ​writers, and educators.

What Will You Do with What You Learn in Our Theatre & Media Programs?
With drive, initiative, and ability, a degree, minnor or certificate in our programs prepares you for numerous career choices and possibilities. Practical skills in performance, communication, education, management, design, and production prepare you for careers in:
Actor Stand-in (film work)

Theme Park Entertainment

Comedian/Impersonator

Stunt Coordinator

Technical Director

Scenic Painter

Costumer/Draper/Dresser

Sound Board Operator

Light Board Operator

Master Electrician

Master Carpenter

Production Coordinator

Producer

Stage Management

Arts Marketing

Stage Hand

Properties Coordinator

Choreographer

Artistic Director

Arts Entrepreneur

Dramaturge

Playwright

Screenwriter

Direction

Conference Production & Management

Design

Props production

Arts Administration

Politics

Law

Technical Theatre & Production Management

Acting Education & Instruction

Theatre History

Theatre/Film Criticism

Writing Criticism

Talent Representation (i.e., agents)

Labor Relations

Producing Advertising/Marketing

Radio/TV Voice Work

Training & Development

Public Affairs

Box Office

Public Relations