Provost Bio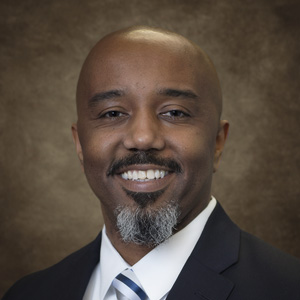 Dr. J. Lee Brown III is the interim Provost and Vice Chancellor for Academic Affairs at Fayetteville State University. As the chief academic officer for the university, he is responsible for leadership and oversight of faculty, curriculum, policy, delivery of all academic programs, research, and student-related success. He earned his Ph.D. in Strategic Management and International Business at the Strome College of Business at Old Dominion University. His scholarly work has been published in Management and Organization Review, Health Information and Technology, Entrepreneurship Theory and Practice and the Journal of International Business Studies. It has also been presented at prestigious conferences, such as the Strategic Management Society, AcademyHealth ARM, the Academy of International Business, the Academy of Management, and the conference on Corporate Governance and Global Financial Crisis at the University of Pennsylvania Wharton School.
Dr. Brown's previous business experience includes 14 years at multiple levels of management, in roles such as product manager, regional manager, and brand manager for Fortune 500 companies. In these roles, he led a diverse staff that included engineers, customer service teams, and service technicians. As an integral member of the management team, he developed marketing strategies, participated in outsourcing decisions, and was responsible for growing revenue and margins of a major product line. During this time, he also worked to establish strategic alliances with complementary firms and strategic customers.
Dr. Brown has a proven track record of leadership and community service. He has more than 4 years of higher education leadership experience at Fayetteville State University and more than 6 years of professional supervisory experience at Carrier Transicold and Carrier Building Systems. He currently serves on the executive boards for several organizations, such as the State Employees' Credit Union Foundation Board, the Greater Fayetteville Chamber of Commerce, and the Career and Technical Education Advisory Board for Cumberland County Schools. Additionally, he is often requested to speak at various events, such as North Carolina State University's annual Building Future Faculty Symposium and the CIAA Minority Business and Leadership Symposium.