Provost Bio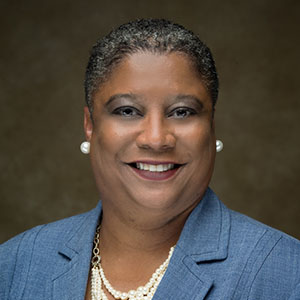 Dr. Monica Terrell Leach is the Provost and Vice Chancellor for Academic Affairs at Fayetteville State University.
In this role Leach will oversee the Division of Academic Affairs, which includes four colleges, and manage numerous academic programs and departments. At NCCU, Leach was responsible for leading numerous enrollment management departments. She oversaw a divisional budget of over $144 million which included administering scholarships and student aid at NCCU.
Prior to joining NCCU, Leach served at North Carolina State University (NC State) for nearly 18 years in many capacities, holding the positions of Assistant Dean for Academic Affairs and Director of Diversity Programs in the College of Humanities and Social Sciences; Assistant Vice Provost for Enrollment Management; and Interim Department Chair in the Department of Social Work.
Dr. Leach has also participated in a myriad of administrative professional development programs throughout her career, including serving as a fellow for the AASCU Millennium Leadership Institute, 2019-20 and in the Harvard University Women in Leadership Initiative, 2016. Leach received her Bachelor of Science Degree in Business Education from Louisiana State University in Baton Rouge. She earned her Master of Education in Adult and Community College Education, and a Doctor of Education in Higher Education Administration from NC State.