Department of English: Literature, Teaching, Pre-Law, and Creative & Professional Writing
Join Team English! Tracing our literary roots to Charles W. Chesnutt, the first great African American novelist, we are the department that helps our students to create their own destinies. Strong reading, writing, speaking, and critical thinking skills afford English: Literature, Teaching, Pre-Law, and Creative & Professional Writing (ETLW) majors with the ability to succeed at numerous careers or advanced degree programs, including law school or at a job in education, advertising, publilc relations, human resources, sales departments, marketing, finance, journalism, publishing, editing, technical writing, the arts, in effect at an array of corporate, government, and profit/nonprofit sectors. English majors are in high demand as they are needed in every institution, organization, and company.
Students who opt for an English major may earn the English Language & Literature (BA) degree along with the possibility of three additional/optional concentrations that offer a specific focus: Teaching Licensure Concentration (Secondary English 9-12), Pre-Law Concentration, and Creative & Professional Writing Concentration. FSU's English online degree program allows students to complete upper-division (junior and senior level) courses online.
As of August, Forbes Education Advisor has named Fayetteville State University's online English Program one of "the best online English degrees of 2023" because of its "relatively high retention rate, relatively high socioeconomic diversity, and low average annual net price for students receiving Federal Aid," and, as the Forbes Advisor Education team puts it, "is committed to bringing our readers unbiased rankings and trustworthy, informative aricles" (Cathy Habas, Veronica Freeman. Forbes Education Advisor, 2023).
---
Announcements
Welcome to our newest English majors, Savanna Wright, Melissa Townsend, Courtney O'Neil, Rebekah Denton, Shalay Pridgens, and Zaria Thompkins! In her quest to teach High School English, Savanna has opted for a Bachelor of Arts in English with a Teaching/Licensure Concentration (Secondary English 9-12). In their Bacheor of Arts in English Language/Literature degree programs, Melissa and Courtney seek unique career options through pursuing coursework to suit their specific career plans. Shalay opts for a different challenge by minoring in Computer Science to prepare for a career with the high tech world. Zaria plans to pursue the English concentration of Creative/Professional Writing, a concentration that suits majors who seek to use their strong reading and writing skills in their post undergraduate lives! Now a nationally recognized university online program, FSU's English program recently received recognition as one of the top ten English Online programs in the nation by Forbes Advisor Education team. Spread the word!
Calling all writers from all areas of study! The very popular FSU student-led Writers Club has returned to campus! All FSU students are encouraged to join! With thirty people attending, the Writers Club met in the RJSC on SEPT 13. Not only did we discuss writing club essentials, such as poetry slams, fiction and non-fiction workshops, and hosting a movie night, but also essential writing skills such as essay and cursive writing. Please attend our next meeting, OCT 4 from 4 - 5:30 at the RJSC, Room 106, titled "Write a Podcast," to learn both the ins and outs of creation/publication of podcast writing as well as choosing our next meeting's topic. Our special presenter, Ms. Laura Mehaffey will lead and guide us every step of the way into the exciting world of podcast! Please contact Writers Club Officers Daysia Wood dwood5@broncos.uncfsu.edu, Thed Bostic tbostic2@broncos.uncfsu.edu, Achilles/Travis Britt tbritt2@broncos.uncfsu.edu, Michael Evans mevans31@broncos.uncfsu.edu, or Faculty Club Advisor mnyman@uncfsu.edu for more information. We hope to see you there!
The English Department's Dr Raymond Summerville has recently published 'Each One, Teach One: The Proberbs and Proverbial Expressions of Septima Poinsette Clark.' Found in Proverbium: International Yearbook of Proverb Scolarship (Vol 40), Summerville notes, 'The adult literacy programs that Clark developed fueled the voting registration drives of several important organizations ....' In this piece, Summerville discusses 'the proverbial language that Clark used as she helped to shape the Civil Rights Movement.' Congratulations Dr Summerville!
FSU English major Eric Sims has recently completed his Summer Internship with UNCFSU and the Peake Fellowship Program. Eric shared the following with me recently, "It has been an awesom experience! The organization did a great job of teaching me the best practices of cybersecurity." Eric also admitted that "Learning new things is not always fun." We are so proud of Eric; he continues to take advantage of every opportunity he can within his dual enrollment status at FTCC and FSU.
Dean Marcus Cox of CHSS has appointed our Department's Dr Joshua Murray to direct the E-sports program and academic lab. Dr Murray will head FSU's E-sports' team building efforts, including mobilizing campus resources and supervising teams to compete with other campuses in tournament events. E-Sports fosters many skills, including problem-solving, team collaboration, reaction times, and communication. Congratulations Dr Murray!
---
---
PHOTOS: Open House 2023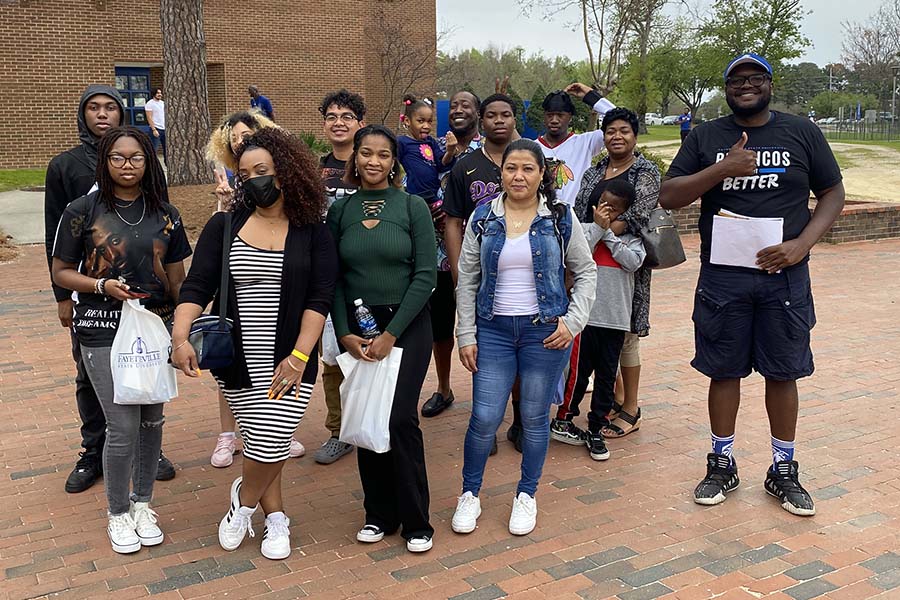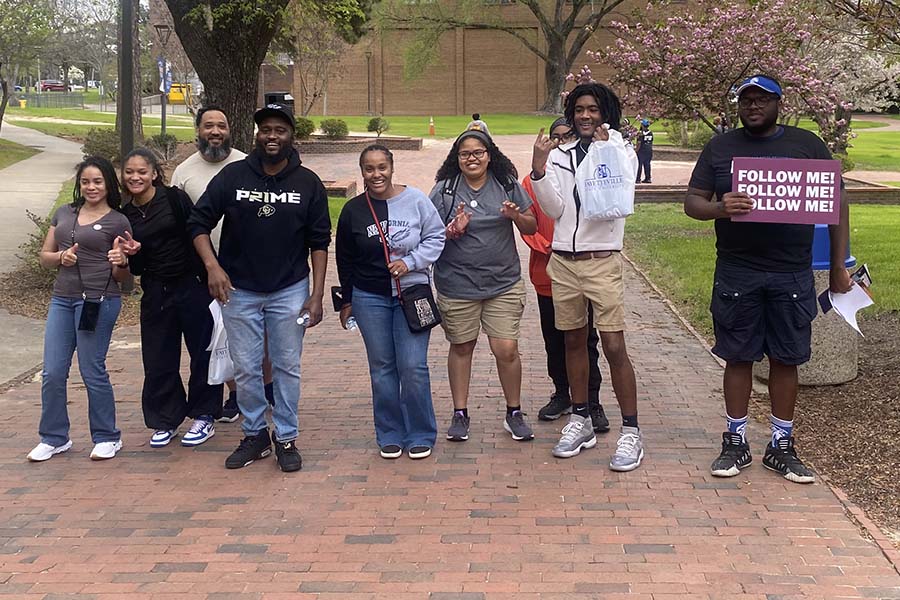 ---
What does an FSU degree in English offer?
The great variety of English courses we offer prepare our students for law school and for careers in teaching, technical writing, publishing, public relations, marketing, finance, news media, and the arts. Our graduates are editors, lawyers, community organizers, entrepreneurs, and educators—some alumni even teach overseas.
---
An Epic Major
From Chaucer to Chesnutt, "Beowulf" to Batman, and Romanticism to rap, English is epic in variety, vitality, and versatility. Just as books are windows to the world, English opens doors to a myriad of careers. Witness English majors Clarence Thomas, a U.S. Supreme Court Justice, and Reese Witherspoon, the Academy Award-winning actor who played a lawyer onscreen in Legally Blonde.
Studying English can lead to law school, but strong reading, writing, speaking, analyzing, and researching skills can make a job in education, advertising, public relations, marketing, finance, journalism, publishing, editing, technical writing, the arts, or the public or non-profit sectors happen. Many English majors fashion careers that serve their abilities and proclivities, including teaching in Europe or China.
Building on the legacy of Charles Chesnutt, the first great African American novelist and former FSU leader, the Department of English offers programs and curricula that explore the relationship among language, literature, history, culture, and new media. We offer a Bachelor of Arts in English Language and Literature, with optional concentrations in Pre-Law, Teaching Secondary English 9-12 with Licensure, Teaching English as a Second Language, and Creative & Professional Writing. Our innovative/interative classes are taught by faculty who are distinguished scholars, experienced editors, and award-winning authors.
Our Department seeks to equip students with research, communication, and critical thinking skills in preparation for diverse, innovative, and global career options in fields ranging from education and law to business and the non-profit sector. The English Department incorporates high-impact practices, such as service learning, internships in marketing and publishing, and a senior culminating experience into its curriculum in its ongoing efforts to provide our students with high-quality teaching as well as practical and innovative training within the discipline. This approach helps to ensure that students are both engaged with the field's history and with its most cutting-edge trends, while also demonstrating the value of the humanities within the wider communities of Cumberland County, the state of North Carolina, and beyond.
Through pedagogy grounded in current trends in the digital humanities and cultural studies, as well as innovative scholarship on topics ranging from political rhetoric and African-American aesthetics to medieval literature, our mission is to stress the value of the humanities and the flexibility of the English major while providing a solid liberal arts education for our students.