GeoWeeks and GIS Days
Geospatial Sciences B.A. | GEOINT certificate | Geospatial News | Geoscience Student Association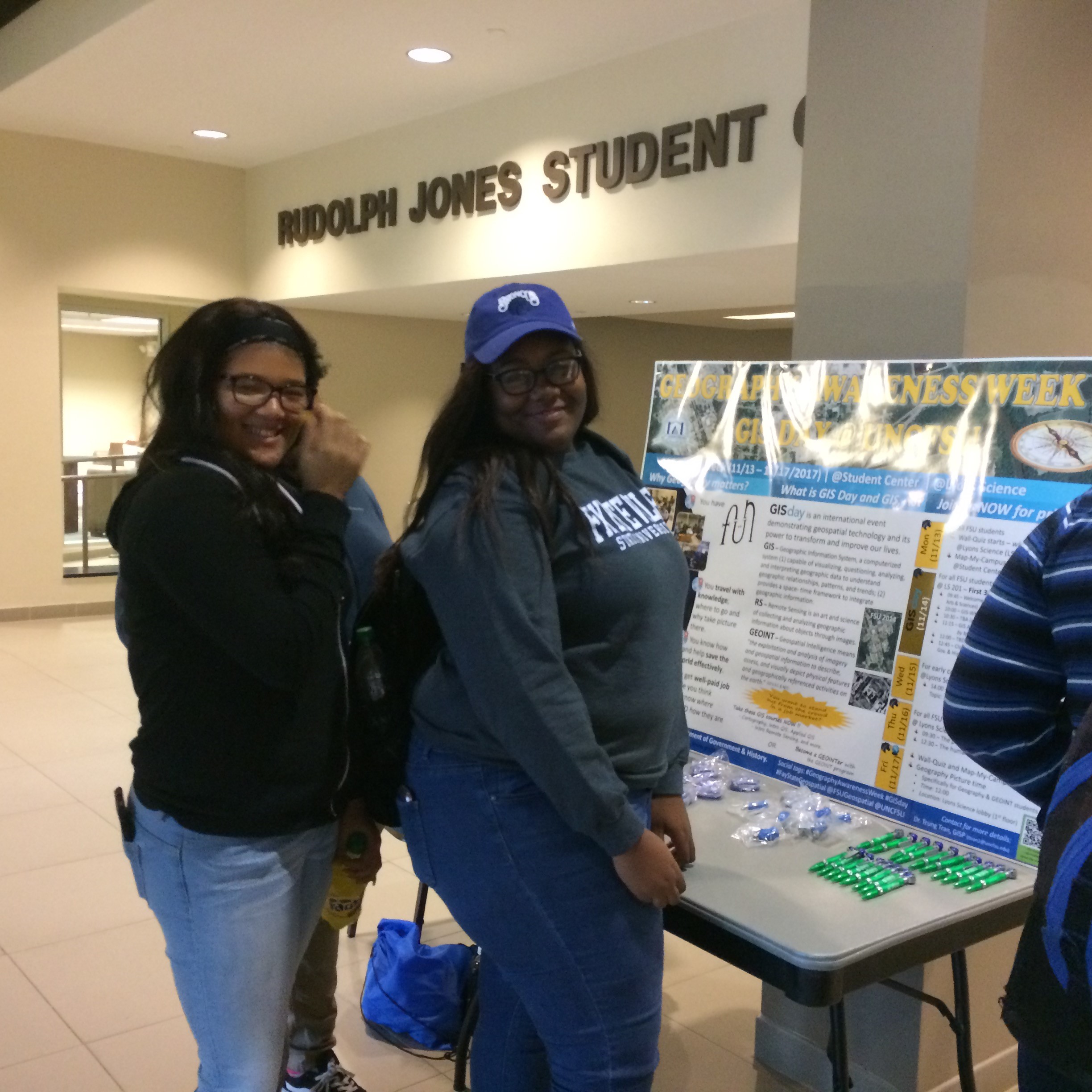 Founded by presidential proclamation in 1987, Geography Awareness Week, or GeoWeek, has been observed during the third week of November each year. The event has been celebrated by students, educators, families, schools, nonprofit organizations, business, and policymakers around the world. It has been a unique opportunity for not only geographers but in fact for everyone who wants to get together to learn and share their geographic experiences to help raise the awareness of the importance of spatial thinking and geographic literacy that are needed to make far-reaching decisions. Moreover, since 1999, the Wednesday of GeoWeek has been dedicated to GIS Day. GIS standing for Geographic Information Systems are computer-based systems allowing for collecting, organizing, analyzing, and visualizing geographic data. These systems have become important tools that help to positively change the world physically and perceptionally. In concert with other universities across the United State, especially in the state of North Carolina, Fayetteville State Univesity celebrated the GeoWeek and GIS Day for the first time in 2017. The event was organized and coordinated by the Geography program housed in the Department of Government and History.
Current event: 2019 Geospatial Week & Geospatial Poster Competition (TBA)
2018 GeoWeek and GIS Day (11/13 - 11/16/2018)
The Geography program at Fayetteville State University is pleased to announce that the FSU 2018 GeoWeek and GIS Day will take place from 11/13 to 11/16/2018 with multiple activities. More importantly, there will be the FSU Geospatial Poster Competition taking place from Thursday (11/15) at 2:00 pm to Friday (11/16) at 5:00 pm in the Rudolph Jones Student Center. FSU undergraduate students of all majors across the campus as well as early college students from Cumberland International Early College High School and Cross Creek Early College High School are invited to participate in this competition with their poster presenting a research in which geographic information is utilized or produced. Winners will be awarded with monetary prizes. FSU students who want to participate in the competition must register for their poster presentation. In addition, food and door prizes will be provided during the competition. Please check out this link for the full program of the 2018 GeoWeek and GIS Day, the Competition requirements, and the Competition registration form.
The FSU 2018 GeoWeek and GIS Day is sponsored by Caliper Corporation and SpatialGIS LLC.
Caliper Corporation founded in 1983 and headquartered in Newton, MA, is a technology leader in the development of GIS and transportation software. Caliper is also a highly regarded consulting and R&D provider offering professional services in quantitative management consulting, transportation, and decision support systems development. Caliper software products are supported with extensive technical services in GIS applications and training, database development and software customization. Caliper is the developer of TransCAD® Transportation Planning Software, TransModeler® Traffic Simulation Software, and Maptitude® Mapping Software & Geographic Information System.

SpatialGIS is geospatial consulting firm founded by Kendrick O. Faison, M.S. GSci. Mr. Faison developed the company's core services based around his more than 13 years of Geospatial and Emergency Management experience. SpatialGIS is a solution-focused company that specializes in supporting federal, state, local and commercial clients. SpatialGIS consolidates industry standards and developed a rapid geospatial team for all emergency situations along with agile development practices that gives us a competitive edge.
2017 GeoWeek and GIS Day (11/13 - 11/17/2017)
In 2017, at Fayetteville State University, the GeoWeek and GIS Day was celebrated for the first time by the Geography program housed in the Department of Government and History. The event took place with multiple activities going on everyday for the whole week from Monday (11/13) to Friday (11/17/2017). The event successfully attracted more than 170 students including early college students. They enjoyed the Map-Our-Campus activity by pinning a place on campus where they like the most onto a campus map as well as had fun in exploring the physical and cultural landscapes around the world with the wall quiz and trivia games. Cumberland International Early College High School students had a great opportunity to present their poster and photos relevant to environmental sustainability during the poster competition and photo contest. Furthermore, our students expressed their special appreciations to the presentation session with three invited speakers who are from the City of Greensboro and from USSOCOM NGA Support Team, National-Geospatial Intelligence Agency. The presentations concentrated not only on the applications of geospatial technologies in transportation planning and in national security but also on procedures and tips to apply for internships at the City of Greensboro and at NGA.