2nd Lt. Dwayne "Duke" Bostic, '19
"My MBA from FSU helped me in the Logistics Basic Officer Leaders Course. I felt like I had an edge."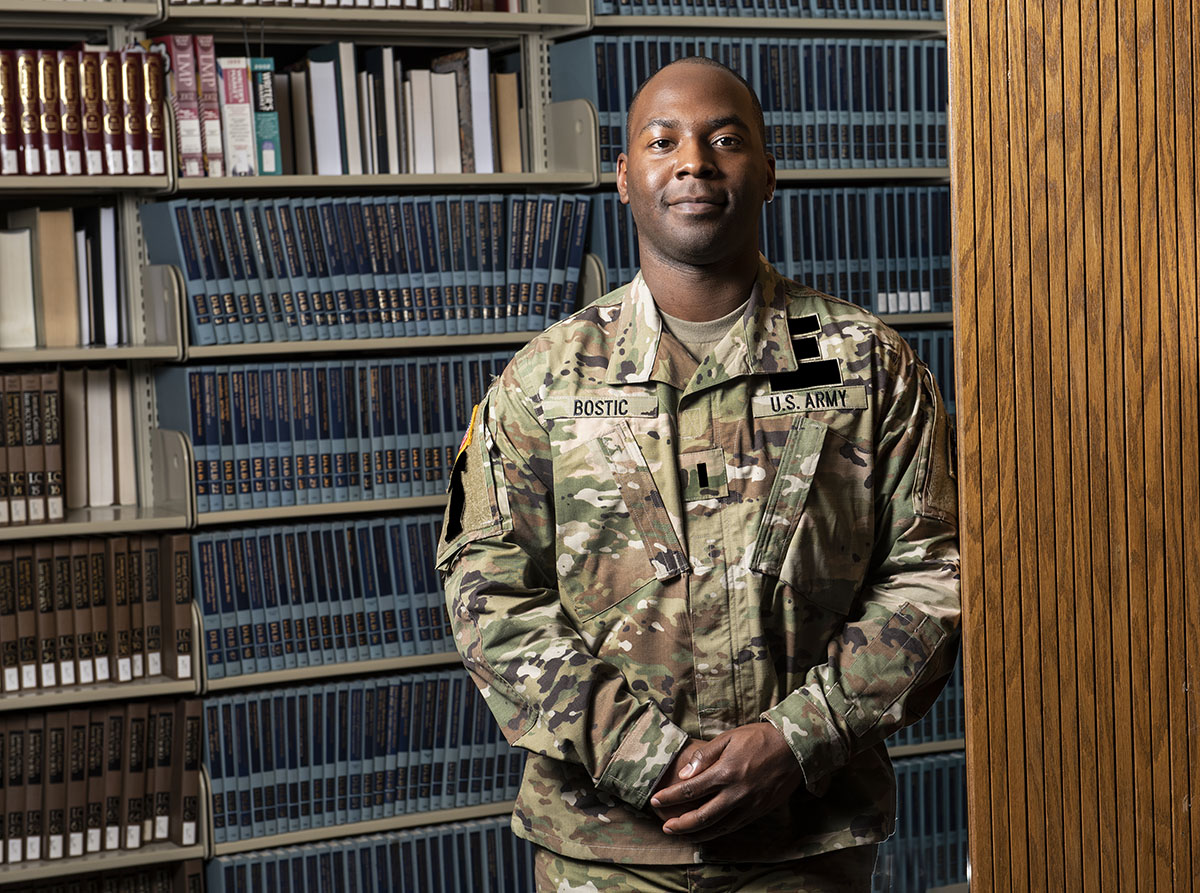 2nd LT Dwayne "Duke" Bostic Photo by Cindy Burnham
Growing up in Augusta, Ga., as the son of a single mom, Dwayne "Duke" Bostic loved school and made good grades. More than anything, he dreamed of going to college, but he knew that his family could only afford to send one person to school. Duke encouraged his sister Ashley, who's 10 months younger than him, to pursue her business degree. Duke joined the Army. The year was 2006.
It didn't take long for Duke to realize what he wanted in the military: "How do I become an officer?" he asked the man who he had grown to admire the most, his team leader, his captain.
The response was swift: "Get your college degree."
Duke wasted no time, even in the midst of his first deployment, which was to Afghanistan. He immediately registered for an online class and began his college journey.
"This was when IEDs were blowing up all the time," he recalls, "and I wasn't comfortable per se, but I knew a job had to be done."
As a medic and patient administration specialist, Duke would treat the injured until the wee hours of the morning, and then retreat to his tight quarters to "knock out an assignment for my psychology class." Two more deployments would follow - to Croatia in 2009 and back to Afghanistan in 2014.
In between the second and third deployment, Duke earned his bachelor's degree from an online university with a 3.6 grade-point average. He enrolled in Fayetteville State University's master in business administration program.
Now at age 32, Duke recently achieved two milestones: He earned his MBA from FSU, also with a 3.6 GPA, and he was commissioned as a second lieutenant in the U.S. Army. His family was there for the military commissioning ceremony, beaming with pride, including his mom, wife and three children. His father, grandfather and uncle traveled from Florida to be there. Sister Ashley, who earned her bachelor's degree in business some years ago, could not be there because of work obligations, Duke says, but was there in spirit.
2nd Lt. Duke Bostic says he is intent on serving for 25 years in the Army. He adds that earning his advanced degree has been beneficial to him as a Quartermaster Officer in the 82nd Sustainment Brigade: "The MBA helped me in the Logistics Basic Officer Leaders Course. I felt better able to digest terminology and systems. I felt like I had an edge."
Duke has plans to continue his education at FSU. With a passion for project management, more classes are on the horizon. And something else. He will be opening his own mail-order business, called Coffee Culture, focusing on a favorite beverage.
"I'm so glad that I persevered through it all," says Duke.
He is a testament that dreams really do come true.
---
FSU is changing lives.
We can change yours, too.
---
Story by Janet Gibson. Photography by Cindy Burnham. Graphic Design by Mariano Santillan.