Heroes Welcome!
Whether you're transitioning out of the military, dealing with frequent deployments, or balancing your work, school and family life as a military spouse, we are here to help you achieve your higher education goals. At FSU, we appreciate your service and are proud to serve you. We understand your needs and make applying easy. Through the entire admission process, we work with you, one-on-one, getting to know you and your goals and helping you build a plan to succeed.
When you apply, a specialized and knowledgeable military admissions counselor will be assigned to you. Our military admissions counselors have experience in the military and are educated and trained so they can relate to your situation and know how to help you get exactly what you need to earn your degree. FSU is a proud member of the world-renowned UNC System; an incredible value! You have the option of taking classes on Fort Liberty, Seymore Johnson Air Force Base, on main campus, and online. We offer 42 degrees and unlimited career opportunities.
FSU is military-friendly. Read one of the many success stories from students FSU supported in achieving their dreams.
Read one of the exciting stories about the varied partnerships between Fayetteville State University and Fort Liberty Army Base.
Read about our Fort Liberty Center and our Student Veteran's Center. Then, apply.
FSU is changing lives.
We can change yours, too.
---
Success Stories From Students:
Meet: Andy Womack
Some opportunities are too good to pass up.
Just ask Andy Womack.
When Andy learned about the SAP certification program through Fayetteville State University's Broadwell College of Business & Economics, he knew it was for him. SAP stands for Systems, Applications and Products, a software program used by top companies and the military to track customer and business interactions.
With a starting salary in the six figures, SAP consultants are in high demand.
After an injury cut his military career short, Andy, 40, had achieved steady success and promotions in corporate jobs. His friends thought he was crazy to leave a secure career to dedicate himself to the intensive 16-week SAP program, plus two weeks of "test-prep" boot camp. He knew, though, it was a "smart risk" - and the GI Bill would pay for his education.
It was the best thing he could have done.
"Something was missing in my former career," says Andy, who has a bachelor's degree in political science. "I didn't want my livelihood to be dictated by the ebb and flow of the economy."
He credits his professor, Dr. Murat Adivar, for an admirable leadership style, keeping the class interesting and challenging, and inspiring the students to succeed.
"This is real. This is tangible. This is a life-changing class," says Andy, who is married and has a daughter in college, along with six rescue dogs.
"If business, finance or engineering students aren't considering the SAP certification program, they're doing themselves a disservice," he says. "It will make them more marketable."
"If you are a good soldier and a good student, you will be on the path to success."
Just weeks after completing the SAP class and passing a stringent exam, Andy landed a functional consultant position for an international company in Atlanta.
FSU changed Andy's life. We can change yours, too.
Araina McCormick Photo by Cindy Burnham
Meet: Araina McCormick
As a veteran, military spouse and a mom of three (with No. 4 on the way), Araina McCormick is a study in joy, organization and endurance. She smiles often and laughs easily. At age 32, she is on the cusp of graduating with a 3.95 GPA from Fayetteville State University with her Bachelor's degree in a program called Birth Through Kindergarten, Non-Teaching, and a Minor in Social Work.
Araina always knew that she is meant to work with children, and FSU is helping her fulfill that purpose. Her short-term goal is to secure employment with a nonprofit that advocates for children. Her long-term goal is to own "a child-care center or activity center where children and their families can enjoy quality time together."
"I believe my interest in advocating for children goes back to being adopted," says Araina, who was born in Washington, D.C., and brought home just before her first birthday by a loving couple who had fostered children for three decades. The family included two other adopted children, and they relocated to Emporia, Va.
At 17, Araina graduated from high school with honors and immediately enlisted in the U.S. Army. She soon met her future husband, Demario, at their duty station in Italy, and then they were both deployed to Afghanistan - to different locations.
Over her military career, Araina has been deployed three times while her husband has deployed four, two of which were during the births of their first two children. The oldest, a daughter, was born deaf, which has motivated Araina to work with children with disabilities, as well.
Araina's educational journey began at Fayetteville Technical College, where she earned her Associate degree in Early Childhood Education. Afterward, she deployed to Kuwait, returned and, with 14 years in the military, she got out because of service-related disabilities. She enrolled at FSU in January 2018, using the GI Bill to pay for her education and is set to graduate in May 2020.
"The professors are great," she says. "The classes aren't super-big. I feel like I'm learning a lot here."
With children 11, 5, less than a year old and a baby expected in June 2020, Araina keeps a strict schedule - one that includes rising early and making sure everyone gets off to school (the two youngest are in FSU's Early Childhood Learning Center). In the evening, she prepares dinner and they all do homework together.
"I have a lot on my plate, but FSU has been so convenient and has changed my life for the better," Araina says. "I will be the first of my immediate family to graduate from a four-year college, and I hope to instill my love for school and learning in my children - since they have witnessed the hard work I have put in to graduate and accomplish my goals."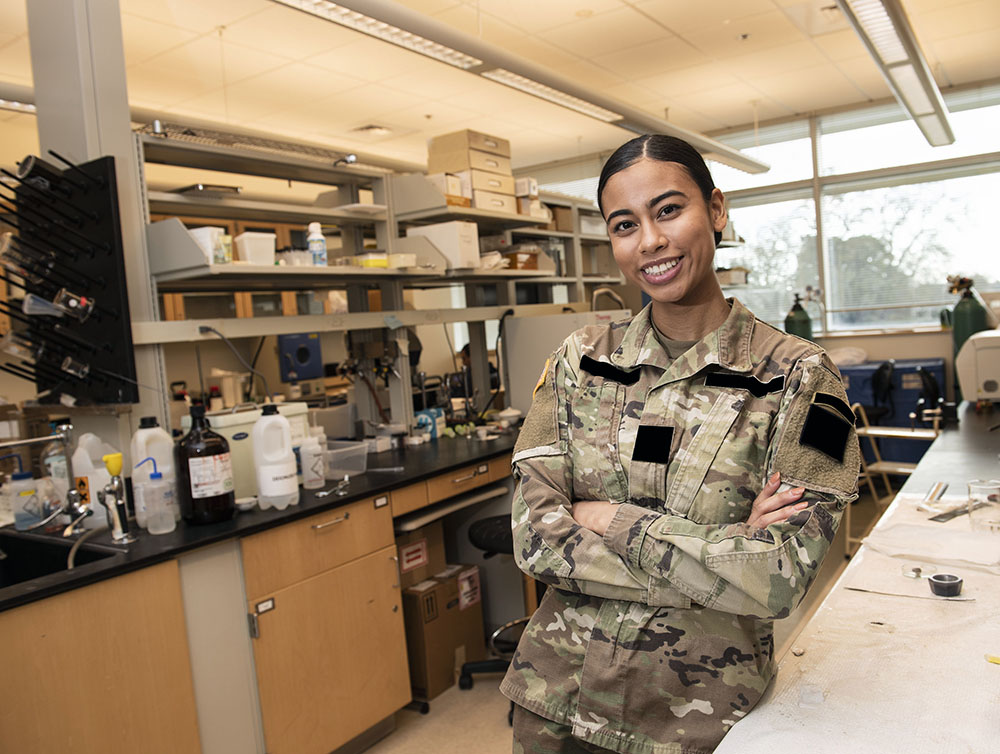 SGT Deonna Aponte Photo by Cindy Burnham
Meet: Deonna Aponte
Sgt. Deonna Aponte dreams of becoming an Army dentist.
Thanks to FSU, she is well on her way.
Deonna, 22, is slated to earn her Bachelor of Science degree in Organismal Biology in 2021. "Compared to the plant sciences degree offered by FSU, the organismal degree is about animals," she says, with a wide smile.
She believes her degree will serve as a solid foundation for entrance into dental school. Tops on her list are UCLA or Howard University.
A native of San Bernardino, Calif., Deonna graduated from high school there, briefly attended junior college, joined the military, married her longtime sweetheart, completed her basic training in Fort Jackson, S.C., and then landed at Fort Liberty.
She is assigned to the 83rd Civil Affairs Battalion, where she works in tactical communications.
Deonna always loved school and desired a college education. She also knew the military has programs to help with costs, so her education would be paid. Focused and energetic, Deonna started by earning her associate degree from Fayetteville Technical Community College - and then she began talking with counselors at four-year schools.
"The FSU counselors are by far the best," she says. "They really care."
Deonna says she is continually impressed by - and grateful for - engaged professors who take the time to help individual students. She also appreciates the cultural diversity of FSU. Deonna's family is a harmonious blend of Laotian, African-American, Puerto Rican and Mexican. Tall, slender and exotic, Deonna has done some modeling and hopes to do more - when she isn't fulfilling her military duties or attending classes at FSU.
"I learn best in-person and not online," she says. "To have the opportunity to enjoy the four-year college experience, along with the convenience of FSU ... it made my decision easy."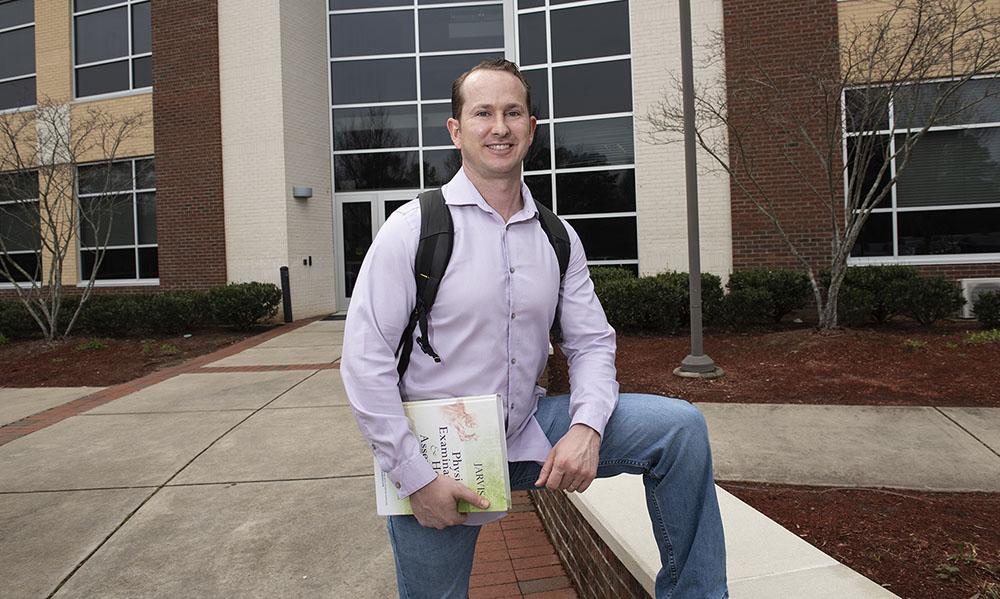 SFC Jacob Howe Photo by Cindy Burnham
Meet: SFC Jacob Howe
SFC Jacob Howe knows a thing or two about comebacks.
In high school, he admits "barely graduating," with a 1.6 grade-point average. In college, he achieved a 3.82 GPA to earn a Bachelor of Science degree in Nursing in 2019 - while also serving as a decorated Green Beret and balancing life as a husband and father to three children.
Credit the people and programs of Fayetteville State University.
"If you have a question, the professors are always there for you," he says. "They're going to help you - from the top-down. They're here because they care about the future of nurses."
Jacob, 38, is candid about his journey. Originally from Peoria, Illinois, he grew up as the third of four children in a home where work was not only valued, but practiced every day. After his father was laid-off from a factory job, the family relocated to a rural area of Missouri, so he could gain new employment. Jacob also was fixated with work. By age 15, he was working almost full-time while also attending school.
After graduating from high school, Jacob was employed in the travel and tourism industry before deciding to join the military. A chance encounter just prior to signing up became his epiphany. While visiting a brother in Air Force Basic Training in San Antonio, Jacob came upon a horrific car accident. He didn't hesitate to stop and help an injured woman until an ambulance arrived. "The paramedics said I did a good job," he recalls. That experience stayed with him - the ability to aid someone in need.
Fast forward to his Army service and, ultimately, January 2018. That's when he enrolled in FSU's Nursing School after completing his prerequisites at Campbell University, while also serving as an instructor at the Joint Special Operations Training Center at Fort Liberty. Jacob had an immediate reference point regarding FSU's Nursing School. His wife graduated from the program and is currently a registered nurse at Womack Army Medical Center
"FSU gave me the opportunities while I am active-duty to accomplish my next steps," he says. "FSU truly helped me set my eyes on what I want for my final career."
Sharon Gallagher, a lecturer in the Nursing School, calls Jacob "one of the hardest-working students" she has ever known. "He wants it to the nth degree," she says. "He's tenacious."
Jacob will tell you that he inherited that tenacity from his father, who never let a setback get him down, often juggled three jobs, and ended up achieving major career success.
With focus and determination, Jacob is on-track with plans to get commissioned as an Army officer, continue his education and become an emergency nurse practitioner.
"I'm 180 degrees from who I was in high school," he says. "Working in Special Operations has been the pride of my career, and I look forward to this new chapter and my journey in the Army Nurse Corps with a high level of enthusiasm."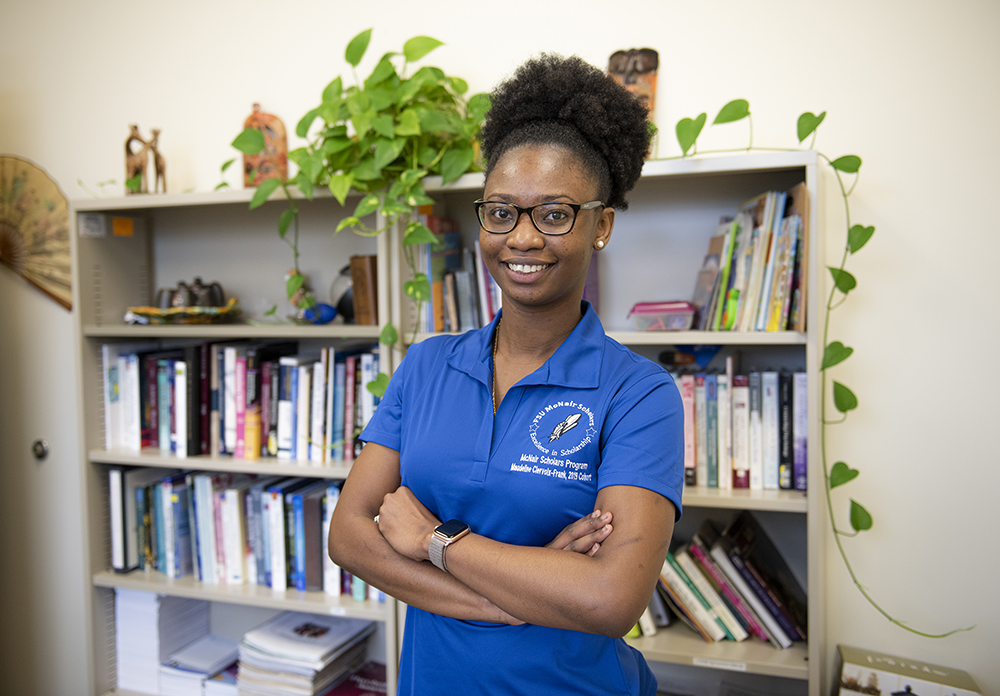 Maudeline Clervoix-Frank Photo by Cindy Burnham
Meet: Maudeline Clervoix-Frank
Maudeline Clervoix-Frank '19 learned early-on to never take two things for granted: life and education.
Growing up in Port-au-Prince, Haiti, she became deaf in her left ear at age 9 because of an untreated infection. At 14, a 7.0 magnitude earthquake devastated her country with 3 million people affected, including about 250,000 lives lost. Many of them were her close friends.
Now on the cusp of turning 25, Maudeline is a study in unbridled joy. A McNair Scholar, she is a recent Fayetteville State University graduate and the wife of an Army sergeant stationed at Fort Liberty. When she ambles into the FSU Psychology Department for a visit, she lights up a room. Xenia Lopez, an Administrative Specialist who encouraged Maudeline throughout her days at FSU, is thrilled.
"One of the things that stands out about Maudeline is her friendliness," Lopez says. "She has that desire for learning. She's just an excellent student who wants to succeed."
Maudeline's journey began as the curious middle child of a father who worked as a private driver and a self-employed mother. In 2010, the father and three children joined the mother who had been living in Queens, New York. Maudeline was enrolled at a high school with immigrant students from all over the world.
"It was tough," she says. "There was no one from my country. I was supposed to be in 10th grade, but they put me in 9th grade. It was an hour bus ride to and from school."
She also had to learn how to speak English - and was honored at her new school for being "the fastest learner." Haitian Creole and French are her native tongues, and she also picked up Spanish quickly from Dominicans who befriended her at school.
She balanced her studies with work in a convenience store and then as a room-service operator for a hotel. She attended a community college and also earned her certificate to become a home health aide. Love called in the form of a neighborhood boy who played soccer with her brother. Timothy Frank, a soldier, proposed. The couple were married in 2016.
That's how they came to Fayetteville, and specifically, how Maudeline discovered Fayetteville State and began exploring education options. "That's when I started talking to Ms. Xenia Lopez. She gave me hope."
Maudeline says she is grateful to the faculty and staff for ensuring her success, including her mentor, Dr. Melanie Shorter and also Dr. Chu-Chun Fu. "The Psychology and McNair research staffs became the family and support that I needed on my journey," she says.
In December 2019, Maudeline earned her Bachelor of Science degree in Psychology with a 3.6 grade-point average. Her goal is to pursue her Master's and Doctorate degrees and become a Counselor. Currently, she is a math tutor at Anne Chestnutt Middle School.
"All the struggles made me determined to be the best scholar I can be, and I am forever grateful for all the opportunities that I have received in the United States," she says. "The education system in Haiti has never been great, and it was always a struggle to even finish a school year peacefully because of political rivalries."
Maudeline credits FSU with changing her life and giving her a bold, new direction.
"FSU has given me a better understanding of who I am - and who I want to be in life," she says. "It's been about finding my voice, my story."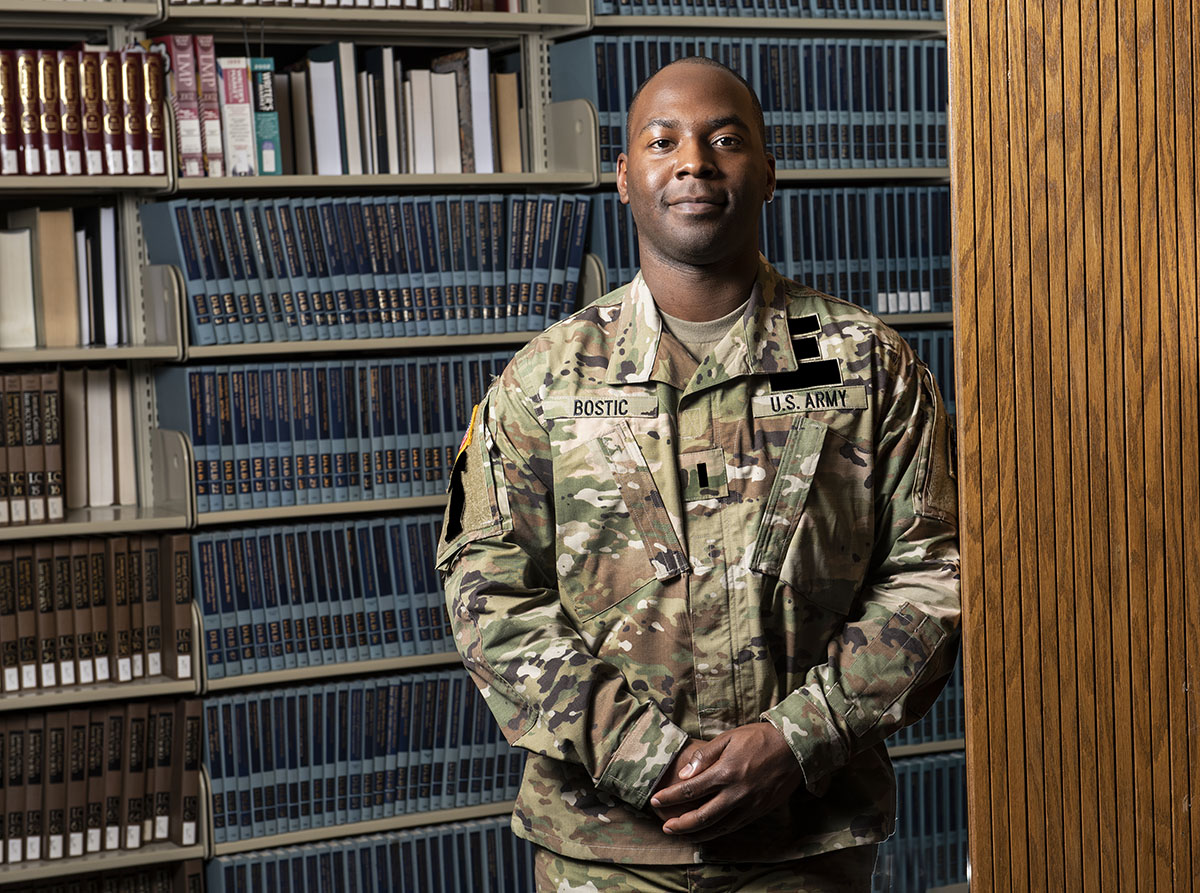 2nd LT Dwayne "Duke" Bostic Photo by Cindy Burnham
Meet: 2nd LT Dwayne Bostic
Growing up in Augusta, Ga., as the son of a single mom, Dwayne "Duke" Bostic loved school and made good grades. More than anything, he dreamed of going to college, but he knew that his family could only afford to send one person to school. Duke encouraged his sister Ashley, who's 10 months younger than him, to pursue her business degree. Duke joined the Army. The year was 2006.
It didn't take long for Duke to realize what he wanted in the military: "How do I become an officer?" he asked the man who he had grown to admire the most, his team leader, his captain.
The response was swift: "Get your college degree."
Duke wasted no time, even in the midst of his first deployment, which was to Afghanistan. He immediately registered for an online class and began his college journey.
"This was when IEDs were blowing up all the time," he recalls, "and I wasn't comfortable per se, but I knew a job had to be done."
As a medic and patient administration specialist, Duke would treat the injured until the wee hours of the morning, and then retreat to his tight quarters to "knock out an assignment for my psychology class." Two more deployments would follow - to Croatia in 2009 and back to Afghanistan in 2014.
In between the second and third deployment, Duke earned his bachelor's degree from an online university with a 3.6 grade-point average. He enrolled in Fayetteville State University's master in business administration program.
Now at age 32, Duke recently achieved two milestones: He earned his MBA from FSU, also with a 3.6 GPA, and he was commissioned as a second lieutenant in the U.S. Army. His family was there for the military commissioning ceremony, beaming with pride, including his mom, wife and three children. His father, grandfather and uncle traveled from Florida to be there. Sister Ashley, who earned her bachelor's degree in business some years ago, could not be there because of work obligations, Duke says, but was there in spirit.
2nd Lt. Duke Bostic says he is intent on serving for 25 years in the Army. He adds that earning his advanced degree has been beneficial to him as a Quartermaster Officer in the 82nd Sustainment Brigade: "The MBA helped me in the Logistics Basic Officer Leaders Course. I felt better able to digest terminology and systems. I felt like I had an edge."
Duke has plans to continue his education at FSU. With a passion for project management, more classes are on the horizon. And something else. He will be opening his own mail-order business, called Coffee Culture, focusing on a favorite beverage.
"I'm so glad that I persevered through it all," says Duke.
He is a testament that dreams really do come true.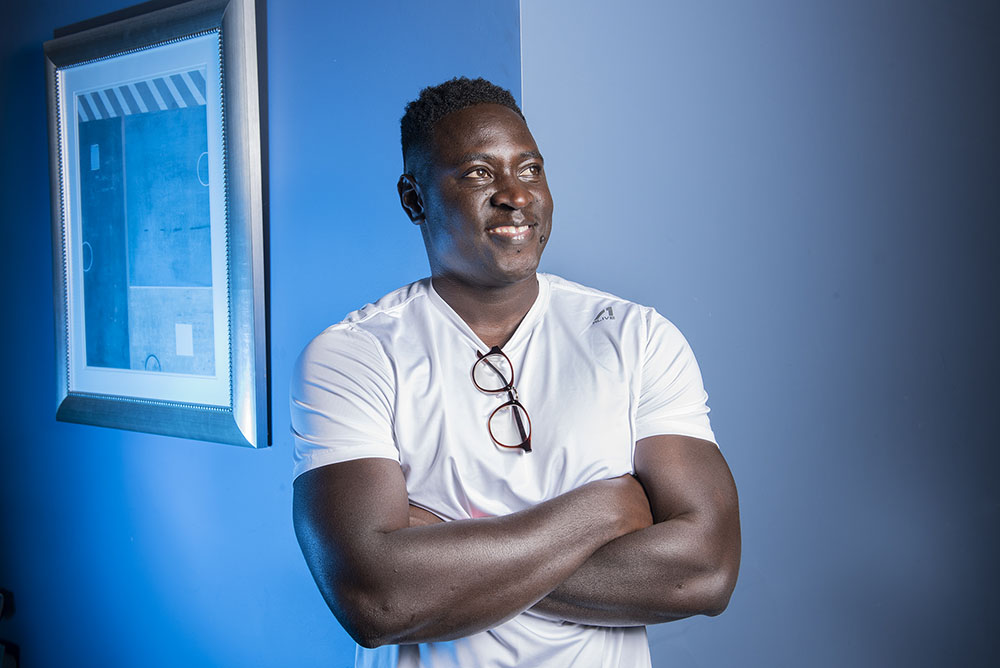 SPC Rodgers Otieno Photo by Cindy Burnham
Meet: SPC Rodgers Otieno
Not only does SPC Rodgers Otieno bear a striking resemblance to actor Idris Elba, but he also has a story worthy of a Hollywood movie.
Title it "From Kenya to FSU."

Add to the journey his service in the U.S. Army - and a prowess for soccer, to boot.
His story begins in small-town Oyugis, Kenya, where he was born on May 7, 1989. The middle child of six, he was in the esteemed position as the first male born to a police officer and homemaker. His father, who played soccer for a police league, taught him the sport. The father's job took the family to many locations in the country, and Rodgers ended up attending 11 schools. He excelled - in his studies and soccer.
Just before taking his final exams in high school - tests that would determine if he was eligible for college - Rodgers would receive tragic news. His father, only in his 40s, died of diabetes complications.Harambee is what helped save him, Rodgers says. It's the concept of a community coming together to help one of their own. The cause was his college education.
The townspeople were able to raise enough for Rodgers to attend a nearby university, where he studied English literature for a year. "That was my first miracle," he says. "Then my second miracle happened."
A coach from Oklahoma Christian University who was visiting his native Kenya spotted Rodgers playing a pick-up game of soccer in the village. In a whirlwind move, Rodgers was transported to America, playing soccer for the university and on his way to earning his bachelor's degree in psychology - on a full scholarship.After graduation, he joined the U.S. Army under a program that would enable him to utilize his language skills (he speaks Swahili and British English). Upon completion of basic training in Fort Sill, Okla., he landed at Fort Liberty in 2015.
"I'm not one to waste any time," he says. "I enrolled in an introduction to social work class at FSU's Fort Liberty campus."
Rodgers hungered to continue his education and took more classes at FSU's main campus, earning his Master of Social Work degree in May 2019. Now he is on-track to receive two graduate certificates, in substance abuse and military behavioral health. He works as a substance abuse counselor at Womack Army Medical Center.
"The FSU programs are geared toward your needs and military-friendly," Rodgers says.
"There are so many great professors," he says. They have brought him out of his shell, encouraged him to speak his truth, question and continue on his educational journey. He gives special credit to Dr. Dennis Corbin, Dr. Quienton Nichols and Dr. Tanisha James. "I'm better able to experience myself, to articulate myself," he says.Flexible schedules and professors are essential for all that Rodgers has to juggle. A husband and father to a young son and daughter, ages 1 and 3, Rodgers arises at 4 a.m., does his required physical training, goes to the gym, opens the clinic at his full-time job and works all day, then classes at FSU, time with family, and he doesn't stop until after he burns the midnight oil - hitting the books.
His next plan is to get accepted into Officer Candidate School in the military.
As for soccer, it's still an important part of his life, too. He was chosen for the 2017 All Army Soccer Team camp and has played in several tournaments for the Fort Liberty soccer team. He dedicates every game to his late father.
"My whole life, everything has fallen into sequence," he says. "God always has a plan out there."Rodgers adds that he's also discovered Harambee is alive and well in the U.S. - and especially on the FSU campus. "The people are so friendly," he says. "They are accepting, and they really care."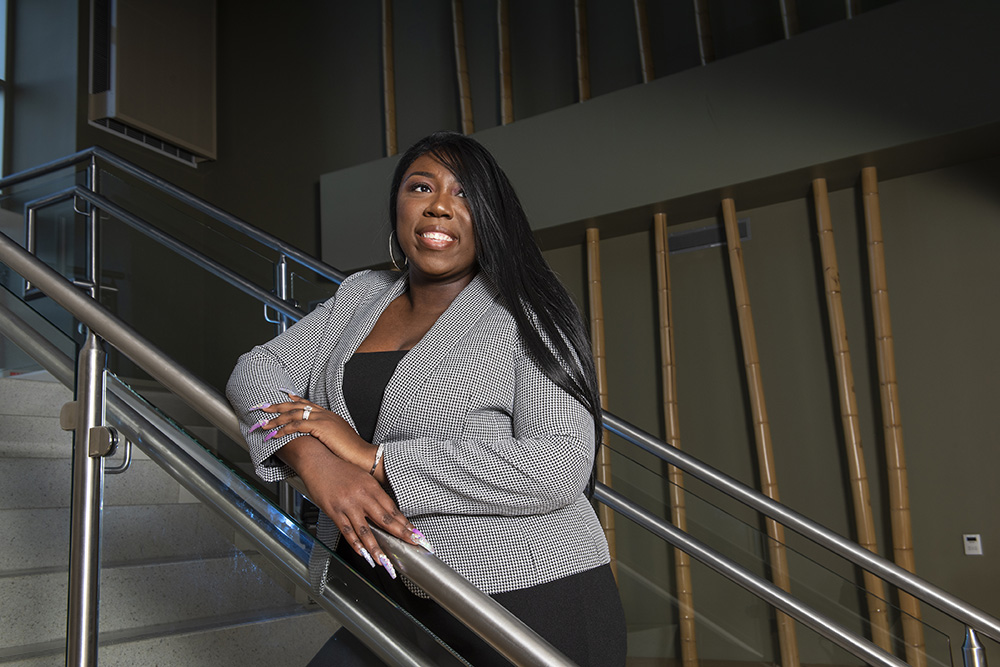 Dalashia Early, Military Spouse Photo by Cindy Burnham
Meet: Dalashia Early
She didn't think she was smart enough to become a nurse.
So, Dalashia Early studied psychology, taking online classes while serving in the Army National Guard. She was a semester shy of earning her bachelor's degree when a friend asked her what she was doing.
"You've always been so smart," the friend said, reminding Dalashia that her heart had long been in nursing. Family members echoed the sentiment. After all, Dalashia grew up lovingly caring for her elderly grandparents who raised her in Waycross, Ga. She also worked in Fayetteville, N.C., as a certified nursing assistant and lived at Friendship House, helping young residents with intellectual and developmental disabilities and, as she says, "just being a friend."
In 2016, Dalashia enrolled in the nursing program at Fayetteville State University, knowing it might not always be easy. Her husband, Vincent, is an Army staff sergeant who has been deployed several times.
"Taking the leap was the best thing I have done for myself and my family," says Dalashia, who credits supportive and "open-door" professors, including Dr. Murtis Worth, Interim Associate Dean for the School of Nursing.
The professor had confidence in Dalashia from the beginning: "I actually met her before she enrolled at FSU. She cared for my father."
Dr. Worth notes, "Dalashia is always smiling, even on the worst days. She's always open and seeking feedback, so caring and thoughtful."
Dalashia graduated with her bachelor of science degree in nursing in December 2019 with a 3.1 GPA. The 26-year-old painted her graduation cap with an image of herself obtaining her degree, along with testaments to her faith and strength, and the message, "There is beauty in the struggle."
She says her artwork was inspired by the "KOD" album cover by Grammy Award-winning rapper and Fayetteville native J. Cole. Dalashia's favorite song, "Love Yourz," is on the disc.
For graduation, and as a last hurrah, Dalashia also wore long, glittery fingernails. She shared a laugh with Dr. Worth who advised: "You'll be soaking those off to get ready for your job!
"That's right. Dalashia has secured the promise of her first nursing job for a medical surgery floor in a top-ranked hospital - in another Fayetteville - Georgia. Her husband, now a military recruiter, is already settled in the Atlanta area, and the couple have recently purchased a home.
"Hearing my family tell everyone I'm now a nurse, I think that's the best thing right now," she says. "I can hear it in their voices ... I know they're really proud of me."