Heroes Welcome!
Whether you're transitioning out of the military, dealing with frequent deployments, or balancing your work, school and family life as a military spouse, we are here to help you achieve your higher education goals. At FSU, we appreciate your service and are proud to serve you. We understand your needs and make applying easy. Through the entire admission process, we work with you, one-on-one, getting to know you and your goals and helping you build a plan to succeed.
When you apply, a specialized and knowledgeable military admissions counselor will be assigned to you. Our military admissions counselors have experience in the military and are educated and trained so they can relate to your situation and know how to help you get exactly what you need to earn your degree. FSU is a proud member of the world-renowned UNC System; an incredible value! You have the option of taking classes on Fort Bragg, Seymore Johnson Air Force Base, on main campus, and online. We offer 42 degrees and unlimited career opportunities.
FSU is military-friendly. Read one of the many success stories from students FSU supported in achieving their dreams.
Read one of the exciting stories about the varied partnerships between Fayetteville State University and Fort Bragg Army Base.
Read about our Fort Bragg Center and our Student Veteran's Center. Then, apply.
FSU is changing lives.
We can change yours, too.
---
Success Stories From Students: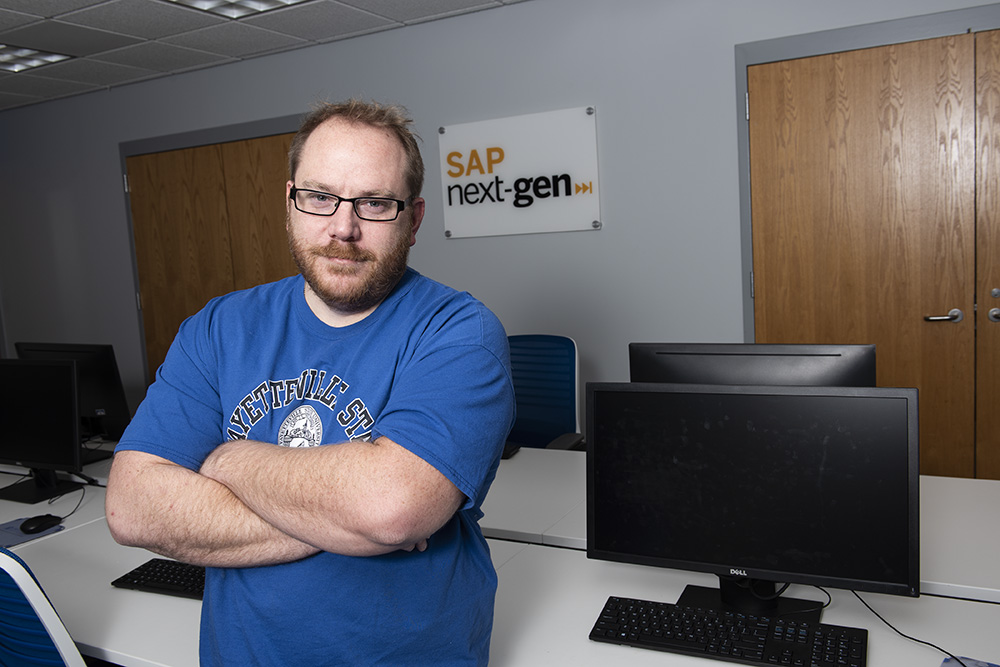 Photo by Cindy Burnham
Some opportunities are too good to pass up.
Just ask Andy Womack.
When Andy learned about the SAP certification program through Fayetteville State University's Broadwell College of Business & Economics, he knew it was for him. SAP stands for Systems, Applications and Products, a software program used by top companies and the military to track customer and business interactions.
With a starting salary in the six figures, SAP consultants are in high demand.
After an injury cut his military career short, Andy, 40, had achieved steady success and promotions in corporate jobs. His friends thought he was crazy to leave a secure career to dedicate himself to the intensive 16-week SAP program, plus two weeks of "test-prep" boot camp. He knew, though, it was a "smart risk" - and the GI Bill would pay for his education.
It was the best thing he could have done.
"Something was missing in my former career," says Andy, who has a bachelor's degree in political science. "I didn't want my livelihood to be dictated by the ebb and flow of the economy."
He credits his professor, Dr. Murat Adivar, for an admirable leadership style, keeping the class interesting and challenging, and inspiring the students to succeed.
"This is real. This is tangible. This is a life-changing class," says Andy, who is married and has a daughter in college, along with six rescue dogs.
"If business, finance or engineering students aren't considering the SAP certification program, they're doing themselves a disservice," he says. "It will make them more marketable."
"If you are a good soldier and a good student, you will be on the path to success."
Just weeks after completing the SAP class and passing a stringent exam, Andy landed a functional consultant position for an international company in Atlanta.
FSU changed Andy's life. We can change yours, too.
---
Campaign Credits: Stories by Janet Gibson. Photography by Cindy Burnham. Graphic Design by Mariano Santillan.
---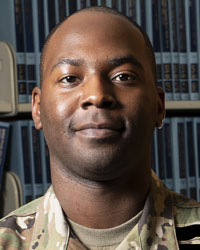 2nd Lt. Dwayne "Duke" Bostic
Coming soon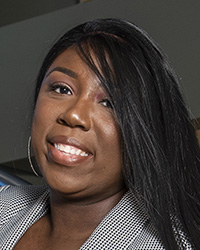 Military wife, Dalashia Early
Coming soon