FSU alums are honored as Principal and Assistant Principal of the Year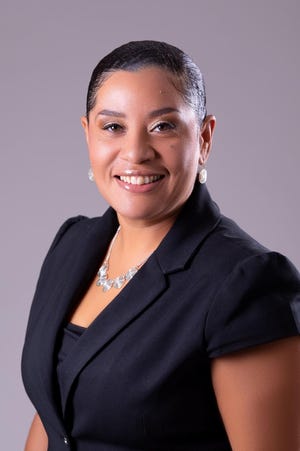 By Janet Gibson
The recently named Cumberland County Schools' Principal of the Year, Joy Williams, and the Assistant Principal of the Year, Dr. Queesha Tillman, are both proud graduates of Fayetteville State - each with two degrees earned at the university.
Williams was awarded her bachelor's degree in English in 1997 and her master's in school administration in 2008. She is principal of Luther "Nick" Jeralds Middle School.
Tillman received her bachelor's degree in sociology in 2001 and her second master's degree in school administration in 2016. She is assistant principal at Loyd E. Auman Elementary School.
The announcement is part of a winning streak. Over the past years, several of the Cumberland County Principals (and Teachers) of the Year have earned education degrees from Fayetteville State. The 2022 CCS Principal and Assistant Principal of the Year were honored in a virtual celebration on Oct. 18. In November, Dr. Tillman also captured the honor of 2022 North Carolina Outstanding Elementary Assistant Principal of the Year (APOY) by the N.C. Principals & Assistant Principals Association (NCPAPA). Williams advances to the regional level with results coming in December.
Williams, who began her career as a teacher at Douglas Byrd Middle School, says one of the most important personal aspects of leadership is showing that she and her administration welcome learning opportunities from all staff members. By building trust and treating everyone as "professionals at every turn," Williams believes she is able to recognize and utilize individuals' strengths.
Williams says she became an educator to "instill my love and passion for reading and literature to our students. I love to read, always have and hoped that as a teacher I could bring that same love to students."
Tillman says she is dedicated to leading by example with "trust, mutual respect and positivity."
"One of the foremost reasons why I became an educator in 2002, specifically in special education, was the chance to positively impact the lives of children with disabilities, developmental delays, and learning disorders," Tillman says. "As my oldest son was diagnosed with autism (severe and profound) around the age of 22 months, becoming a licensed exceptional children's teacher for kindergarten through 12th grades afforded me the opportunity to learn how to help him and other children both academically and socially. My heart is and has always been with individuals living with disabilities."
Both Williams and Tillman agree that Fayetteville State University prepared them well for fulfilling careers.
"FSU's master's program was very helpful in preparing me for administration," says Williams. "The courses led by the professors and the scenarios to which I was exposed helped to guide me along my journey in administration."
Tillman calls her time at FSU "priceless." She adds, "I learned the importance of tolerance, trust and self- awareness. These skills further developed effective communication, celebrating the strengths of others, and transformational leadership qualities in my current practice."
She credits student activities in her growth, including participating in Cheer Phi Smoov, Illusions Modeling Club, as a dancer for Marching Bronco eXpress, and serving as a resident assistant in Bryant Hall. She is also a proud member of Zeta Phi Beta Sorority, Inc.