Carrie Callahan
Alumna | Gallery Curator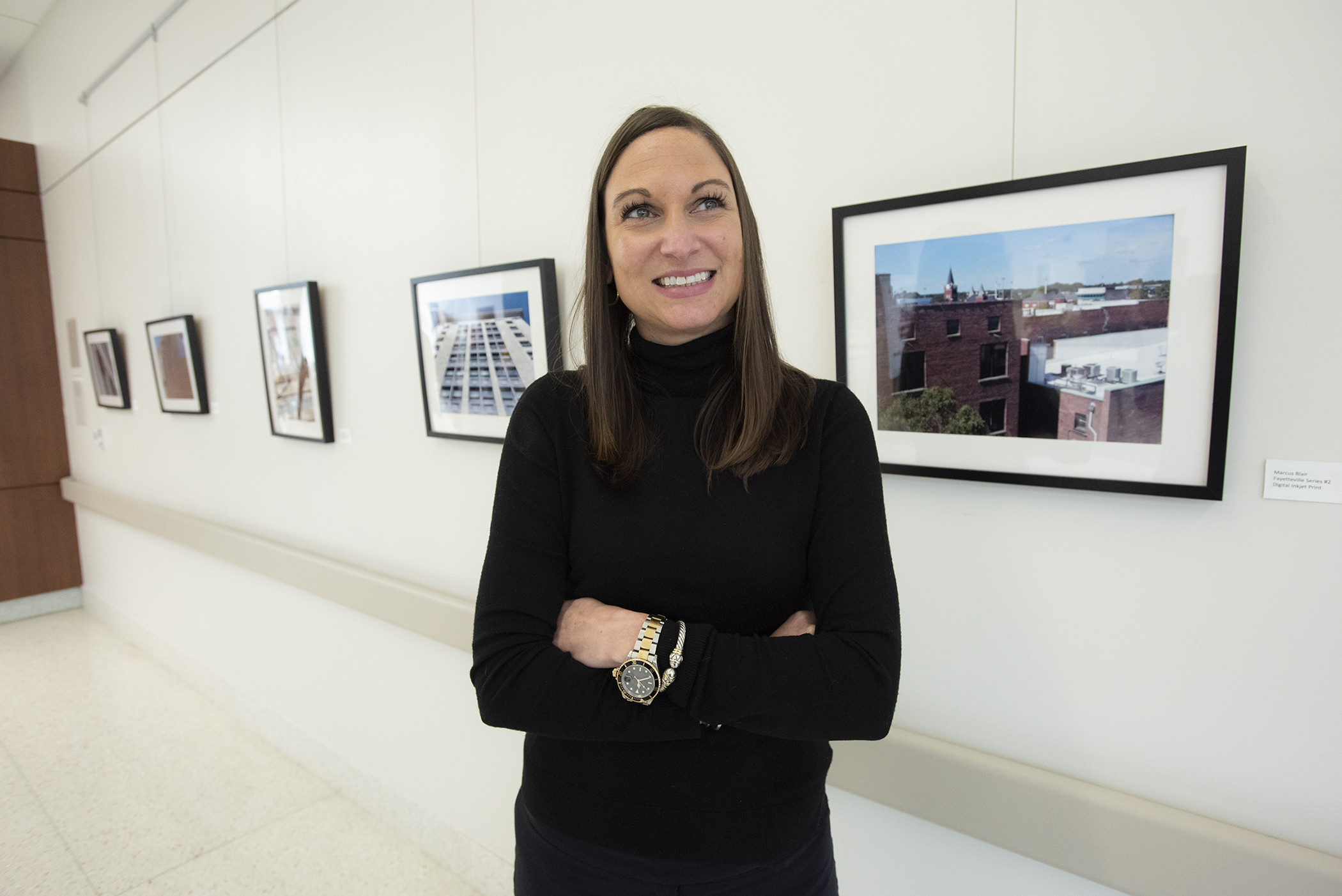 When Lawrence "Law" Jones saw the broken, painted arrow on the asphalt, something stirred inside of him and he got the connection. "This arrow is me," he says. "I'm a bit broken myself. I'm a bit worn."
The epiphany helped Jones understand why FSU photography Professor Shane Booth had assigned his class to find something in the downtown Fayetteville landscape that evokes emotion - which, after all, is the personal nature of art itself.
Jones, a senior majoring in communications, also is a Marine veteran who fought four combat tours in Iraq. After 20 years of service, he retired in 2015 as a staff sergeant. Now 42, he is battling post-traumatic stress disorder, or PTSD. "I used to train Marines to deal with combat stress," he says. "I never expected to be in this situation."
Yet, photography and writing have produced some healing effects on Jones, who is among the FSU photography students with works featured in an exhibition at the Fayetteville VA Health Care Center, off Raeford Road in Western Cumberland County. Jones has two of the eight photos on view in the bright, airy lobby of the VA - his broken arrow on Old Street and a cityscape as reflected in the window of the ABC WTVD-Channel 11 studios on Hay Street.
The exhibition, up until March 7, is the brainchild of Professor Booth and Carrie Callahan, the VA's Visual Impairment Services Team Coordinator and curator for the VA's art exhibitions. Callahan also is an alumna of FSU, having earned her Master of Social Work degree in 2010.
"We were looking for ways to bridge the gap between this giant federal entity, the VA, and Fayetteville," says Callahan. "This is also our first exhibit of photography."
Callahan views the images as "therapeutic," as well as beautiful for the architectural details shown in varying degrees of light. "I've watched people get lost in the art. That's great for both staff and vets, and their families."
Booth instructed his students to focus on negative space when shooting the objects. "What we have are photos of buildings, but not super-obvious photos of buildings," he says. "The images stimulate conversation."
For many veterans and their families who may have not been downtown in a while, the exhibition also is a way to "show off an important part of our hometown."
Lawrence Jones, a single dad, says a highlight for him will be showing the photos to his 20-year-old son. "This was an amazing opportunity for me and the other photography students," says Jones. "I'm super-excited to be in the VA."
Story by Janet Gibson
Photography by Cindy Burnham