Dr. Brooksie Harrington: Renaissance Man
10 questions with Dr. Brooksie Harrington: Professor, writer, musician, and storyteller sets the bar high on living with passion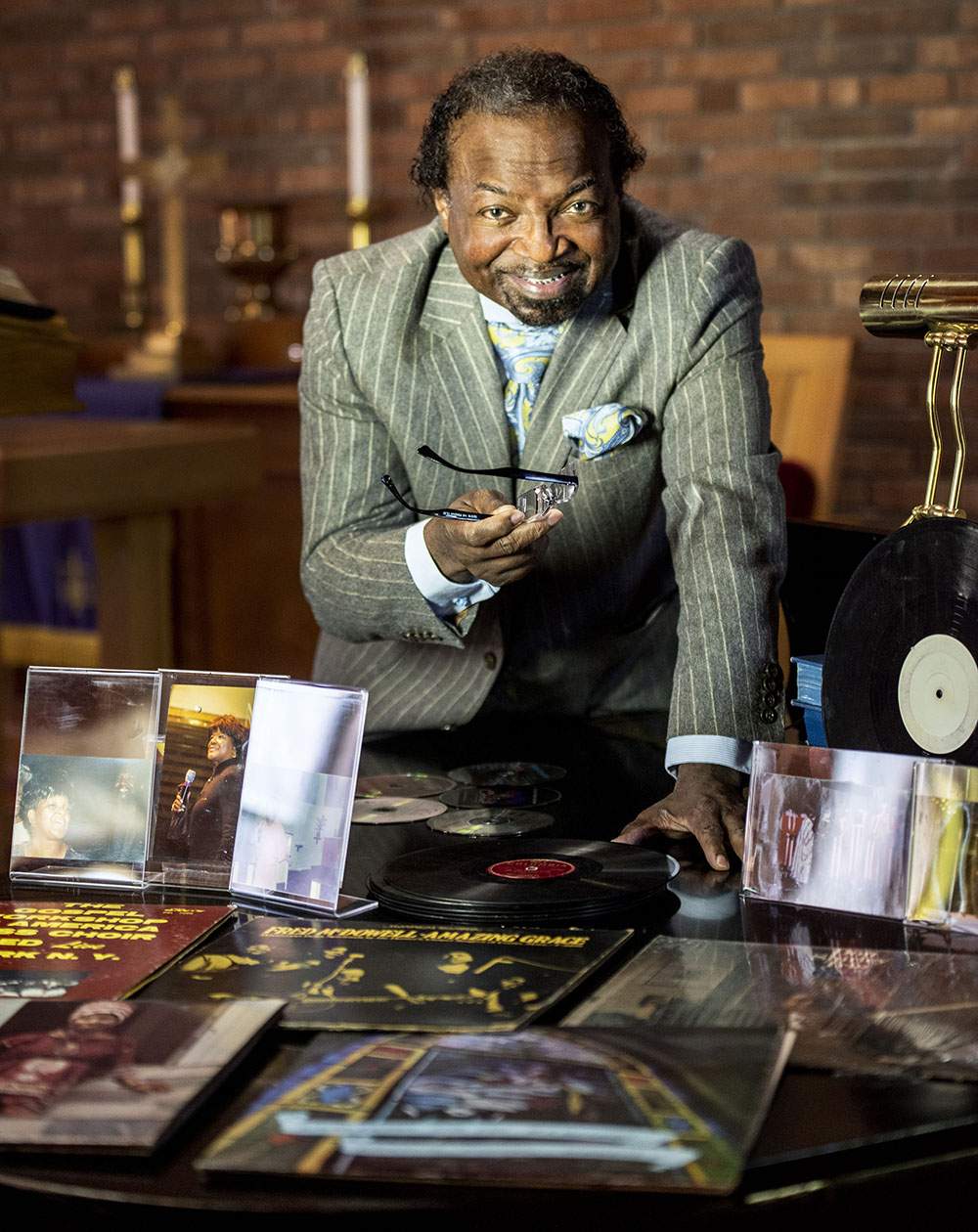 Article by Janet Gibson / Photography by Cindy Burnham
We hear about the concept of a Renaissance Man, but how often do we actually get to meet him and hear his story?
At Fayetteville State University, the distinction could easily go to Dr. Brooksie Harrington, a longtime English professor whose achievements in the writing and entertainment fields have been recognized globally. He also has won the confidence and admiration of living legends - such as "The First Lady of Gospel Music," Dr. Shirley Caesar, whose life on the road he has chronicled and with whom he shares a North Carolina Heritage Award.
"He is a phenomenal person," says Pastor Caesar, in a phone interview from her home in Raleigh, N.C. "Brooksie and his writings are not just a gift to me, but to the entire Gospel music world."
An organist and executive director of FSU's Gospel Choir since 1995, the energetic educator juggles his various roles with ease. Over the past year, he also has served as the Special Assistant to FSU's Interim Chancellor Dr. Peggy Valentine. She calls him "a great editor who gives much thought to expression," adding that "his skillset is much appreciated and needed in the Office of the Chancellor."
Wanting "never to be disregarded," Dr. Harrington was motivated to earn multiple academic degrees and certifications, beginning in 1979 with two Bachelor of Arts degrees in Speech and Spanish Education from the University of North Carolina at Chapel Hill. He followed with a certification in English Education from St. Andrews Presbyterian College (now St. Andrews University). At The Ohio State University, he received two Master of Arts degrees, one in English and another in African-American Literature and Black Studies, followed by a Doctorate in English. He also trained in Educational Administration at Winthrop University.
From an early age, he was thrust into the realm of performing arts. While a music student at UNC, Harrington became the protégé of Professor Martha Flowers, who was known as "The Soprano's Soprano." She achieved notoriety as Bess in George Gershwin's "Porgy and Bess" on screen and stage. Interviewed by phone, Dr. Flowers praised her friend Brooksie for his work ethic and talent - for being "a blessing."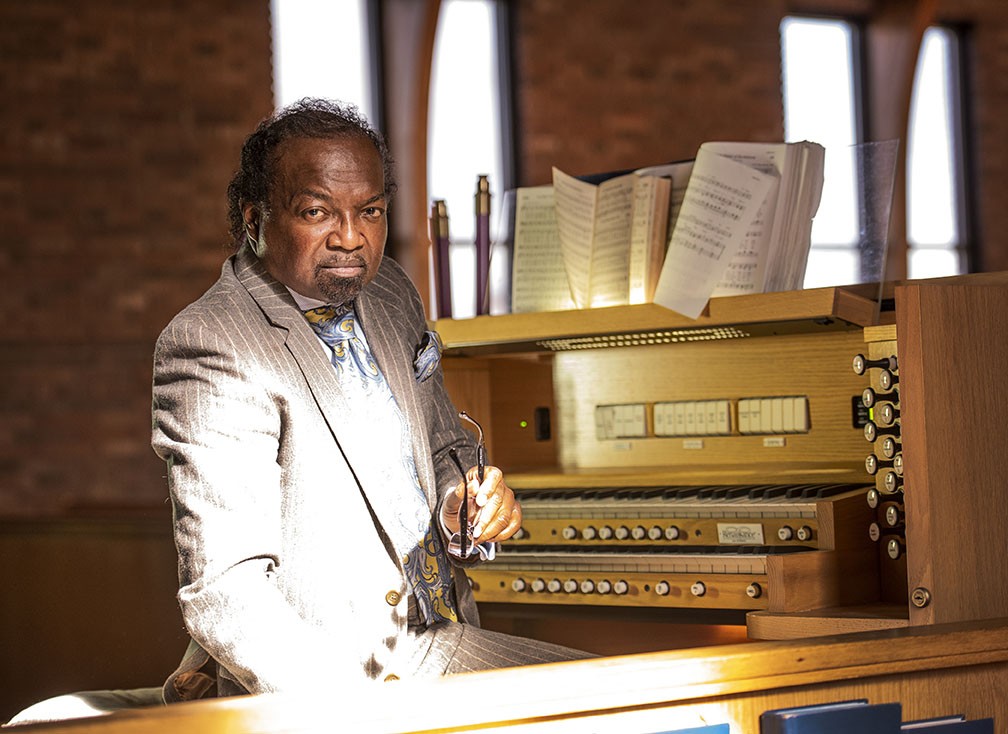 Persistence has always been a part of Dr. Harrington's character. His working relationship with Dr. Shirley Caesar, for example, happened in the late 1980s after he sent multiple requests to accompany her on the road and chronicle her life and performance style.
His resulting work, "Shirley Caesar: A Woman of Words," is housed in the Schomburg Collection in Harlem, New York. The work captured the attention of other artists in which Dr. Harrington ended up interviewing and writing their stories. They included Albertina Walker, Inez Andrews, Rev. James Cleveland, Dorothy Norwood, Cassietta George, Delores Washington-Green, Lou Rawls, Joe Ligon, and Deitrick Vaughn Haddon.
Most recently, Dr. Harrington was awarded the 2020 National Doctorate Diploma and Medallion for Humanitarianism from The Global International Alliance Leadership Program. The honorarium is awarded for "meritorious works," including leadership in civic and community service, global entertainment, and governmental ambassadorship.
He is often tapped as a guest speaker or lecturer and, in November 2020, was interviewed for a program sponsored by the North Carolina Department of Natural and Cultural Resources. The subject: music strategies that support the ecology and economy of our state and abroad.
At age 64, Dr. Harrington has no plans to slow down. He makes his home in Fayetteville, not far from campus, and simply beams when he talks about his daughter, Jewel Harrington, a Doctorate student. With so many dimensions to explore in his active life, we offered up 10 additional questions. On the following page is what he had to say.
Ten Questions:
1. How do you start your day? That is, do you have certain rituals, and why?
In order to ensure focus and productivity, I start my day with prayer and meditation, followed by goal setting.
2. Why is education so important, especially in our current times?
It affords you opportunities and "security" you would otherwise not have. Education gives you options that otherwise you probably would not have. (The window to opportunity.)
3. You have accomplished so much over a long and fascinating career. What accomplishments make you the proudest?
My ability to read music.
4. Who do you look up to, and why?
My dad (87) and my mom (84) because they convinced all of their children at an early age, that by the grace of God and with hard work, success was in their hands, and I believed them!
5. What advice do you have for anyone who aspires to be a performing artist or writer?
Find a good, successful, honest, talented mentor and learn to listen.
6. What do people not know about you that might surprise them?
I have the gift of commanding an audience, which is an urgently necessary skill if you perform. (And guess what? We all perform!)
7. What do you think is the most underrated skill?
My gift of discernment.
8. If you weren't an English professor at FSU, what would you be doing?
Social work, motivational speaker, educational advisor, traveling with a band.
9. What is your life's motto or favorite saying?
Robert Frost's "The Road Not Taken" ... I took the one (The Road) less traveled by and that has made all the difference.
10. What is next for Dr. Brooksie Harrington?
Entrepreneurship.