Jared James
Jared James is a Business Marketing graduate who is originally from Jamaica, NY, but around the age of three he and his mother migrated to Greenwood, SC, where he spend his life until 2010 when he relocated to Charlotte, NC.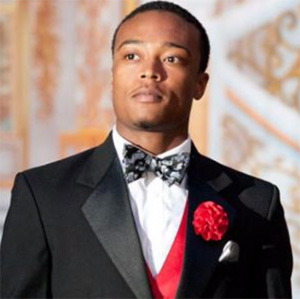 Why did you choose FSU?
Going through many hardships from my home burning down in Greenwood to settling in Charlotte, my initial focus was not to attend college or a university. However, after I took the SAT, I submitted my scores to various North Carolina schools and later received a call from a FSU representative who encouraged me to apply. From that moment on, I believe it was destined for me to attend Fayetteville State University.
What was your first impression of FSU?
My first impression of FSU was: "This is the place that will determine my future. Let's make the most of this opportunity."
What do you do in your spare time?
In my spare time I enjoy singing R&B (preferably 70s-90s) writing poetry, and spending time with my family. I am very much interested in clothing design/fashion and often times find myself cutting, dying, sowing, and bleaching clothing garments.
While at FSU he served as SGA President. His motto was "You can do anything you put your mind to."