Cadet Andrez Anderson knows how to 'finish strong'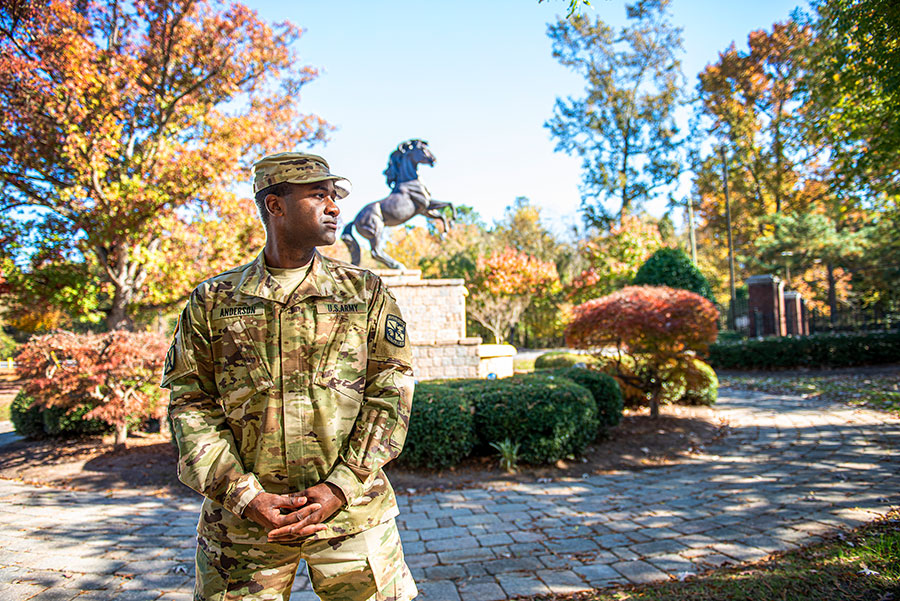 Your future career
is waiting.
FSU will get
you ready.

Learn more
"Finish strong": Those two powerful words have resonated with Andrez Anderson throughout his 27 years of life. They were instilled during his early childhood, even as he witnessed gang violence in Clarksdale, Mississippi, deep in the Delta. He rehearsed that same mantra as he juggled college with a job at Walmart, becoming a father at age 19. He dropped out of college to join the military, which led to deployments in Iraq and Korea.
Now, Cadet Anderson is enrolled in the U.S. Army's Green to Gold Program at Fayetteville State University—and his personal mantra still keeps him running. He is determined to emerge in 2023 from FSU's Army ROTC program as a military officer, becoming 2nd Lieutenant Andrez Anderson.
"Life had beat me down," said now-Sgt. Anderson, reflecting on his decision to sign up for the military in September 2015. "I was so ready for it. I wanted structure."
Fort Liberty leads to enrollment at FSU
In fact, as soon as he landed in Fort Jackson, S.C., for basic training, he knew he had found his niche. Later, when he was stationed at Fort Liberty, N.C., he discovered FSU nearby.
In 2021, he applied for and was accepted into FSU's program to train aspiring military officers. "It's very competitive," Cadet Anderson said, adding that he is up for all challenges. "We cover a lot about field tactics, war tactics, land navigation and leadership. You learn a lot about prioritizing your work and time, the importance of appearance, and public speaking."
Cadet Anderson is a full-time student with active-duty status in the military. In short, he gets paid to go to school.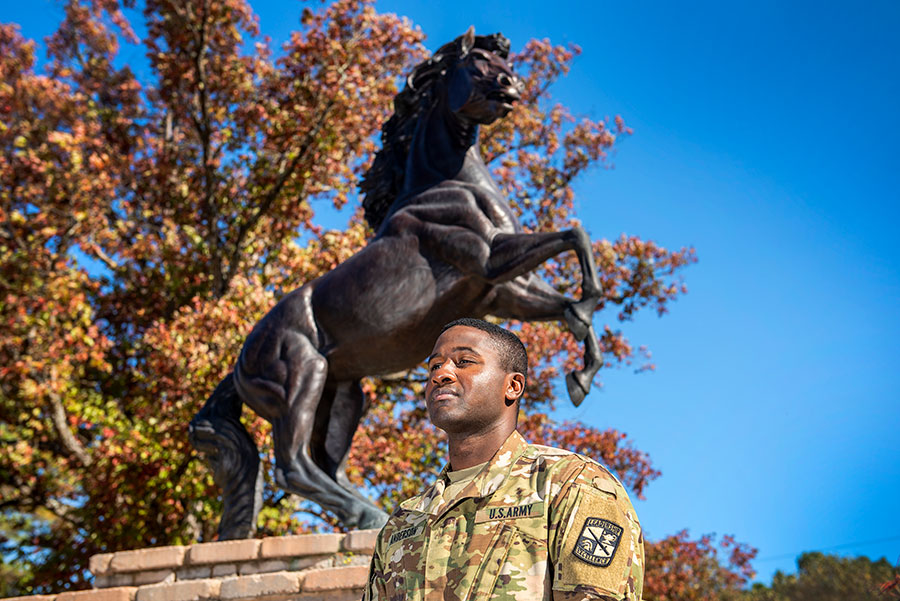 Another strong finish … in the future
Cadet Anderson is working hard at FSU, and it's paying off: He has a 4.0 GPA. He balances school and service with a home life that includes a significant other and a newborn baby, in addition to his older son.
All of that has his instructors impressed, positioning him well for yet another strong finish—this one, in service to his country.
"Cadet Anderson is the best type of solider—curious, well-read, and [demonstrating] leadership. He is forward-thinking, and I enjoy his inquiries about our weekly readings," said Dr. Kelli Cardenas Walsh, who teaches military history at FSU.
"Cadet Anderson, like many of his peers, brings great confidence in the future as U.S. Army officers," she added.
Story by Janet Gibson / Photography by Cindy Burnham