Thomas Bass
Blind since 2006, Thomas Bass advocates a brighter future for students with disabilities.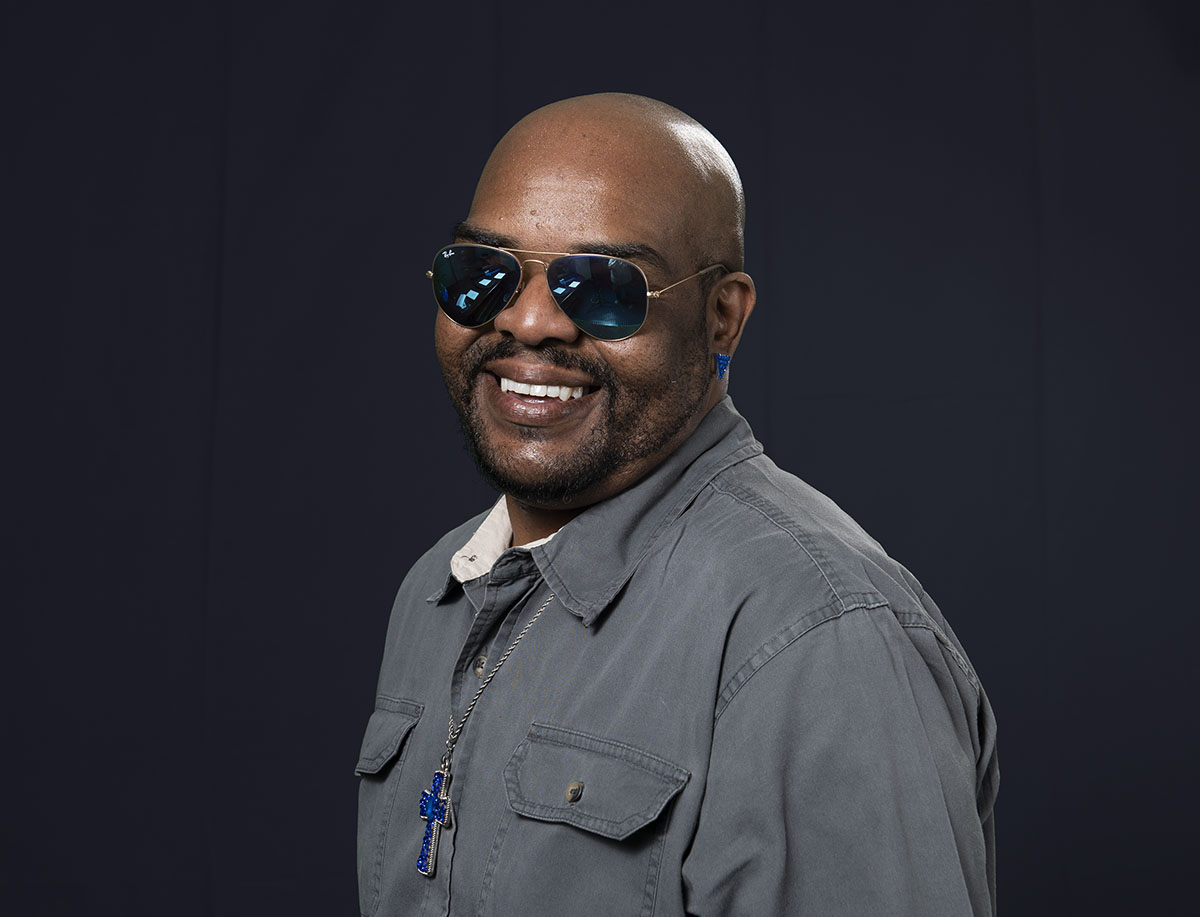 Thomas Bass Photo by Cindy Burnham
A severe allergic reaction to penicillin robbed Thomas Bass of his sight at age 31, but nothing can steal his vision of a brighter future for those with disabilities.
"Every student should and must be given an equal opportunity to be successful and receive an education," says Thomas, a Fayetteville State University social work senior with a 3.8 grade point average. "I know working to make that happen for anyone with a disability - not just for the blind - is my God-given purpose."
Dressed to immaculate perfection and displaying a penchant for bold jewel-tone cross necklaces with matching-stone ear studs and bracelets on each wrist - and glitter-covered dress shoes - the 44-year-old Thomas sees himself as "a sparkly person." What? No bling on his round, reflective sunglasses? "I thought that might be a little too much," he says with wry humor and a wide smile.
Thomas has become known on campus for his connections with fellow students, for being a friend, confidante and encourager. He beams at the recent memory of walking out on the field at Luther "Nick" Jeralds Stadium after being voted the first-ever visually impaired Homecoming King finalist. "I made history!" he says. He's even inspired his friend, note-taker and guide Dorinda "DeeDee" Carthens, who's frequently by his side, to begin plans for pursuing a degree in social work.
Thomas sees himself as an advocate. He is a wealth of knowledge about legislation protecting the disabled in employment and education. He's a keen listener - and a polished speaker who doesn't shy away from meeting with elected officials and college administrators about the needs and rights of the disabled - and accountability. He's long been active in educating and encouraging his peers at Fayetteville's nonprofit Vision Resource Center, where he'll do his field work in spring 2020. He also plans to enter FSU's Master of Social Work program and is well on his way to achieving his goal to become a social worker for the visually impaired in Cumberland County.
"Thomas is responsible for bringing in 10 new members whose lives have been enhanced because of the services of the Vision Resource Center," says executive director Terri Thomas, who met him nine years ago. The agency advocates on behalf of the visually impaired and provides life skills instruction - from doing laundry to mastering cell phones and computers - plus a walking club, yoga classes and field trips to concerts, art galleries, bowling and more.
"He's fearless, he's inspirational, he's a lot of fun - and he's very stylish," she adds.
Thomas Bass says he's learned a lot from Terri, including networking and communication skills.
As part of World Sight Day on Oct. 10, Thomas, stationed in the foyer of Rudolph Jones Student Center, handed out literature and answered questions about his journey. His appearance also coincided with Blind Awareness Month. Representatives from the North Carolina Division of Services for the Blind joined Thomas to provide activities such as walking with a cane, along with introducing new technology for the visually impaired. The event was organized by the School of Social Work and the Nu Phi Chapter of Phi Alpha Social Work Honor Society, of which Thomas was recently inducted, making him only the second visually impaired member during the organization's long history.
"He's a very committed student who gives 100 percent," says Dr. Tamara Woods, faculty advisor for the School of Social Work. "He inspires us each and every day."
The staff of Charles W. Chesnutt Library echo those sentiments. They are accustomed to seeing Thomas almost every day.
"He is an awesome man, dedicated to being a Bronco and his studies," says library technician Patricia Flanigan.
"I'm hungry for the education," he says.
Originally from Gibson in Scotland County, Thomas says his childhood was normal. He was the only boy with five sisters, and a loving father and mother. He says he also had great schoolteachers who believed in him even when he didn't believe in himself.
Thomas says his story is one of loss and gain.
On Halloween 2006, he was experiencing what felt like particles of sand in his eyes and "a scratchy throat." It was a windy day, but he thought he'd go to the emergency room just in case. He says he developed an adult allergy to penicillin, which he had taken as a child with no adverse effects. What transpired was both horrific and heartbreaking.
Almost immediately, his skin began peeling off from head to toe. "I was nothing but pink flesh and blood, and the pain was unbearable," Thomas tearfully recalls.
He also started going blind. Thomas says he repeatedly called out to God: "I do want to live!" He felt an epiphany that his purpose was to help people who also had lost their sight.
Thomas spent a month in the hospital, slowly recovering. After being released, he set about on a mission to advocate for himself by contacting various agencies. At times, it felt like he had hit a brick wall. But ultimately, he was on his way to the Governor Morehead School for the Blind in Raleigh. Over six months, he would learn about how to live independently, including mobility training and how to use a modified computer for communications. But there was still something lacking over the next few years.
Before he lost his sight, he worked as a community support specialist for a mental health organization.
Determined to forge a future for himself, Thomas enrolled at Fayetteville Technical Community College in 2012. He began researching the Americans with Disabilities Act (ADA) and provisions for services such as transportation. He also became friends with fellow student DeeDee Carthens, who is sighted, and now works to help her friend navigate FSU.
"She is strong and dedicated and has truly been a blessing," Thomas says. "She is the most powerful tool that FSU has given me."
"I don't look at it as a job," DeeDee says. "Thomas is my friend, and he has helped me more than I've helped him."
"People cross our paths for a reason," Thomas says. "Sometimes it's because we need to give them a word or a message so they can see the vision. To understand what they're not seeing."
He adds, "Even all the negative things I've been through, I've turned into a positive."
A condition forced surgeons to remove Thomas's right eye on Valentine's Day 2015. But he just came back stronger.
"He keeps going and never gives up," says sister Thomasina Bass McRae, who recently attended his honor society ceremony with their mother Annie. "He's strong-willed, always."
Thomas Bass will simply tell us that we never know who is looking and who we can inspire. He believes in the power of knowledge and good works. And in one more thing.
Or, as he likes to sign off on his email, "Love is blind."
Story by Janet Gibson, Photography by Cindy Burnham