SGT Deonna Aponte, '21
"To have the opportunity to enjoy the four-year college experience, along with the convenience of FSU … it made my decision easy."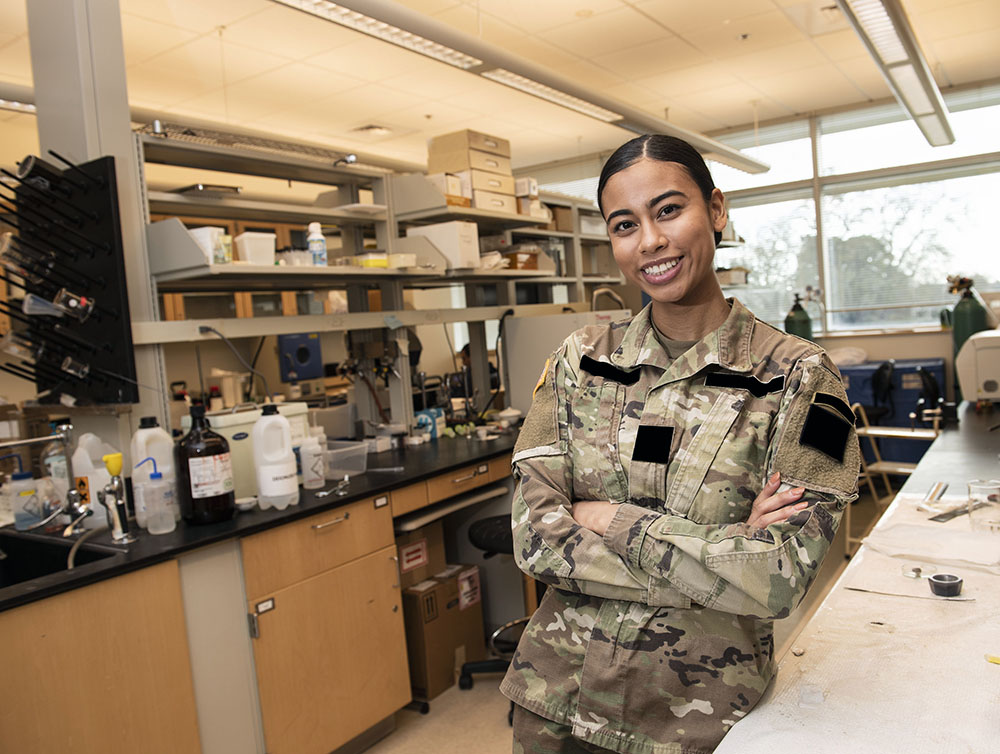 SGT Deonna Aponte Photo by Cindy Burnham
Sgt. Deonna Aponte dreams of becoming an Army dentist.
Thanks to FSU, she is well on her way.
Deonna, 22, is slated to earn her Bachelor of Science degree in Organismal Biology in 2021. "Compared to the plant sciences degree offered by FSU, the organismal degree is about animals," she says, with a wide smile.
She believes her degree will serve as a solid foundation for entrance into dental school. Tops on her list are UCLA or Howard University.
A native of San Bernardino, Calif., Deonna graduated from high school there, briefly attended junior college, joined the military, married her longtime sweetheart, completed her basic training in Fort Jackson, S.C., and then landed at Fort Bragg.
She is assigned to the 83rd Civil Affairs Battalion, where she works in tactical communications.
Deonna always loved school and desired a college education. She also knew the military has programs to help with costs, so her education would be paid. Focused and energetic, Deonna started by earning her associate degree from Fayetteville Technical Community College - and then she began talking with counselors at four-year schools.
"The FSU counselors are by far the best," she says. "They really care."
Deonna says she is continually impressed by - and grateful for - engaged professors who take the time to help individual students. She also appreciates the cultural diversity of FSU. Deonna's family is a harmonious blend of Laotian, African-American, Puerto Rican and Mexican. Tall, slender and exotic, Deonna has done some modeling and hopes to do more - when she isn't fulfilling her military duties or attending classes at FSU.
"I learn best in-person and not online," she says. "To have the opportunity to enjoy the four-year college experience, along with the convenience of FSU ... it made my decision easy."
---
FSU is changing lives.
We can change yours, too.
---
Story by Janet Gibson. Photography by Cindy Burnham. Graphic Design by Mariano Santillan.