Mom Set to Graduate on Same Day as Her Two Children
Three college graduates from one family in one year is exciting, but to top that, all are scheduled on the same day.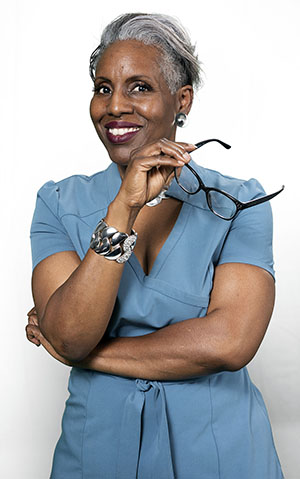 The Cherry family is set to have a busy and exciting spring. Rhonda Cherry has two children graduating from college in May. Randy Cherry, her son will graduate from Fayetteville State University while her daughter, Rheyanna Cherry, will graduate from North Carolina Central University. Making it even more exciting is the fact that after years of working on her undergraduate degree, Rhonda herself will also be graduating from Fayetteville State. Three college graduates from one family in one year is exciting, but to top that, all are scheduled on the same day. Because they are more than an hour away from each other, that means as a mom, Rhonda can't be at both. Knowing this, she asked her children to choose how to handle the issue.
Randy began his college career at North Carolina A&T. He transferred to FSU last year and is studying Professional Studies with a focus on business. He is older than his sister, Rheyanna, by two years who is studying Hotel Management with a concentration in resorts. Rhonda works full time as a tax appraiser and has been working towards her degree since 2013. She began at Fayetteville Technical Community College and also had credits from New Mexico State. She will graduate with a degree in Business with a concentration in Management.
Randy said that his mom knew that the dates would conflict for a while. Originally, Randy had taken some time off of school and wasn't scheduled to graduate the same time so Rhonda was going to give up attending her own graduation so that she could attend her daughter's and didn't give it any more thought. When Randy enrolled back in school and his graduation date was set for the same as his mom's and sister's, then choosing between the two graduations of her kids became a problem ... so she told her kids that she wanted them to decide.
"She really wanted us to think about it. She wanted to know who would be comfortable with her not being there. She didn't say anything about herself. She planned to miss her own graduation and she didn't plan on me coming back to school and graduating this year," Randy said. "My sister will graduate in 4 years while I have been pursuing this for a while ... she is graduating on time so I told my mom she should go to my sister's graduation."
Randy is proud of his mother and how selfless she is. Following her degree, Randy said she plans to pursue upper level management in the tax and appraisal field.
"She works full time and is a student and about to graduate and get her bachelor's ... She's a real stickler about time management," Randy said. "Somehow she has taken classes and I don't know how she does it ... I feel like she doesn't get enough credit and she sacrifices a lot."
Randy is excited to be finishing his degree at FSU and said his experience has been great. He said the networking opportunities have been helpful and he enjoyed being able to sing and perform at pageants as well. Rheyanna had a good experience at NCCU and has been involved in several activities there as well. As for Rhonda, in addition to working full time and school, Randy said she also sings solo in her church choir and helps out as a freelance coach to help young ladies in pageants.
"She is always able to do so much. She's social, outgoing, and she's open and always trying to better somebody," Randy said. "Anytime she is doing something it is helping someone."
The three are set to graduate on May 9, 2020.