Joel Cook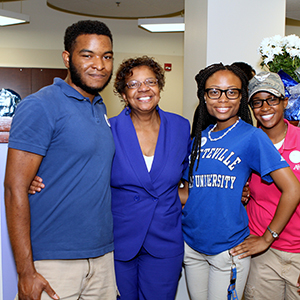 "What's green?"

At the small low tables in their small blue seats, preschoolers at the Early Childhood Learning Center at Fayetteville State University shouted out their answers.
Pickles! Green beans! Peas!
When someone yelled, "Apples," a small boy responded, "Aren't apples red?"
As the nutrition discussion around which foods were what color continued, these children at their first meal provided by Campus Kitchens at FSU (CKFSU), a newly launched food recovery program where students transform surplus edible food from dining halls, grocery stores, restaurants and farmers markets into meals for those in need. FSU is the second Historically Black College and University (HBCU) in the US to host a Campus Kitchen and the first HBCU in NC.
Food waste is a huge problem in our nation, and The Campus Kitchens Project (CKP), based out of Washington, DC, cites that currently approximately 40% of food is wasted in the US while one in six persons experiences food insecurity. The Campus Kitchen at FSU was launch in May 2016 and is ready, as the CKP's motto read, to teach, reach, feed, and lead.
During the Mr. Fayetteville State University competition in the spring of 2015, competitor Joel Cook wanted FSu to launch a food recovery program. He vowed, whether or not he won the competition, that he would begin something to help. Cook, made good on his promise. He is now a recent graduate of FSU with a degree in History and Intelligence Studies.
"I knew we could do more to help out with food insecurity, and if we had the opportunity, I wanted to do it. This was one of my platforms," said Cook.
CKFSU came to fruition through the collaboration of many people and departments at FSU. Dr. Stacye Blount, Assistant Professor of Sociology, FSU's Teacher of the Year for the 2015-2016 school year and the faculty advisor to the CKFSU student leadership team, worked diligently to see the process through. It was with the help of the Sociology Department, the Office of Civic Engagement and Serve Learning (CESL), Division of Student Affairs, Division of Academic Affairs, Aramark Dining Services, the FSU Farmers Market and other community organizations that CKFSU came into being. FSU also received a $5,000 grant to assist with the launch from their success in the Campus Kitchen video competition. Dr. Blount did a considerable amount of leg work or "field work" as she called it, to get the program off the ground.
"Not until we embarked on this project, I mean, I was maybe semi-conscious of the amount of food we waste, but now I follow just about everything to do with food and food recovery and diminishing food waste on Twitter and Facebook, and it's just amazing," noted Dr. Blount.
If you're still not sure what food recover is, you're not alone. But don't live in ignorance, get involved.