D'Shawn Russell, '94
With fiery determination, FSU alumna D'Shawn Russell takes the spotlight with her Southern Elegance candles.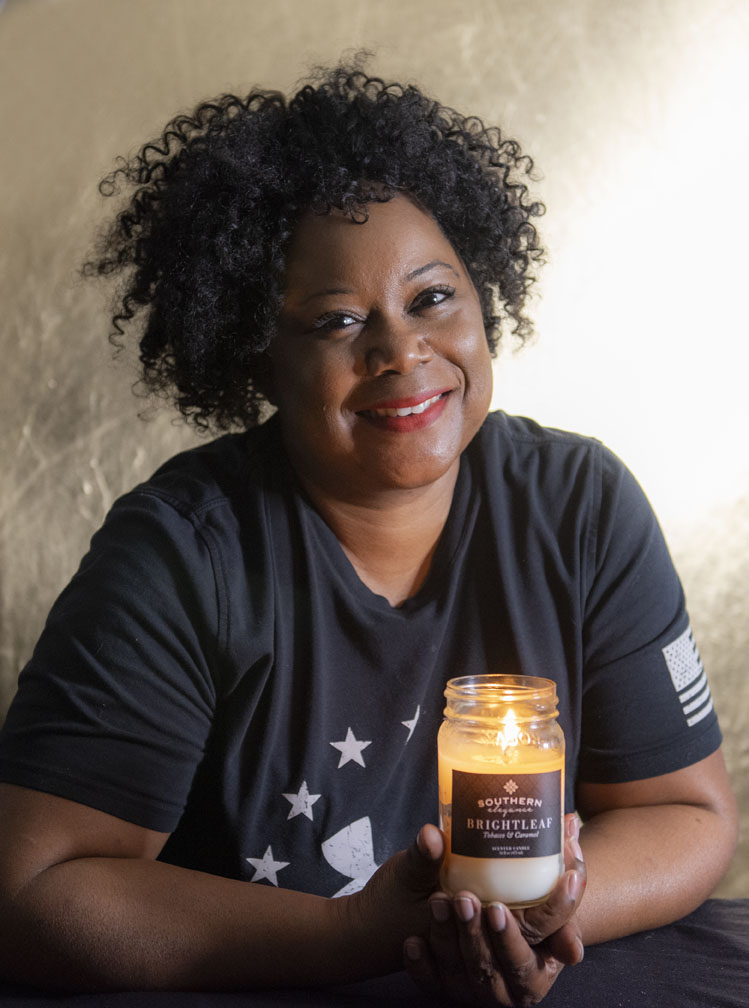 At a large warehouse in the countryside of Raeford, N.C., workers are busy as bees fulfilling an order of 10,000 scented candles for a national morning show. Producers have alerted D'Shawn Russell, founder, owner and CEO of Southern Elegance Candle Company, that she will likely be bombarded with orders after the segment airs.
Wax is poured. Wicks are placed. Boxes are packed.
With focus and precision - and an abundance of smiles - D'Shawn and her small team make it happen in rapid succession. Not just for a future TV audience (an official press announcement is forthcoming, stay tuned), but for online customers throughout the United States and worldwide - from Belgium to Brazil. Many, no doubt, have heard about the candles in shout-outs from Allure Magazine and BuzzFeed.
Add in the shipments earmarked for Walmart.com and to 500-plus U.S. retail stores. To top it off (and as we see notated on a white board), there's also an order of 1,300 candles for a major fashion designer.
This candle company is on fire - coming a long way since the Fayetteville State University alumna took a risk in leaving her 26-year math teaching career to follow her bliss. On January 1, 2016, she started her company with two pots on her stove and a will to succeed. Sales are projected to top $1 million this year.
But when you ask the boss how she feels about all the latest hoopla - indeed, celebrity clients and national TV coverage - she offers up a serious expression and bluntly replies, "That doesn't move me."
With pride in her eyes, she looks around at her people in the heavenly scented workplace. Single moms in shipping, grandmothers who have come out of retirement and are placing labels and wicks, and a young man in research and development who is working his way through college. That is what moves her. Being able to provide living-wage jobs for people in Hoke and surrounding counties where unemployment numbers typically run high - and COVID-19 has only made things worse for many folks.
What makes these all-white candles in simple Mason jars, glass tumblers or travel tins stand out in a seemingly saturated market?
D'Shawn's candles conjure memories of favorite cities that she has visited or the sweet smells in Southern agriculture. Nashville? Inhale the aromas of honeysuckle and jasmine. New Orleans? Catch a whiff of magnolia blossom. There's even a Fayetteville candle inspired by childhood days spent picking blueberries with family in the country just outside of town.
She calls Durham her hometown, though - and a candle called Brightleaf pays homage to the city which opened its first tobacco factory in 1848 and has experienced the revitalization of its American Tobacco Historic District in recent years. The candle is a blend of tobacco, caramel and spice.
There are high hopes for the fall and holiday collection, which includes sweet potato and brown sugar, and another called pumpkin souffle, among other delicious-sounding blends. D'Shawn often turns to her team and customers to see what they crave for the next generation of products. The average price range for the candles is $16 to $28.
D'Shawn Russell's life experiences - and the way she started and grew her business - will likely go down as one of the sweetest-smelling success stories in entrepreneurship.
Now on the cusp of turning 50, D'Shawn has always been filled with a fiery determination. In her 30s, she was diagnosed with a brain tumor. Thankfully, the growth was nonmalignant. It was removed from the pituitary gland, which controls hormonal functions. D'Shawn, who was then a military spouse living in Germany, believed that she would never be able to get pregnant, but she beat the odds.
A healthy baby boy, Michael, was born in January 2011. Because Michael developed eczema, D'Shawn learned how to make soap from Southern pine tar and tea tree oil. Her interest in creating handmade products blossomed to include "body butters" and lotions that she would gift to fellow teachers. Candles were a natural progression, "and that changed the whole trajectory of my life," she says.
D'Shawn thought at the time that she was on-track for become a schools superintendent. She had earned her Bachelor of Science degree in Education with a Concentration in Mathematics from FSU in 1994, and then went on to receive her Master's in Education from National Louis University and her EdS (Educational Leadership) credentials from Cambridge College. During her long career, she had taught math on the elementary, middle and high school levels.
Then one day she came home in 2015 with a gnawing feeling that she just "didn't want to do this anymore." She wanted to start her own candle company: "I felt if you don't, someone else will. Make the change. Make the shift. I just felt compelled to move on it."
So, she took five months to learn everything she could about running a business. She watched YouTube videos. Googled everything from candle-making to available grants. She also was accepted and graduated from the prestigious Goldman Sachs 10,000 small business program.
On the first day of 2016, she opened for business with the aforementioned two pots on her stove. Then she "graduated" to a "melter" in her garage, and then to "a rinky-dinky single-wide trailer," to her current 4,000-square-foot warehouse. The plan is to move to a 15,000-square-foot facility in Raeford next year.
D'Shawn started with one employee (herself) and has worked up to 13, with more hires expected in the coming months.
She began selling her products at farmers' or flea markets on weekends and steadily grew the business from there. Word of mouth has been brisk, and so is strategic messaging on social media to grow the company's following. D'Shawn created a small studio within her office area for photo and video shoots and for producing podcasts - and she also has an in-house social media manager who she mentors.
It always pays to have a business consultant in your pocket, too. Enter Wanda Gill, a Business Resiliency Counselor for the Small Business and Technology Development Center on the Fayetteville State campus.
Gill says she met D'Shawn in November 2019 at a veterans entrepreneurship conference. "I served as a judge for the Veterans Business Outreach Center (at FSU), and D'Shawn presented as one of the businesses during a 'Shark Tank' workshop."
Gill and the other judges were "blown away by D'Shawn's drive, the beautiful packaging of her products and professionalism. Not only did she win the contest, but our respect and admiration. I made an appointment to visit her manufacturing plant in Raeford - and the rest was the beginning of a great strategy for long-term growth."
Gill adds, ""D'Shawn has been so successful due to her relentless vision to create quality products that are both beautifully made and functional to the user. My favorite fragrance is Fireside because the smell transports me back to my Virginia roots. They are not candles, but memories."
D'Shawn says Gill has been especially helpful in making her aware of available grants and also the process for the Paycheck Protection Program (PPP) to help businesses during COVID-19.
D'Shawn closed down her production for six weeks in the early days of the pandemic. But an influx of orders prompted her to reopen in full force. She says part of the turnaround can be attributed to the "Black Lives Matter" movement - and an increased commitment to support Black-owned businesses. She also credits more media coverage of successful minority entrepreneurs. Just after the interview for this story, for example, D'Shawn and her company were featured on ABC11 WTVD.
Also, with more people staying at home, every bit of warmth and coziness helps. "Everything is done by hand," D'Shawn says of her products, a simple fact that seems to become more appreciated in complex times.
D'Shawn projects a certain sassiness and a can-do spirit to her people. "You've got this!" she says more than once.
She says transparency also is important. Her team knows that the company's sales are expected to top $1 million this year - and that she just recently began taking a paycheck. She's also vocal about her goals to become a $50 million company in five years and to reach the $100 million mark in 10 years.
"When you move into a bright space in life, your goals and dreams will fill that space," she says, emphatically.
"I'm a black, overweight, middle-aged single mom with a chronic health condition. If I can do this, anything is possible," she says. "I have a spectacular life."
To learn more about Southern Elegance Candle Company, or to place orders, visit https://www.secandleco.com/.
By Janet Gibson / Photography by Cindy Burnham