Isaiah Shaw
Fayetteville, NC -- Fayetteville State has had a storied golf program since its inception at the university in 1970. In the 47 years of sponsorship, the Broncos have won 26 CIAA Championships and 6 PGA National Minority D-II Championships. FSU has participated in seven (7) NCAA Super Regionals and one National Championship.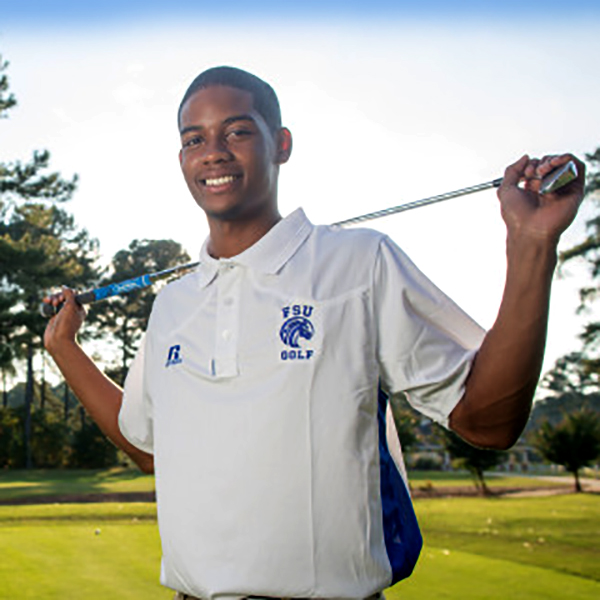 A multitude of prodigious golfers has laid the way in building the legacy of FSU Golf. Who will be the next phenom to lead Fayetteville State back to the top of the leaderboard?

Junior golfer Isaiah Shaw has been swinging his way towards the Broncos' record-book.
Let the records show that nine (9) Broncos have been named the CIAA's Most Valuable Golfer and 20 have won the conference Low Medalist Award. Five golfers have even won the PGA Low Medalist Award. Sixty-seven (67) FSU golfers have earned CIAA All-Tournament Team accolades by finishing in the Top 5 of the championship match.
Shaw has already etched his name on two of those lists. The Altamonte Springs, Fla. native has been making moves since his arrival in Bronco Country.
Last season, Isaiah Shaw finished with All-CIAA accolades after making the championship's All-Tournament Team with a second-place finish. He finished eight strokes behind the Low Medalist with a 153 (+9) score.
Most recently, Isaiah Shaw finished the CIAA Southern Division Championship with All-Tournament honors after a [tied] fifth-place ranking and a 149 (+7) score. Prior to this season's first round of conference play, Isaiah won the Low Medalist Award at the Johnson C. Smith University Spring Invitational (75, +4) and the Virginia State University Trojan Spring Classic (153, +9).
Shaw is in Business Management program at Fayetteville State with plans on owning a golf foundation that helps kids learn the game of golf along with life skills. He also has his sights on becoming a professional golfer.
Shaw actually started swinging clubs when he was nine years old and found the love of the game tagging behind his father and football buddies on the weekends. His growth from a young age helped him shine for four years on the Lake Brantley High School (Orlando, Fla.) varsity golf team.
Isaiah has been steadily improving his game throughout the years.
In his freshman campaign, he averaged a 78.83 (+7) in 12 rounds. Last season with ten (10) rounds of links played, Shaw had an average score of 77.20 (+6). He currently has a 76.00 (+4) average this season with nine (9) rounds played.
Fayetteville State will play in the CIAA Northern Division Tournament on April 9th and 10th in Hertford, N.C. The CIAA will host its championship match on April 19th and 20th in New Kent, Va. at The Club of Viniterra golf course.
The top five finishers in the conference championship earn All-Tournament honors. The top ten golfers with the best averages from the Northern and Southern Division Tournaments and the Championship Tournament are named All-CIAA golfers.