Paul Lane
Paul Lane understands hard work and dedication. He also understands that sometimes life takes you on an adventure you haven't anticipated, and your attitude in these situations makes all the difference.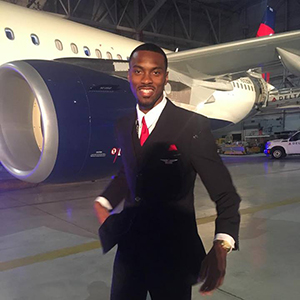 Lane didn't foresee attending Fayetteville State or having a career in the airline industry, but these are two adventures and changes he chose to embrace with an attitude of faith that things happen for a reason. After graduating from FSU in 2013 with a degree in Business and a concentration in Marketing, he now serves as an Inflight Brand Ambassador for Delta Air Lines. Lane is grateful for the opportunities and adventures he has had so far and continues to embrace the possibility for more.

Lane was born and raised in Atlanta, Georgia where through scholarships, he was able to attend one of the best private schools in Georgia, The Paideia School. Lane credits his experience there with giving him a great foundation and sense of self.
"My roots came from God and my family, but my high school played a big role in my foundation as well. They taught me to be a good well-rounded person and overall they helped me become a person with focus and direction," Lane said. "I was raised in a lower-middle-class part of Atlanta, but I went to school with kids from all different backgrounds ... former president's grandkids and the owner of the Atlanta Falcons kids, but also kids that came from a similar background as me. That's what made me Paul ... that's what started to nurture my aspirations to be different. It gave me inspiration. FSU continued to nurture that."
Lane ended up at Fayetteville State almost by accident. His senior year of high school, he was one of the top basketball recruits out of Georgia and planned on going to school to play basketball for a high-level to mid-major Division I school. Fate would have a different reality when he tore his knee. Instead of being recruited by the high-level Division I schools, he was recovering from knee surgery and being looked at by mid-major Division I and some Division II schools.
"Tearing my knee was almost a blessing for me. I went through a small case of being sad and depressed for about a week but then I began being recruited by smaller schools," Lane said. "In tearing my knee, I realized that life was bigger than basketball. It was a humbling experience. In that state I had to have a focus on not going to a school for a name and the heritage that the society status quo but by the characters of the individuals that would impact me."
One of the schools that began recruiting him was Fayetteville State. Grambling State Assistant Coach Alphonza Kee who would soon become the FSU Head Coach contacted Lane about playing for him.
"Coach Kee called me on a Tuesday morning and asked me if I was interested in meeting him. He drove six hours to Atlanta to meet with me that same day," Lane said. "I had never seen a head coach take the time out to do that. I felt like he had great ethics and character and lived up to the same words he recruited me by."
Lane ended up playing basketball at FSU for five seasons on a full basketball scholarship. Because he suffered another knee injury his sophomore year, he was injury red-shirted and couldn't play that season, so he was able to continue playing for the 5th year while he worked towards his Master's degree.
While at FSU, Lane was a part of the Student Government Association and the Student Activity Council. He was also President of Peer Academic Leadership and was Treasurer for Kappa Alpha Psi fraternity.
"FSU allowed me to be who I was. College is a place in general where kids come to find themselves. Luckily for those who have a plan, Fayetteville State was a great place to stay in line," Lane said. "FSU will help mold you into the person you want to be at graduation and can help you be a better person. It showed me I was ready for the world. I was able to conquer what needed to be conquered and challenge myself while I was in that environment. I was prepared to go to the next step in life."
Just like attending Fayetteville State wasn't planned, the next step in Lane's life also wasn't planned. Lane began working for Delta Air Lines as a ramp agent when he was 18 years old. Because of his hard work, a manager at Delta agreed to keep him on as a seasonal agent while he was in school and home on breaks. Following graduation from FSU, he planned to look for a job in marketing while continuing to work for Delta. In August of that year, he applied for and was hired for an in-flight job and began a career as a flight attendant. From there, he was chosen to represent Delta Air Lines not only as a flight attendant, but as an Inflight Brand Ambassador which means that he is a flight attendant and also represents the company in print and media ads and also appearance opportunities.
"No way at all did I think I would do this. As an Inflight Brand Ambassador, I do a little bit of modeling, acting, a little bit of everything," Lane said.
Lane has been selected for numerous Delta Air Lines print ads as well as commercials. He has also served as a representative at special events for Delta.
While Lane stays busy with his full-time job at Delta, he also found the time and energy to start his own investment firm in October 2015 called Plane International Investment Firm.Lane takes honor and pride in representing Delta Air Lines well just like he represents Fayetteville State well. Lane was recently recruited to go to a Delta Air Lines school to become a Dispatcher where he would be able to stay home a bit more and run his company. He will begin Dispatcher school in 2018.Lane never anticipated his life and career playing out the way it has, but in conjunction with hard work, he has seized the opportunities as they have come along.
"My mom has held me to high standards since I was young. I strive to represent myself and my family well," Lane said. "My roots came from before Fayetteville State, but FSU was an avenue for me to expand and so was Delta."
When Lane isn't busy furthering his career or company, he stays busy enjoying life but preparing for what comes next, whatever that may be.
"I go to church. I read a lot about Black History and business books. I do a lot of fun things," Lane said. "I am preparing for the next step without being consumed by it ... preparing for my 30s but enjoying my 20s."