Kianté Bennett
FSU SGA President Selected for Two Prestigious Scholar Programs
Kianté Bennett will graduate from Fayetteville State University with the class of 2020. As a student at FSU, she has been involved with the Student Government Association (SGA) for years and currently serves as the SGA President. As she prepares to graduate, she has spent the year serving the student body and as the recipient of the prestigious Historically Black Colleges and Universities (HBCU) White House Initiative Competitiveness Scholar and the Thurgood Marshall College Fund Leadership Institute Scholar, both providing unique and once-in-a-lifetime opportunities.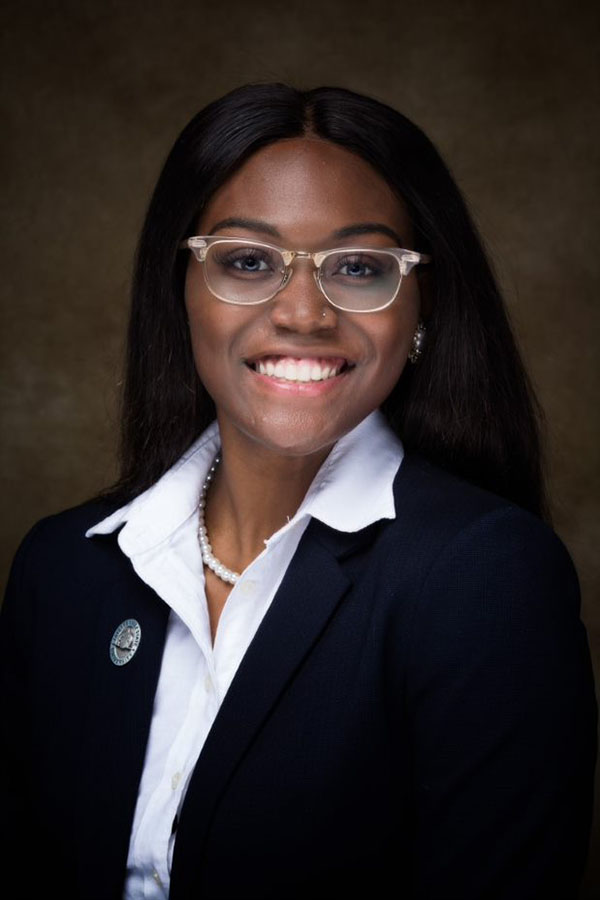 Though born in Newburg, New York, Bennett was raised in Fayetteville, NC and graduated from Douglas Byrd High School ranking in the top ten of her class while also serving as the Senior Class President. She grew up familiar with Fayetteville State and was a regular student on the campus during high school when she was involved in Upward Bound Math and Science. She also participated in FSU's Saturday Academy to take extra classes to help students get ahead in reading, math, and foreign language.
"Fayetteville State has been an absolute home. I am a Fayetteville native and I originally didn't want to come here. I wanted to go to Spelman. I got in but coming from a single-parent household, I had to think realistically. My mom couldn't pay for that and I couldn't either," Bennett said. "Fayetteville State gave me the opportunity to get early credits and a full-ride scholarship. I have received so many opportunities here. One of my mentors from the high school program asked me why I would go somewhere where I would be a number when I could go somewhere else and make a change. They saw something in me that I didn't see in myself."
From the time Bennett arrived on the FSU campus, she hit the ground running and hasn't stopped in her nearly four years. She has been involved in student government every year while also maintaining a part-time job on campus. Bennett was also a Bronco Ambassador, served is in Student Support Service Ambassador, was an Orientation Leader, and was part of the Leadership Institute. She served as the Freshman Class President, the Sophomore Class President, the SGA Vice President, and now the SGA President for the 2019-2020 academic year.
This year, as a senior, Bennett was selected as a 2019 White House HBCU Competitiveness Scholar and as a TMCF Leadership Initiative Scholar. The prestigious programs are very competitive in their selection and provided Bennett with unique opportunities to visit Washington, DC.
"My friend suggested that I apply. I hadn't heard about it so I did my research on the program and the opportunities that they receive and I decided that I had to apply," Bennett said about the Competitiveness Scholar.
The HBCU Competitiveness Scholar is a White House initiative on HBCUs designed to "honor current HBCU students for their competitiveness, i.e. successfully preparing to compete for top opportunities that improve standards of living in their communities," with the goal of helping to "form the next generation of leaders who exhibit and champion HBCU excellence." The initiative selects scholars who show academic excellence, civic and campus involvement, and an entrepreneurial ethos. This year, 44 students (including undergraduate, graduate, and professional students) were selected from 34 HBCUs. Following the selection process, the scholars were invited to participate in the National HBCU Week Conference in September where they were recognized at an awards luncheon.
As a Competitiveness Scholar, Bennett was able to travel to Washington, DC for the conference where she was able to hear the President of the United States speak, meet the Secretary of Education, and most importantly network."
President Donald Trump was there and spoke to us in addition to different university chancellors and presidents. Betsy DeVos (U.S. Secretary of Education) was there as well. I gave her insight on Fayetteville State as my institution," Bennett said. "This was another opportunity to network with different government jobs and different departments that were there as well. We were also able to see two movie screenings -- Harriet Tubman and Just Mercy -- both great movies."
Bennett also applied for and was selected as a Thurgood Marshall College Fund (TMCF) Leadership Institute Scholar. The national program is intended to "develop students' leadership skills, create a community of scholars, provide companies access to a talented and diverse student population, and help students make connections that lead to careers."
Bennett was able to attend the TMCF Leadership Institute Conference in October which culminated in a recruitment fair where Fortune 500 companies, government agencies, and graduate program representatives offer jobs, internships, and continuing education opportunities.
"I hit the ground running to provide my resume to many Fortune 500 companies. I obtained different interviews from Facebook, Walmart, and I gave my resume to a lot more organizations that I believe I would become an asset in," Bennett said. "The Thurgood Marshall Scholar program assisted with this opportunity and connecting the two."
During her trips to DC, Bennett was also able to meet numerous other HBCU student body presidents and was able to visit Howard University for a tour of the campus from their student body president. Bennett said that representing FSU in DC and as the SGA president has been a huge honor and she is proud of her institution and those she represents.
"I love to do this! I love giving back. Seeing smiles on my peers' face brings me joy knowing I helped with different initiatives and simply making something out of nothing," Bennett said. "I love this institution so much and to receive love back means the world to me. I love what I do. This role allows me to cater to my desire of networking on a day-to-day basis. I handle many strategic initiatives that many 21-year-olds may not handle and to actually be good at it is a blessing. As an African American young woman, I consider myself blessed to effectively serve Fayetteville State University on a platform as such, and obtain the same amount of respect that I give."
Bennett will graduate with a degree in Business Administration with a concentration in Management and a minor in Health Care Management.
"My goal is to work for a progressive organization that will challenge me and enable me to apply my knowledge and skillset to perform all tasks with diligence," Bennett said. "Believe me when I say, I will be an asset to the organization that provides me with an opportunity."