Jermaine Coble and Jared J. James: Bringing units 'back to life'
Alumni invest in rehabilitating Murchison Road housing, growing the community
Above: Jermaine Coble, left, and Jared J. James.
By Janet Gibson / Photography by Cindy Burnham
---
Jermaine Coble and Jared J. James believe that one of the best ways that they can give back to their alma mater, Fayetteville State University, is by investing in the Murchison Road corridor.
Recently, the partners in J&J Global Assets purchased a residential quadplex, three single-family homes and a parcel of land in the 2200 block of Murchison Road, about a half-mile from campus. The acquisition adds to their growing portfolio of properties in the area.
The purchase is their way of investing in FSU's future. In a joint statement, J&J said, "We have a true affinity for Fayetteville State and its perception in Fayetteville and North Carolina ... Like many other HBCUs, Fayetteville State is rooted in a community that has seen a lack of public and private investments, suffered from redlining, and houses many low-income renters. These factors mean a lack of resources for on-campus students, the absence of developers, and limited retail options. Therefore, investing in Murchison Road was the best way we could give back to FSU. By bringing these units back to life, we are cleaning up a large piece of real estate leading into the university, providing quality housing, and taking an active role in the university's future."
News of the investment is unlikely to surprise other Broncos, who may remember Jermaine and Jared for their leadership and service while at FSU. Jermaine was president of the Student Government Association in 2012-13 while Jared was the president from 2014-15. Both now serve on the FSU Foundation's Board of Directors.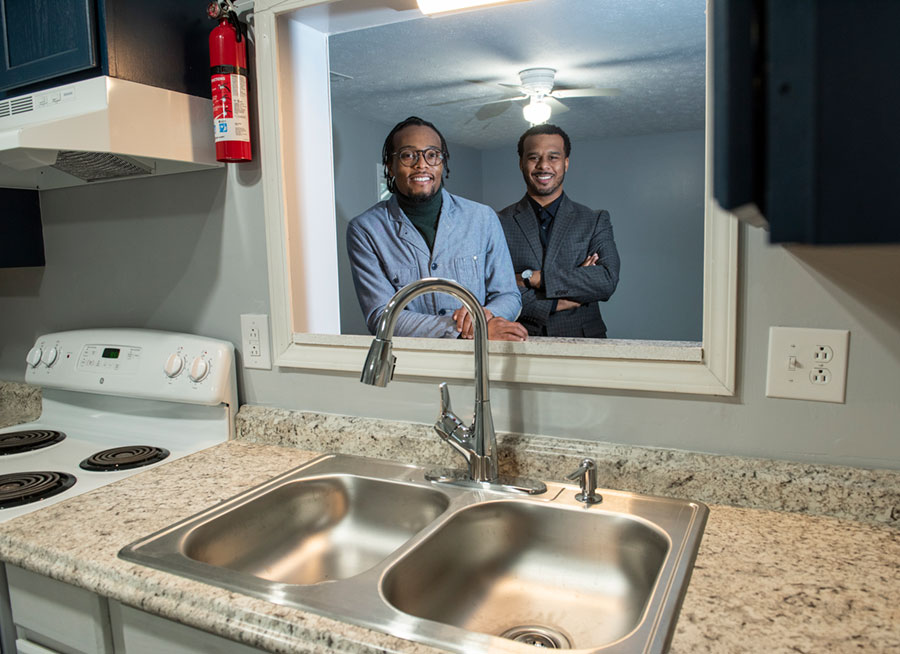 Partnering with a fellow alum to create quality housing
Some of the newly acquired properties need considerable renovations. Three of the seven new residential units are in excellent condition, said Jermaine and Jared, but the four-unit building will require a $100,000 investment to prepare it for rental. Improvements will include upgrading the kitchens and bathrooms, making drywall and ceiling repairs, painting, and installation of new flooring and appliances.
For smaller jobs, Jermaine and Jared have rolled up their sleeves and completed repairs themselves. For this project, they hired L&M Quality Built Homes, LLC, owned by Fayetteville State alumnus Rayshawn Locklear, to act as general contractor. "We look forward to working with a fellow alum and serve as models of the university mantra of Res Non Verba!" said Jared.
At the time of purchase, one tenant was in place; the other available units have since been rented to two new tenants. "We hope in the future, this property could be an option for the larger Bronco community ... especially as the Murchison Road Corridor Project gets under way and renovation expands from Downtown to Country Club/Pamalee Drive," explained Jermaine.
Over the past 18 months, the pair have acquired 15 doors across eight properties (single and multifamily mix). "We are still very interested in single-family and multifamily properties where we can meet our required returns but would like to acquire our first commercial property in 2022 to diversity our portfolio and bring a unique experience to the city," said Jermaine.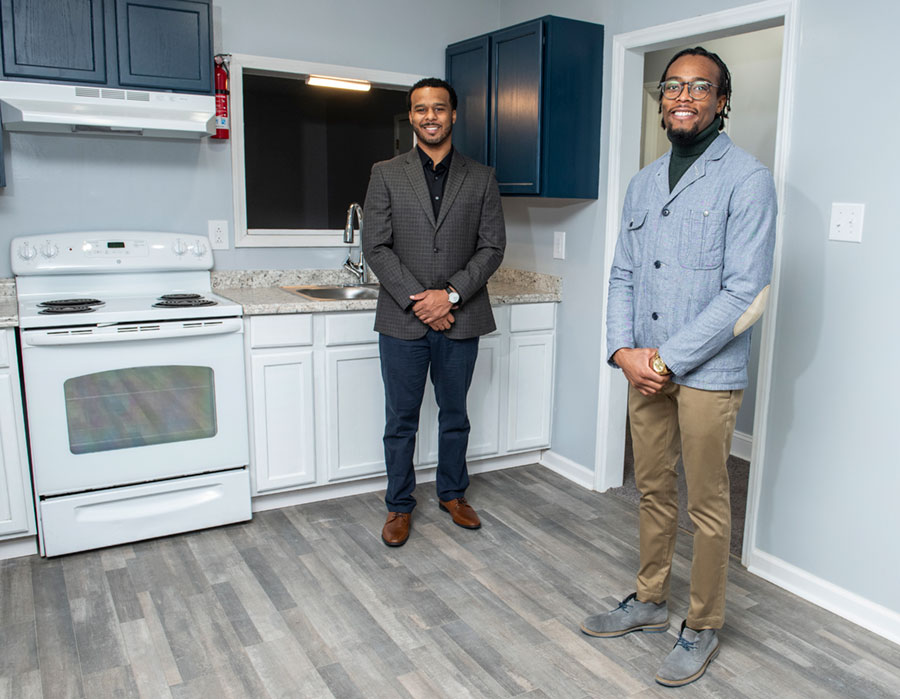 A shared love of business began at FSU
Multiple forces - childhood experiences, education, and travel - have shaped Jared and Jermaine's shared entrepreneurial mindset. But their love of business took root at FSU.
Jared's path to FSU was circuitous. A fire claimed his home in Greenwood, S.C., forcing his family to accept help from the Red Cross and move into an extended-stay hotel temporarily. Eventually, the family relocated to Charlotte, N.C., where a friend encouraged Jared to take the SAT, and he became interested in attending an HBCU. Encouraged by his mom, Jared enrolled at FSU, earning a bachelor's degree in business administration, and becoming the first in his family to graduate from college.
For Jermaine, who grew up in Greensboro, attending an HBCU was more instinctive: Every member of his immediate family attended an HBCU. His father chose North Carolina A&T State University; his mother, St. Augustine's University; one sister, Johnson C. Smith University; and two sisters and a twin brother, N.C. Central University. But Jermaine was captivated by FSU.
"I fell in love with the campus upon arrival," he said. "To me, it's breathtaking. I loved to study in the Quad." Like Jared, Jermaine was an honors student, and earned a bachelor's degree in business administration.
Their educational journeys extended beyond their time at FSU. Jared poured himself into finance at Louisiana State University, earning his MBA in August 2021. Jermaine earned his M.S. in Real Estate Asset Management from the Schack Institute of Real Estate at New York University.
---
Travel shapes perception, but the road leads back to FSU
Both traveled extensively to gain perspective. Jermaine studied abroad in China, including Shanghai, Hong Kong, and Shenzhen. For more than a year, he worked in Belgium and Serbia. Jared ventured throughout Asia and Europe, racking up 15 countries on his passport. During Summer 2015, he studied in London with students from FSU's Department of Criminal Justice.
After graduating from NYU, Jermaine moved to Washington, D.C., where he worked for Nuveen Real Estate, a subsidiary of TIAA-CREF, one of the largest real estate owners in the country. Jared landed in Bentonville, Arkansas, working as a manager in Walmart's corporate offices.
Now, fresh professional challenges await them both. Jermaine began a new role with Etsy in New York as a senior manager for real estate and workplace sourcing. Jared was recently tapped by Nestle in Cleveland, Ohio, to be a supply chain customer solutions manager.
They plan to keep close tabs on their investments, which will include travel back to Murchison Road.
"We are committed to helping the community grow," said Jermaine.