Dalashia Early '19, Military Spouse
Some opportunities are too good to pass up.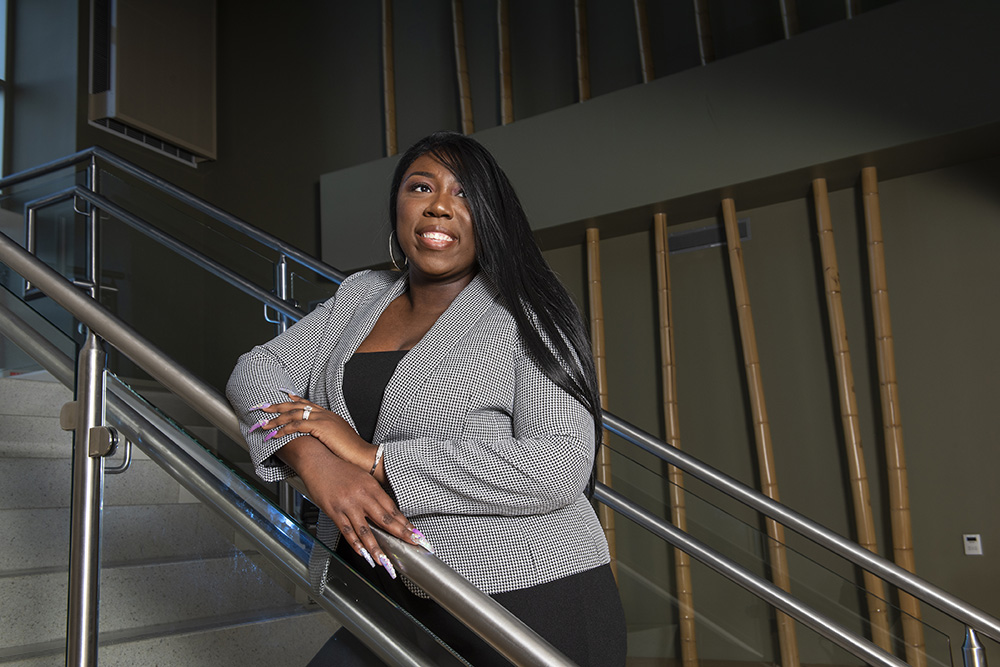 Dalashia Early, Military Spouse Photo by Cindy Burnham
She didn't think she was smart enough to become a nurse.
So, Dalashia Early studied psychology, taking online classes while serving in the Army National Guard. She was a semester shy of earning her bachelor's degree when a friend asked her what she was doing.
"You've always been so smart," the friend said, reminding Dalashia that her heart had long been in nursing. Family members echoed the sentiment. After all, Dalashia grew up lovingly caring for her elderly grandparents who raised her in Waycross, Ga. She also worked in Fayetteville, N.C., as a certified nursing assistant and lived at Friendship House, helping young residents with intellectual and developmental disabilities and, as she says, "just being a friend."
In 2016, Dalashia enrolled in the nursing program at Fayetteville State University, knowing it might not always be easy. Her husband, Vincent, is an Army staff sergeant who has been deployed several times.
"Taking the leap was the best thing I have done for myself and my family," says Dalashia, who credits supportive and "open-door" professors, including Dr. Murtis Worth, Interim Associate Dean for the School of Nursing.
The professor had confidence in Dalashia from the beginning: "I actually met her before she enrolled at FSU. She cared for my father."
Dr. Worth notes, "Dalashia is always smiling, even on the worst days. She's always open and seeking feedback, so caring and thoughtful."
Dalashia graduated with her bachelor of science degree in nursing in December 2019 with a 3.1 GPA. The 26-year-old painted her graduation cap with an image of herself obtaining her degree, along with testaments to her faith and strength, and the message, "There is beauty in the struggle."
She says her artwork was inspired by the "KOD" album cover by Grammy Award-winning rapper and Fayetteville native J. Cole. Dalashia's favorite song, "Love Yourz," is on the disc.
For graduation, and as a last hurrah, Dalashia also wore long, glittery fingernails. She shared a laugh with Dr. Worth who advised: "You'll be soaking those off to get ready for your job!
"That's right. Dalashia has secured the promise of her first nursing job for a medical surgery floor in a top-ranked hospital - in another Fayetteville - Georgia. Her husband, now a military recruiter, is already settled in the Atlanta area, and the couple have recently purchased a home.
"Hearing my family tell everyone I'm now a nurse, I think that's the best thing right now," she says. "I can hear it in their voices ... I know they're really proud of me."
---
FSU is changing lives.
We can change yours, too.
---
Story by Janet Gibson. Photography by Cindy Burnham. Graphic Design by Mariano Santillan.