Passages: A Bronco Father's Pride & Joy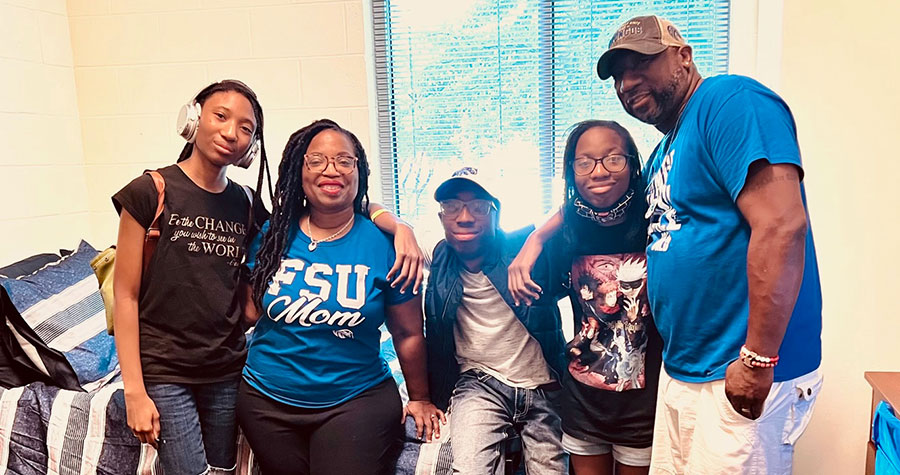 You are one of my favorite people because you are one of the best people I have ever known or will know. … I marvel at you. You are magical. You lift the spirits of everyone who comes in contact with you. You are kind, you are considerate, you are unselfish, you are love, and you are perfect.
– Excerpt from a letter titled To My Son Justin, With Whom I Am Pleased, by alumnus Anthony McCall, left in the dorm room of his FSU freshman son, Justin McCall
By Janet Gibson
Anthony McCall, '94, admits that he is a bit sentimental.
His voice is strong – and filled with gratitude – when he recalls meeting and falling in love in 1989 with his wife, Nichole Gladden McCall, while she resided in Joyner Hall and he lived in Vance Hall on the campus of Fayetteville State University.
His tone grows louder, as if he's in a cheering section, when he talks about the family that is FSU and winning the university's 1993 Spades championship.
But if you really want to get a charge out of him, mention that his 18-year-old son, Justin, is now a bona-fide Bronco, having recently moved into Renaissance Hall.
"He's about to blaze his own trail, and I couldn't be happier about him choosing FSU," the dad declared, after the Aug. 4 move-in. "I'm just so, so, so happy!"
Anthony said the move-in was the culmination of a "big week" for his only son.

"He got his braces off, got 'Employee of the Month' (at Adventure Landing in Raleigh), and moved into his dorm!" Anthony reported.
The father describes his son as "an outstanding person who has fought for everything he's got," including grades. Even in the womb as a triplet with his two sisters, born at 32 weeks, Justin was the tiniest at about 2 ½ pounds.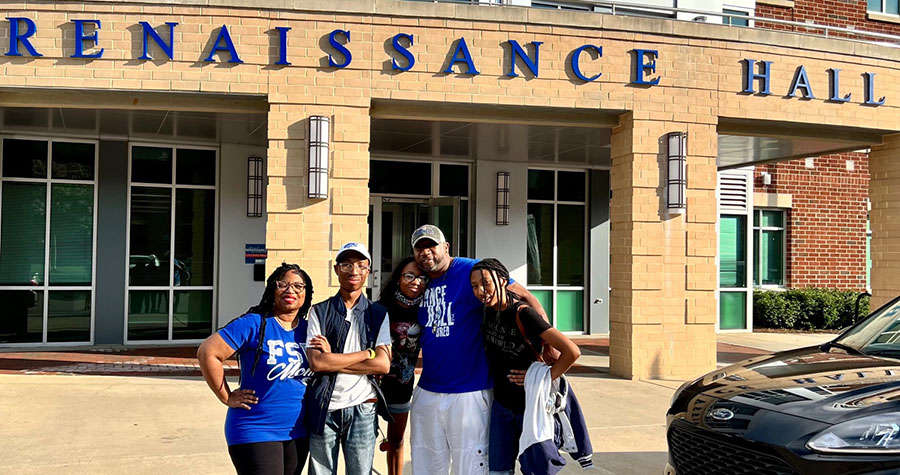 Anthony and his wife are soon to be empty-nesters – thrice. Daughters Jordan and Sydney have decided to attend North Carolina State University and North Carolina A&T State University, respectively.
"They were all born and raised Broncos, but the girls decided to take their talents elsewhere. They will all do great!" said Anthony, who majored in economics at FSU and works for USAA insurance. The family makes their home in Raleigh.
Justin plans to work toward a degree in theatre. He aspires to a career in entertainment, and wasted no time walking over to Bronco-iRadio.com to introduce himself and inquire about possible opportunities.
Justin said he chose Fayetteville State after much thought and weighing the pros and cons for each school in which he was accepted, including the University of North Carolina at Pembroke, Winston-Salem State University, North Carolina Central University, Saint Augustine's University, and Elizabeth City State University.
"For what I want to study, I feel like Fayetteville State is my best choice," Justin said. "It also makes me feel like I'm going just far enough away from home."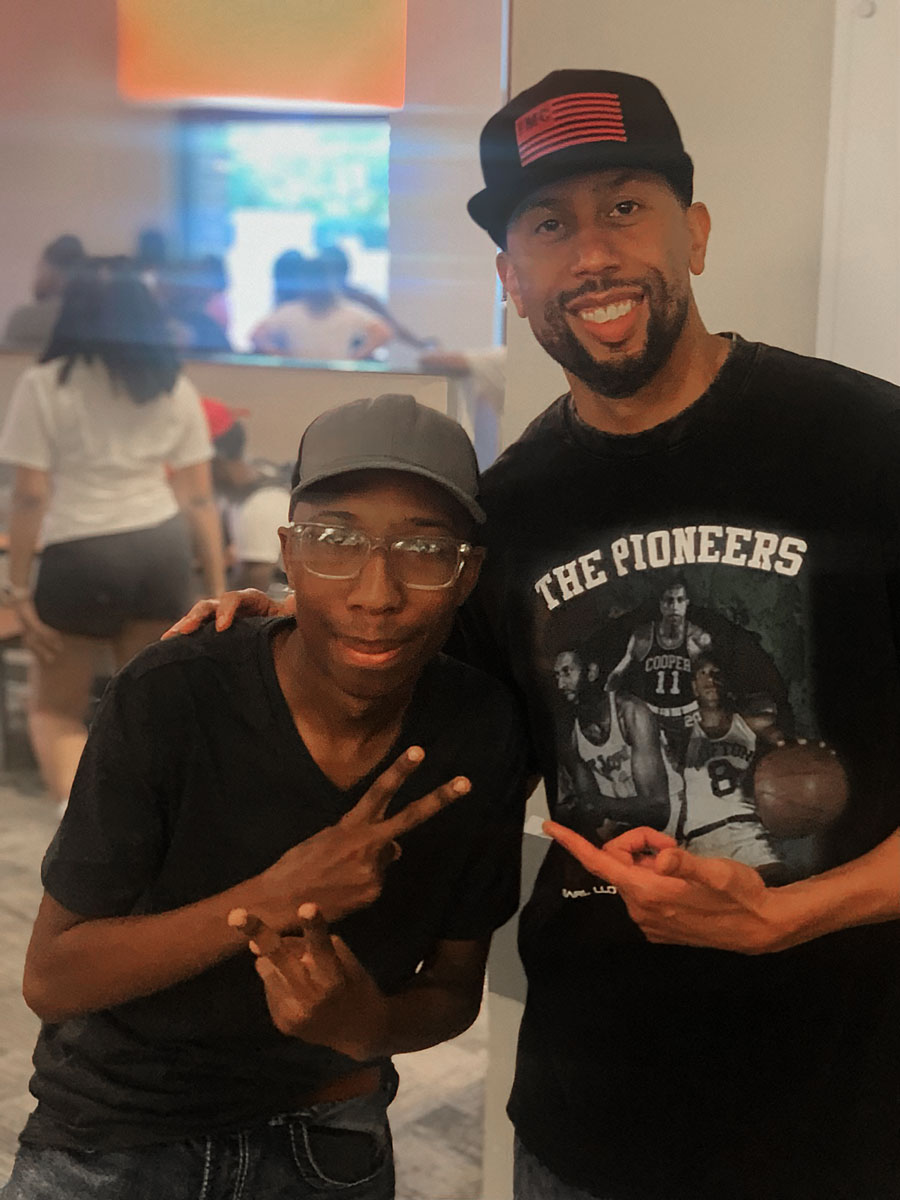 His second day on-campus brought Justin closer to Hollywood – as a surprise alum made his rounds to welcome and encourage students. Affion Crockett, '95, a Hollywood-based actor, rapper, comedian and producer, popped up unannounced during Operation Smooth Move. Justin and all the students who met Crockett were a bit shocked – and thrilled.
Anthony McCall has fond memories of Crockett from their FSU days – and was in awe (even though he missed him by one day). Anthony also appreciated that Affion took the time to be there.
Before Anthony left to head back to Raleigh, he addressed his son's decision in the letter that Justin found in, well, a somewhat comical place. Dad left it under a package of toilet paper in the dorm room closet. The words touched Justin who refused to get misty-eyed. After all, this is a trail to blaze …
My son, I hope you will always know that I would have loved and supported any decision you made for this next chapter. You had choices. You have options. You thought, you processed, As of today, FSU is NOT just where my mom went to school or where my dad went to school…. Fayetteville State belongs to you. It is yours to blaze your own trail, make your own legacy and memories. I am going to just sit on the sidelines and watch you work. Your college experience will be what you make it. Make good choices, choose your friends wisely, manage your time. Be accountable. You have everything you need to be a success.
Anthony pointed out that other "legacy families" were simultaneously moving in their second generation of Fayetteville State students – and it was special sharing in the excitement. The bonds run deep. He said proudly that he remains friends with his dorm mates from more than three decades ago.
"I'll never forget the date I moved into Vance Hall, where my son has a view of now," Anthony said. "It was August 20, 1989. My entire life changed. I had come home. This is where home has always been."
Anthony's parting words to Justin in the letter continued his heartfelt sentiments – with some final wise advice:
In the Holy Bible, Matthew 3:17, God speaks from Heaven and says, "This is my Son, whom I love, in whom I am well-pleased."
Now … My son. … Now … my BRONCO BROTHER. Be the Captain of your fate, be the master of your soul. Go get what is yours. Build your foundation for successful adulthood. Continue being a better man than me, and let me know however I can assist you.
Res Non Verba. Bronco Pride. I love you.
Dad