Kiante Bennett
Kiante Bennett is a Student Support Service (SSS) Ambassador who advises all students who are first generation and/or low income of the benefits and support opportunities for academic and personal development that SSS provides. She also serves as an Orientation Leader, as a Bronco Ambassador, as a member of the Honors Club, and is a Robert H. Short Scholar.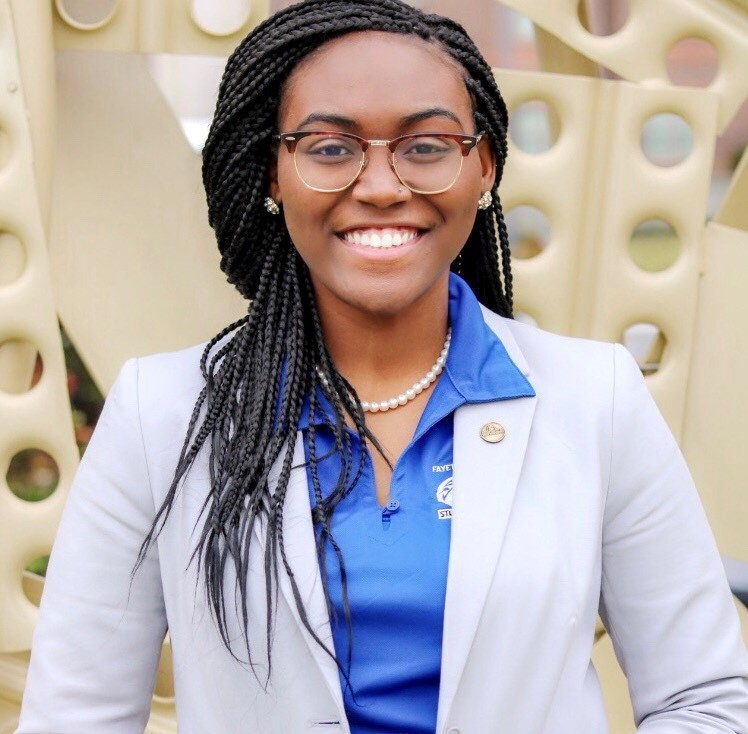 She is Vice President of the SGA, and as President of the Senate she planned a solution-based administration to address the resolution of student concerns. As a Junior Business Administration major with a concentration in management, her aspiration is to manage a veterinary clinic. She feels that the leadership opportunities provided by the SGA "are helping me to develop as a young businesswoman filled with elegance, poise, and consistent determination to excel.".

Kiante's passion to excel and for making a difference in the lives of children came from having been diagnosed with a learning disability at an early age. Through personal dedication and the support of her parents, she excelled by learning to ask, "what if?" Kiante see doors where others may see walls. It is a process that has carried her through life. The Challenge of "what if" has guided her community involvement in the National Organization for Women Rally, My Sister's Dreamer, Douglas Byrd High School Alumni Association, Let's Make It Happen Incorporation, and Back 2 School, Inc.

"Chancellor for a Day will allow me to understand institutional leadership, campus functioning on a day to day basis, and how I can better serve the student body", stated Kiante. I would like to have the experience of being Chancellor for a Day because "I AM a student leader that cannot be tamed, that's why I'm a BRONCO!"

APPLY NOW TO BE CHANCELLOR FOR A DAY IN SPRING 2019 Open to Graduate and Undergraduate Students Enrolled at FSU
You will be "Chancellor for a Day" and participate in all activities and meetings scheduled for Chancellor James A. Anderson. The main goals of the program are to: 1) give students an opportunity to be a part of the administrative process; 2) emphasize the role of the student in the university; 3) give students experience in the decision making process; and 4) enable students to gain some understanding of the leadership skills required for managing a multifaceted organization and the synergy required for operating as a whole.

Students interested in being selected must submit a completed Chancellor for a Day Application Form. The link to the application form can be accessed from the Chancellor's Homepage. Fill in the information as requested and email all applications to bmiller@uncfsu.edu.

Applications will initially be reviewed for the Chancellor by the Selection Committee, which is comprised of students, faculty, staff, and representatives from the Student Government Association and the Chancellor's Office. Notification of acceptance will be sent from the Chancellor's Office.