Meet Monika Johnson Hostler '96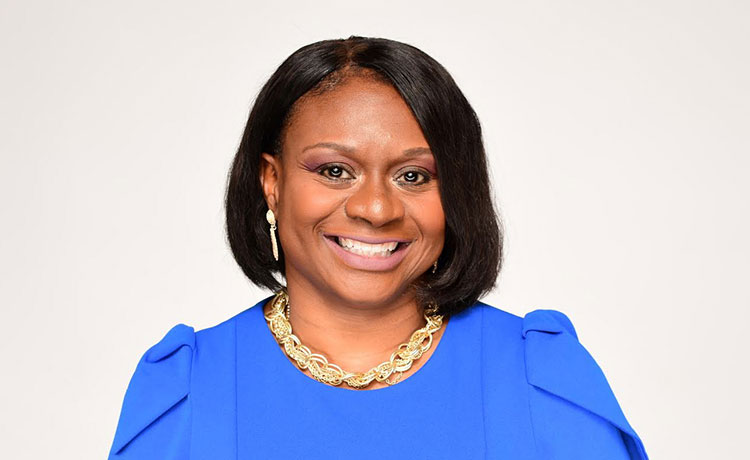 It's all about relationships. It's in our (HBCU) DNA, our culture, our blood.
On paper, Monika Johnson Hostler '96 was a smart kid. But she's more than just smart. Add her many other endearing qualities — funny, inquisitive, driven, forthright, committed, compassionate, fearless, and often, unfiltered — to a solid education and grassroots experience — and you get the incredible leader, teacher, advocate and change maker she is today.
Hostler has served for more than 20 years as the executive director of the North Carolina Coalition Against Sexual Assault (NCCASA), leading the survivor-focused charge for the 75 rape crisis centers and myriad first responders across North Carolina. She also sits on the board of the Wake County Public School System — just the third African American woman to be elected to that body. She is also the first African American woman president of the National Alliance Ending Sexual Violence, the policy voice in Washington, D.C., for the 56 state and territorial sexual assault coalitions and more than 1,500 rape crisis centers nationwide. She is a managing partner for RALIANCE, a national partnership of organizations aimed at improving their cultures and creating environments free from sexual harassment, misconduct and abuse. She also consults with the NFL and NHL to promote awareness, education, prevention, advocacy and services.
Most importantly, she's wife to fellow Fayetteville State University (FSU) classmate and dual degree holder Bobby Hostler '96, '98 (M.S.) — one of the first male Bronco cheerleaders — and mother to their teenage daughter. They make their home in Raleigh, North Carolina.
Hostler's resume is impressive to be sure, but she is the first to tell you her path from her native Thomasville to "the place she was meant to be" was anything but smooth. "Growing up in a single-parent household, even with my extended family nearby, had its challenges," Hostler shared in a January 19 interview on the FSU campus. "I did well in school, but we really didn't have much of a 'college-going' culture at home or at my [public] school," she said. "I knew I needed to do more if I was going to make a difference, help people and build my life."
Hostler headed to Hampton University in Virginia, a small, private HBCU located along the banks of the Virginia Peninsula near the city of Hampton. She spent an eye-opening year there, learning about herself and the world around her. She discovered that she needed to be closer to home and in a different academic environment. She transferred to FSU after her freshman year, graduating in 1996 with a degree in psychology. She went on to earn a master's degree in public administration from North Carolina Central University (NCCU).
"I knew I wanted to attend an HBCU, and Fayetteville State University was the only school in North Carolina I would consider," she said. "The recruitment representative at the time was incredible and really made the case for why FSU was a special place where students could find their footing, challenge themselves and succeed. It really helped that FSU focused on military-affiliated students and nontraditional learners because that was my family and my community. I felt my professors genuinely cared about me. They knew my name, my challenges, my goals and my aspirations."
Hostler thought she wanted to become a counselor either in a school or other public entity. By chance, her first FSU roommate, a Scotland County native with whom she is still friends, was working at the local rape crisis center and suggested she volunteer there. The experience changed the trajectory of her life and career. She went to work there after graduating from FSU, the first in a long line of opportunities that she said came her way from the relationships she built at FSU.
"I found this void that I didn't know existed but that sorely needed to be addressed," Hostler said. "I wanted to tackle the hard stuff; the stuff you didn't talk about at school, at church, at work, or at home — personal/sexual assault or violence. I had seen how devastating such attacks were and the toll they take on victims, their families, and their communities. Something had to change and if I wasn't going to be part of the solution, then who?"
Hostler's hard work to educate, advocate and legislate around sexual violence earned her numerous accolades and achievements. She canvassed the state pushing for colleges and universities to institute rape prevention programs, helped demonstrate the need for the state's first Women's Center at an HBCU (NCCU) and established a campus consortium for HBCUs statewide. She helped get North Carolina's sexual battery law passed in 2003 and established the first statewide Human Trafficking Task Force with North Carolina's Attorney General. She currently serves on North Carolina's Human Trafficking and Domestic Violence Commissions.
Nationally, Hostler co-authored portions of the federal Violence Against Women Act, served on former President Barack Obama's Children Who Witness Committee and U.S. Attorney General Eric Holder's National Advisory Committee. She also served on the National Task Force for Sexual Assault Prevention and lobbied for increased funding for sexual assault services and programs. In 2022, NCCASA collaborated with Carolina Public Press and other media partners to raise awareness about sexual violence; Hostler contributed to the series with her expertise on current law and legal barriers to successful prosecution of defendants charged with sexual assault in North Carolina. But there is still work to do. "Laws have to come into the 21st century, especially regarding consent and incapacitation," she said. "Assault, in any form, is not ok."
Hostler said the work is not easy, but it is fulfilling and rewarding. She credits her FSU professors for supporting and guiding her, but also for giving her the freedom to explore her passions and maybe even for giving her permission to change her mind.
"Professors have a huge impact, and I will never forget my professor Annie Chavis, who had such faith in me and encouraged me," Hostler said. "I could confide in her and sought her advice on so many things, not just course work. She told me I had found my purpose, that I was really good at it, and to never doubt myself. It stuck with me."
Hostler said the relationships she made at FSU were the most important things she gained from her college experience. "Every opportunity, career move, opened door or success story I've been fortunate to have has in some way resulted from my relationships here," she said. "FSU isn't just a school or an HBCU — it's family. It's caring. It's home away from home. It's my culture, my soul and my blood. I know I wouldn't be the person I am today without the people and experiences I found at FSU."
Her message to Broncos now and in the future: Make connections while you're here, surround yourself with that "village", embrace the experience and create your legacy. Because we're all family here.