Dr. Radscheda Nobles
My name is Dr. Radscheda Nobles. In 2008, I was the first student to graduate from the Master of Science degree program in Criminal Justice at Fayetteville State University. Since the first moment I arrived in the Department of Criminal Justice at FSU, I was met with nothing but energy, enthusiasm, and open arms.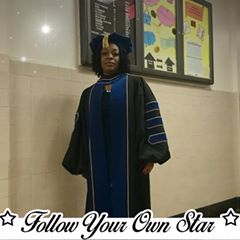 The faculty and staff members are amazing and lifelong mentors. They put their students first and want all their students to do well. Each faculty members provided many opportunities for students to learn. Professors went beyond the call of duty for me. Due to a learning disability, physical disorder and bad life choices, I entered into the graduate program with several deficiencies. Overall the faculty members put aside negative labels prescribed to me by society -- and the ones I had for myself. They poured knowledge into me, which contributed to my desire to teach and to use my limitations as a strength. They helped me develop my voice. Before graduating, I was fortunate enough to land my first teaching opportunity at a university where I continue to teach today. Lastly, through the Department of Criminal Justice, I also gained the skills, experience, and confidence I needed to pursue a doctoral degree. On May 2017, I earned my Ph.D. in Sociology, with specialties in Criminology and Medical Sociology, from Howard University. No words can fully express my experience with the faculty and staff members at FSU. To have professor like Dr. Melissa Barlow, for example, who was willing to meet me where I was and mentored me through the process and my academic career. Or professors like Dr. Michael DeValve, who tells me he is the "Vice President" of my fan club. Honestly, I could not ask for anything more from my experiences in the graduate Criminal Justice Program at FSU.